Ohio Preseason rankings cluttered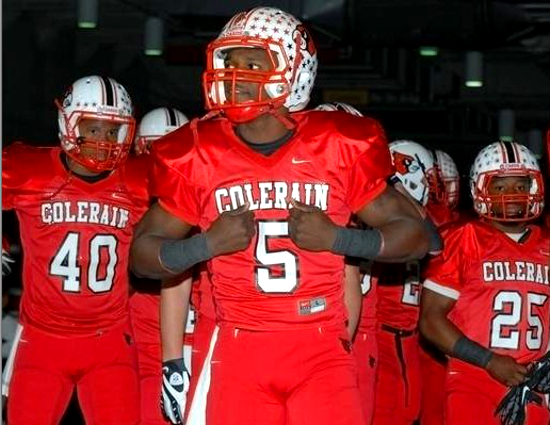 The Buckeye State has long been categorized among the high school football power states and the 2015 season will be no different.
NationalHSFootball.com is working its way through the state-by-state rankings in advance of its HSFB100 National release set for release on Aug. 1-4. The first stop is in the middle of the Lakes Region with Ohio.
Ohio opened the 2014 season with four teams ranked in the preseason national poll and ended with six. St. Edward (Lakewood, OH) opened at No. 5 and finished at No. 9; Moeller (Cincinnati, OH) dropped from 51 to 71; Mentor (OH) fell out after starting at No. 75, and Wayne (Huber Heights, OH) climbed to No. 27 from No. 96. LaSalle (Cincinnati, OH), Hudson (OH), and St. Xavier (Cincinnati, OH) came in at Nos. 12, 65, and 73, respectively.
This season Ohio could start with as many as eight — with arguments, perhaps, for upward of 10.
Read below for the initial state placements and some insights to the state as we see it entering the summer.
| | | |
| --- | --- | --- |
| 1 | Colerain (Cincinnati) | DeShaunte Jones at QB and six back on defense. |
| 2 | St. Ignatius (Cleveland) | Appears head-and-shoulders above NEOH. |
| 3 | St. X (Cincinnati) | Most offensive talent since 2007; always good D. |
| 4 | LaSalle (Cincinnati) | Eight back on offense with major holes on defense. |
| 5 | Moeller (Cincinnati) | QB Tom MacVittie is key. Team is deep and reloaded. |
| 6 | Wayne (Huber Heights) | Adding QB Messiah DeWeaver is a lift. |
| 7 | Coffman (Dublin) | A lot back from talented, tough team. |
| 8 | Central Catholic (Toledo) | A major threat from a lower class. |
| 9 | Elder (Cincinnati) | QB Peyton Ramsey could push this team higher. |
| 10 | St. Edward (Lakewood) | So much lost from last year, still Top 10. |
| 11 | Centerville | Adding QB Jacob Harrison moves Elks up. |
| 12 | Central (Pickerington) | No. 2 in Columbus area with talent. |
| 13 | Davidson (Hilliard) | Always a threat without star power. |
| 14 | Lakota East (Liberty Township) | OL has beef to make triple option go. |
| 15 | Mentor | Respect placement for offense that can score big. |
BREAKING DOWN THE OHIO TOP 15
CAN ANYONE WIN A NATIONAL TITLE?
There was a time that the prevailing thought was a team that went unbeaten from the GCL and then won the state title was a lock for Top 5 national placement and a threat to be crowned champions and that thought may be coming back into play. The GCL has all four teams inside the Top 10 and could all be HSFB100 teams this season. If someone emerges from that pack unblemished and then claims a state title, maybe. Colerain, St. Iggy, and St. Ed will all have a say as well, so the short version of the long answer is, Yes. An Ohio team could climb the HSFB100 mountain and stake a claim. The hard part will be playing the waiting game as the potential exists for none of the teams to start inside the Top 25, making that march will be hard to do.
WHO IS THE MOST VALUABLE PLAYER IN CINCY?
There are a lot of players that can ill afford to go down for teams in the Queen City but the one that may be the most important is LaSalle running back Jeremy Larkin. Listed as only a three-star prospect by Rivals.com he was a threat to win Mr. Football in Ohio as a junior and will be the bellcow again for the Lancers. The team lost its head coach and most of its defense and so the theory is that it will be in a lot of shootouts. If Larkin is lost then the scoreboard could start working against LaSalle.
WHO IS THE MOST VALUABLE PLAYER IN CLEVELAND?
This is another area of the state with a pretty healthy talent base and indispensable players but it will be another running back that has to carry the load. St. Edward prospect Cole Gest has committed to Indiana and is listed as a two-star by Rivals.com but he will have to carry a major load for the Eagles as the team breaks in a new quarterback, two new receivers, an offensive line as well as reload the back half of the secondary. There is plenty of talent on the roster to keep this group in the Top 10 of the state rankings but for with the ambitious schedule it has put together so much will be on Gest.
WHAT ARE SOME SLEEPER TEAMS?
It may be a little bit of low-hanging fruit but the Southwest Ohio region appears to be the strength of the state this year and if there are surprises to be found it will be plucked from that tree. Springboro returns a veteran offensive group and with QB Eli Cunningham and TE Justin Rigg there could be plenty of teams that get knocked off by the Panthers. Also, there could be something to see from Mason and Sycamore. Mason went 7-3 last year but bring back a lot of starters and could be a threat while Sycamore moves down to the DII level and has senior Clarence Dawson and junior Ra'Von Bonner off of 1,000 yard seasons from a tough GMC.
PREDICT SOMETHING CRAZY
Ohio will end the season with three teams in the Top 30 of the national rankings with St. Xavier, St. Ignatius, and La Salle all only losing to one another — St. X falling to St. Iggy in the regular season but downing it in the state finals; LaSalle losing to St. X in the regular season but going on to win the state title in Division II. A more realistic prediction is that St. Edward doesn't make the playoffs. The team has too many out of state games and too few opportunities to gain points in the Ohio system. It will only play four teams from Ohio this season and probably stands to be the underdog in three of those games. It also has games with Gilman (Baltimore, MD), St. Joseph Regional (Montvale, NJ), Bergen Catholic (Oradell, NJ), Cocoa (FL), and Mainland (Daytona Beach, FL) of which it could be the underdog in each of those contests. St. Ed could have the unenviable distinction of being the best 3-win team in the country this year with the loss of its head coach and turnover of talent.
JOIN THE HSFB100 DISCUSSION: Create a user name | Post on The Varsity Board