Raiders loss rattles Media Top 25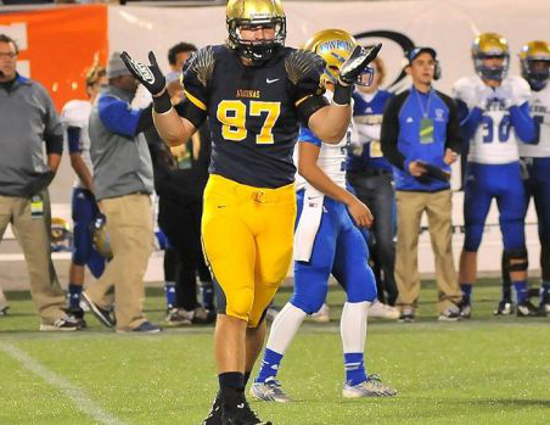 After stability started to settle into the Media Compilation Top 25, a championship contender fell from the Top 5 to the outside looking in.
St. Thomas Aquinas (Ft. Lauderdale, FL) was stunned by Deerfield Beach (FL) during Week 7 of the high school football season, 6-3, and dropped from a No. 4 placement to a team receiving votes. The Raiders were one of three teams to leave the compilation poll this week, joining previously-ranked No. 15 St. Joseph (Montvale, NJ) and No. 18 Mainland (Daytona Beach, FL) which lost to St. Joseph (Philadelphia, PA) and now-No. 11t St. Edward (Lakewood, OH).
Past Media Compilations:
St. Thomas Aquians missed a game-tying 20-yard field goal in the closing seconds to fall to Deerfield Beach for the second time in three seasons — it lost 22-7 in the 2013 season as well.
The Raiders were playing its game with a backup kicker and punter as its starter was diagnosed with mono prior to the contest. It also had four turnovers, was stopped on a fourth-and-one, and was unable to get a punt off in the contest.
Despite the perception separation between the two schools, Deerfield Beach coach Jevon Glenn told the Miami Herald that his team didn't feel like it was going to be outclassed.
"A lot of people were trying to tell our kids this was a David-vs.-Goliath game. I told my kids before the game, 'This is a Goliath-vs.-Goliath game'," he said.
"Nobody ever is going to make Deerfield Beach — with our tradition, our history — feel like the underdog."
St. Joseph fell from the poll after losing to the two-time defending Pennsylvania state champions, 28-5. It was a short week for the Hawks which lost the week prior to No. 6 IMG Academy (Bradenton, FL), lost two players to transfer, and addded another. It's usually tough-against-the-run defense allowed 217 yards to D'Andre Swift on 23 carries and only found its way to 61 rushing yards in the game.
Mainland was bettered by St. Edward, 47-28. It was also faced with travel adversity to go with a game opponent as it was forced to bus over 1,000 miles before playing the game in Ohio. The Buccaneers got out of the gate slowly, as it fell behind 14-0 before rallying to tie the game. The turning point in the game came when Mainland thought it had recovered a fumble on a kickoff at the St. Edward 4 yard-line but the Ohio officials called a illegal participation penalty forcing a rekick and subsequent drive for the Eagles resulted in a touchdown. The game got back to 35-28 in the third quarter but St. Edward scored the final 12 points and kept Mainland off the board for the final 17 minutes of game clock.
The Media Compilation takes into account the four most respected human polls, the top computer model, and an emerging hybrid human-algorithm to make for the best rankings in the country.
Those under consideration are the NationalHSFootball.com HSFB100; USAToday Super 25; MaxPreps Xcellent25; PrepNation Top 25; Jeff Fisher's Top 25 and the Freeman Computer Top 25.
For a mathematically sound compilation each team is given points from 40 to 16 for being inside the Top 25 of each of those six polls with no points awarded for any additional rankings due to the differing size of each poll.
Points are assigned in decreasing value starting with 40 being awarded for No. 1 and on down to 16 for No. 25 which will result in a more accurate representation of the polls. Assigning points starting at 1 point would skew the tally in the instance that a team received a single, high placement versus a team with lower placements in multiple polls, raising the baseline eliminates the outlier impact in the compilation.
The poll will be updated and released each Tuesday of the football season.
Here is the complete Media Compilation Top 25:
Join the HSFB100 discussion: Get a free user name | Post on The Varsity Board
No. (LW)

PTS

TEAM (ST)

HSFB

USAT

MAX

PN

JFAM

CPU

1 (1)

237

Bishop Gorman (NV)

2

1

1

2

2

1

The Gaels continued to illustrate the gap in play between itself and the rest of Nevada. It beat Durango 69-7 and emptied the bench early. Biaggio Ali-Walsh rushed for 103 yards and two scores — on two carries. Tate Martell passed for three scores in the first half before sitting in the second. To reward hard-working fullback Alec Lazarou the team got him into the endzone as well with a one-yard plunge on Homecoming. Its point total is unchanged for the fourth week in a row.

2 (3)

227

St. John Bosco (CA)

1

2

4

1

4

7

St. John Bosco fell behind 14-7 agasinst Santa Margarita before scoring the next 55 points to close the game, 62-14. Senior quarterback Quentin Davis was 14-of-18 passing for 386 yards and four touchdowns. The defense beat up KJ Costello and made him a non-factor in the second half. It gained five spots in the Freeman Computer as well as one each from the MaxPreps and Fisher Algorithm to take second place in the Compilation.

3 (2)

225

Centennial (CA)

4

6

2

4

3

2

Centennial quarterback Anthony Catalano completed 22 of 26 passes for 307 yards as the Huskies routed Riverside King, 47-14. JJ Taylor added 116 yards and two touchdowns. The defense recorded three interceptions. It gained one placement in the HSFB100, USAToday, and Freeman Computer.

4 (6)

222

Allen (TX)

5

3

5

5

1

5

Allen scored 21 points in the first quarter and another 10 in the second to push a halftime lead to 31-0 before coasting home with a 45-13 victory. It was win No. 50 in a row for the Eagles. Quarterback Seth Green threw for five touchdowns on the night. The team gained the placeholder bump in five polls replacing Aquinas and received more consideration in the HSFB100 which was had been the lowest ranker on its 2014 National Champion.

5 (4t)

217

DeMatha (MD)

6

5

3

6

5

4

DeMatha won a sloppy game against Bishop McNamara by a 52-47 final — a point total allowed that nearly equaled the 48 it had given up in the first six weeks of the season. The Stags trailed early for the second week in a row and fought back from a 14-0 deficit to take a 28-21 lead at the break. It was 49-35 by the end of the thid quarter but McNamara wouldn't go quitely. 30 penalty flags and three touchdowns taken off the board are a scar on the contest.

6 (7)

200

IMG Academy (FL)

8

8

9

10

8

3

IMG Academy was better this week against lesser competition as it blanked Southern Lab (LA), 42-0. The team put up 35 points in the first half and was able to get starters out of the game later. Shea Patterson connected with Issac Nauta for a score and later with Drake Davis for another. It will take on Paramus Catholic in two weeks — which has shown signs of life after an awful start to the season.

7 (8)

198

Colquitt County (GA)

3

4

6

3

7

25

Colquitt finally became a unanimous selection as it moved in at No. 25 to the Freeman Computer. The Packers continue to be the hammer in Region 1-6A and no matter how tough the nails try to stand ground, eventually, the pounding wears down. This week it downed previously HSFB100-ranked Lee County in a score that got away from the home team in the late second quarter, 54-17. Quarterback Chase Parish had two passing touchdowns and a rushing score in the game.

8 (9)

180

Trinity (TX)

10

12

13

9

6

16

It is a new week and the same story — Trinity duo Tyler Natee and Ja'Ron Wilson rushed for a bunch of yards and punched in multiple touchdowns. This time the victim was Hurst Bell and the final was 56-17. The Trojans will be tested this week against Southlake Carroll. It gained placement points in most polls, sliding up to fill in for Aquinas. It lost one point in the Freeman Computer, however.

9 (10)

167

De La Salle (CA)

11

13

16

12

10

17

De La Salle recovered a fumble on the opening kickoff and punched in a quick score versus San Ramon Valley. The team was up 28-0 at the end of the first quarter as Antoine Custer punched in two scores covering 88 yards and ended his night before halftime. The Spartans also scored a defensive touchdown to push the lead to 42-0 at halfime. The final was 48-0 though that is immaterial as the game was over before it began.

10 (11)

163

Spartanburg (SC)

9

17

11

13

21

12

The game against Dorman opened as a back and forth battle but eventually, it appeared, Spartanburg had pulled safely away when it lead 41-24 late in the third quarter. Dorman continued to fight and the game came down to a fourth-and-5 inside of a minute on the Spartanburg side of the field which resulted in an interception by linebacker Connor Shugart to seal a 41-38 victory to run the Spartanburg win streak to 16 games. The Viking gained six points cumulatively but was only one or two in any one poll.

11t (20)

156

St. Edward (OH)

13

16

20

22

13

6

St. Edward has, perhaps, hit its stride and is pulling away from the pack in Ohio. This week Cole Gest rushed for over 200 yards and Jimmy Keefe threw for five touchdowns in the teams 47-28 victory over previously-ranked Mainland. The Eagles gained 10 spots in the HSFB100, nine at USAToday, five from PrepNation, four within the Fisher Algorithm, two at the Freeman Computer and into the PrepNation poll at No. 22.

11t (12)

156

American Heritage (FL)

7

10

8

8

16

—

The Patriots were idle this week and gained some placement points in a couple polls but moved up four spots in the Fisher Algorithm.

13 (13)

146

Katy (TX)

15

11

10

14

9

—

Kyle Porter was a dominant force against Seven Lakes, piling up 235 yards and scoring four touchdowns in just three quarters of a 40-8 victory. The Tigers came in a little rusty off of its bye week but once the team got rolling it was hard to slow down. The game was nearly a shutout but Seven Lakes punched in a meaningless touchdowns against second-teamers with 30 seconds left on the clock.

14 (14)

143

Cedar Hill (TX)

13

15

17

8

15

—

Cedar Hill squashed the thought that Duncanville was set to be an upstart in the District with a 41-18 victory this week. The Longhorns have had moments of brilliance and moments where its youth shows. With DeSoto falling so far down the respect ladder, its next challenge may be at Mansfield on Halloween weekend for the District title.

15 (16)

133

Mater Dei (CA)

17

—

19

17

11

8

Mater Dei was able to down previously HSFB100-ranked Orange Lutheran but it was less than impressive as the team gave up a ton of yards and a ton of points in the game. The 49-35 final was aided by a sequence of events that would have had OLu take a 28-21 lead but an illegal block called the run back and two plays later Mater Dei took an interception return back inside the 15 of OLu and scored to take its own 28-21 lead. Quarterback JT Daniels thred for 454 yards and four scores but it wasn't what was expected coming of a bye for this team. It has No. 2 St. John Bosco this week.

16 (21)

122

Clay-Chalkville (AL)

25

7

14

15

22

—

Clay-Chalkville added its big points by gaining re-entry to the Top 25 in the HSFB100. It moved up two points in the MaxPreps poll and one each of USAToday and PrepNation. The team started slow with quarterback Ty Pigrome missing on five of his first six passes but in a nine minute spurt of the second quarter he connected on three touchdowns to jumpstart the scoring. Pigrome ended with 137 yards rushing and 227 passing on the night as the team piled up 594 of total offense in beating Shades Valley, 52-14.

17 (19)

117

Ocean Lakes (VA)

20

9

7

11

—

—

Ocean Lakes was cast as a buoy three weeks ago and it has stayed true to that regardless of its own results. The Dolphins blasted Kellam this week, 52-6. Khalan Laborn rushed for 148 yards and four touchdowns in the game. It was the first game back for coach Chris Scott — who was suspended six games in the offseason.

18 (23)

114

Male (KY)

18

19

18

21

15

—

Male was idle this week but gained significant points as PrepNation had more turnover than normal in its poll, coming in at No. 21 from being unranked. The Bulldogs also gained five placement points in the Fisher Algorithm.

19 (–)

102

Gilman (MD)

21

—

24

23

20

15

Gilman ran over and through St. Frances Academy to the tune of 63-12 pushing it into the Media Compilation for the first time all season. The Greyhounds shouldn't have much issue closing out the regular season as Kasim Hill has been a solid player for the program and Spalding, Friendship Collegiate, Calvert Hall, and McDonogh do not appear to have the horses to stick with this team, this year.

20 (22)

101

South Panola (MS)

—

21

12

18

12

—

South Panola took advantage of a snap over the head of the punter and a fumble on the next possession for Hernando to jump out to an early 12-0 lead just seven minutes into the game. It had to battle to pull away as the game was 20-7 at halftime — following a weather delay — and extended to to 26-7 in the final moments of the third quarter before the final 32-7 margin was set with 8:05 to play.

21 (25)

95

Grayson (GA)

14

22

17

16

—

—

Grayson gained entry to the USAToday poll this week making it a clean sweep of human polls. The Rams took advantage of every mistep provided the team by Shiloh in dismantling the team, 66-3. It was gifted two safties on punt snaps sailing out of the endzone, it returned three Shiloh fumbles for touchdowns, and had its first team offense score on its handful of first half drives before taking the pads off at halftime. It was 38-0 after the first quarter as this was a classic check the box game.

22 (24)

93

Chandler (AZ)

16

—

21

20

—

14

Chandler dominated Perry 55-7 before going into its bye week. TJ Green scored a few touchdowns and Kyree Woods got a tipped-pick-six to push the lead before halftime. This was a checked box. After a week off it will travel to a quality Brophy team before closing the season with a Hamilton team that is also receiving votes for Top 25 placement.

23 (–)

92

Colerain (OH)

22

—

22

—

18

10

Colerain scored touchdowns on its first five possessions to blow Lakota West out of the water, 48-28. The final looks closer as Lakota West scored three times in the fourth quarter while Colerain was playing its second and often third string players. Deshaunte Jones threw for 154 yards and ran for 88 more. The lone score against the first wave of Cardinals came when Lakota West blocked a field goal and returned it for a touchdown before halftime.

24 (–)

78

Jenks (OK)

—

15

—

19

—

11

Jenks allowed just 116 total yards in a 48-0 beating of Westmoore — extending its winning streak to 15 games. Quarterback Cooper Nunley threw for five touchdowns in the game — litting Dillon Stoner for 121 yards and two scores in the game. Nunley had 253 yards and four scores before halftime.

25 (17)

54

La Salle (OH)

—

—

—

—

19

9

The La Salle anomoly is one of the few times the scoring of the Compilation Poll shows its flaws as a high placement from the Freeman Computer kept the team in this week. The Explorers lost for the sixth consecutive time against St. Xavier this week but remained in the poll — and ahead of St. X. The team has only beaten the Bombers twice in the last 10 years, going 2-12 over that time. The HSFB100 didn't have the team ranked while it fell from No. 21 in the USAToday and MaxPreps polls and No. 19 at PrepNation. It remained ranked in both computer formulas.

Dropped From the Media Compilation Top 25:

Previously ranked No. 4t St. Thomas Aquinas (Ft. Lauderdale, FL), No. 15 St. Joseph (Montvale, NJ), and NO. 18 Mainland (Daytona Beach, FL).

Others Receiving Votes:

St. Thomas Aquinas (51); Hamilton (44); Center Grove (44); Bergen Catholic (41); Klein Collins (39); Wayne (38); St. Xavier (35); Webb City (23); Trinity Christian (22); Saline (21); St. Joseph (19); Bingham (18); Roswell (18); Maryville (17); Steele (16), and Eden Prairie (16).

Stopped Receiving Votes:

Amat (La Puente, CA); Archer (Lawrenceville, GA); Don Bosco (Ramsey, NJ); Mainland, and Westfield (Spring, TX).
JOIN THE HSFB100 DISCUSSION: Create a user name | Post on The Varsity Board