All-TSF: Athlete Primer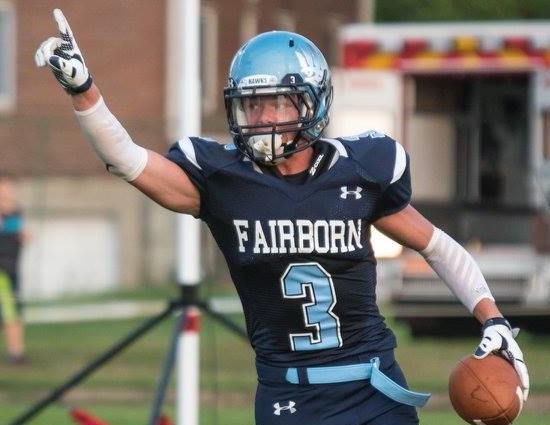 They are the most valuable and versatile players to their teams and coaches. The players who are talented enough to shine and excel at multiple positions, on both sides of the ball and on special teams are rare. These are the gifted ones who make an impact in so many ways on the field.
VOTE NOW for your pick at athlete and all of the other positions.
Here is a look at the athlete nominee's for the 2016 postseason All-TriStateFootball.com team:
NOMINEES: Blake Albright (Batavia); Jaylin Anderson (CCPA); Zach Arno (Ross); Tywon Berry (Dayton Christian); Justin Blackburn (Ludlow); Lew Bowser (Eaton); Gage Braun (Graham); Kevon Cephas (Hughes); Brandon Conklin (MVCA); Brandon Easterling (Fairborn); JaQuan Emerson (Lockland); Lorenzo Gist (Winton Woods); Michael Guyer (Springfield Shawnee); Anthony Harrison (St. Bernard); Adam Hazeres (Bellevue); Trey Hennekes (Roger Bacon); Luke Holt (Kenton Ridge); Aaron Hughes (Tippecanoe); Dustin Johnson (Gallatin County); Darian Jones (Chaminade Julienne); Kenneth Jones (Gamble Montessori); Keyshawn Jones (Dunbar); Devin Kenerly (Northmont); Kevin Ketring (Preble Shawnee); Hayden Nease (Bellefontaine); Mitchell Orschell (Franklin County); Colton Paul (St. Xavier); Baden Pinson (Reading); Austin Riggs (Owen County); Nick Riley (Carroll); AJ Shockey (Dixie); Joe Simpkins (Stebbins); Derrick Skinner (Northridge); Sam Slusher (Greensburg); Andrew Smith (Williamsburg); Alex Steele (Preble Shawnee); Franklin Steward (North College Hill); Mason Sullenberger (Connersville); LaShunn Townsend (Lloyd Memorial); Andrew Walsh (Badin); Jarell White (La Salle); Matt Wilcox (Wayne); Chase Witte (Milford); Keith Yager (Rushville) and Jordan Yelling (Deer Park).
THREE'S A CHARM: This is the third nomination for Keyshawn Jones, White and Wilcox. In '15, White was a First Team All-TSF selection at DB and Wilcox was a 1st Team All-TSF honoree at WR. Jones Was a Second Team All-TSF pick at RS as a sophomore. He was nominated as an ATH as a junior. Wilcox was nominated as and ATH as a sophomore. Whites was a nomination at RB as a sophomore.
ENCORE PERFORMANCE: Making their second straight nomination are – Berry, Blackburn, Bowser, Easterling and Witte. Berry and Blackburn are just juniors. Easterling was nominated as a DB in '15. Witte was nominated as an RS in '15.
THE LONE SOPHOMORE: Anderson is the only sophomore on our list of nominee's. His seven interceptions and 68 tackles earned him Division VII First Team All-Southwest District honors this fall. Anderson also ran for 609 yards and averaged 12.2 per carry.
THE 100 CATCH CLUB: Four seniors ended their careers with more than 100 career receptions – Wilcox (188), Easterling (142), Nease (112) and Townsend (103). According to OHSAA records Wilcox is tied for 22nd place all-time in Ohio for career catches. The only other nominee with more than 100 receptions currently is junior, Berry (126).
TACKLING MACHINES: Five seniors ended their careers with more than 200 total tackles during their careers – Easterling (262), Hazares (244), Smith (226), Slusher (222) and Yelling (212). Blackburn (248) is the top junior tackler on our list.
FINDING THE END ZONE: Three of our nominees have score 40 or more touchdowns during their careers – White (48), Wilcox (47 and nease (42).
THE BMOC's IN '17: Of the 45 nominees only seven are juniors. The Class of 2018 – Berry, Blackburn, Braun, Emerson, Kennerly, Orschell and Shockey.
COMMITTED: Two nominees have already made their verbal commitments to college: White – Cincinnati; Wilcox – Bowling Green.
Join us as we recognize Offensive & Defensive Player of the Year finalists and winners from Northern Kentucky, Indiana, Dayton and Cincinnati, Team of the year winners from all of those areas and members of the 2016 Postseason All-TSF squad at our upcoming TSF Year in Review Show on Monday, February 20th, 2017, 6:30 p.m. at the Holy Grail-Banks in Cincinnati.