TSF 2016 Cincinnati DPOY: Kyle Bolden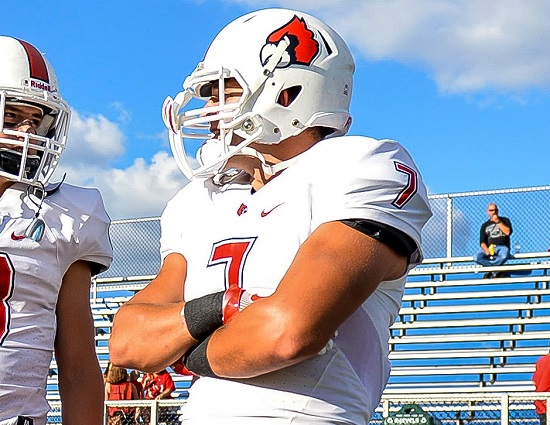 Colerain (11-1) linebacker Kyle Bolden was named the 2016 TriStateFootball.com Cincinnati Defensive Player of the Year for a second straight season as TSF paid tribute to finest from Cincinnati, Northern Kentucky, Dayton and Southeast Indiana area's high school gridiron at the Year in Review Show on Monday night at the Holy Grail, downtown Cincinnati. He was the leader of a Cardinals defense that yielded just 11.9 points per game and recorded three shutouts.
Bolden was also named Division I First Team All-Ohio for a second straight season as well as the Southwest District and GMC Defensive Player. The senior finishes his Colerain career with just under 300 total tackles. He will continue playing football for the University of Cincinnati.
Other finalists included seniors Jerron Cage (Winton Woods/Ohio State), Jacob Cyrus (New Richmond), Lang Evans (Turpin), Keontae Jones (Colerain/Iowa State), Amir Riep (Colerain/Ohio State), Josiah Scott (Fairfield/Michigan State) and Tre'Sean Smith (La Salle/Louisville). This was the second consecutive finalist nomination for Bolden, Cage, Evans and Riep.
TriStateFootball.com was founded in 2005 and started its postseason awards in 2007. Bolden is the first player to win this award twice. Here the list of winners of this award all-time:
2016 – Kyle Bolden (Colerain)
2015 – Kyle Bolden (Colerain)
2014 – Elijah Taylor (Moeller)
2013 – Sam Hubbard (Moeller)
2012 – Shane Jones (Moeller)
2011 – Adolphus Washington (Taft)
2010 – Steven Daniels (St. Xavier)
2009 – Marcus Rush (Moeller)
2008 – Chris Williams (Winton Woods)
2007 – Brandon Mills (Colerain)