TSF 2016 Kentucky OPOY: Dante Hendrix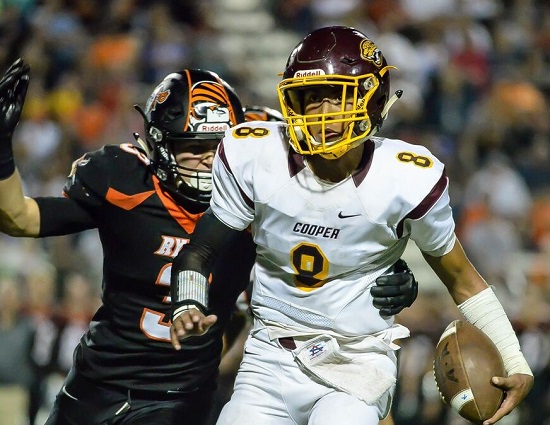 Cooper senior receiver Dante Hendrix was named the 2016 TriStateFootball.com Kentucky Offensive Player of the Year as TSF paid tribute to finest from Cincinnati, Northern Kentucky, Dayton and Southeast Indiana area's high school gridiron at the Year in Review Show on Monday night at the Holy Grail, downtown Cincinnati.
A true game-changer in all phases – offense, defense and special teams. Hendrix was named the Class 6A, District 5 Player of the Year as well as First Team All-TSF receiver and First Team All-NKY for a second straight season. He capped off a great career with 71 receptions for 1,405 yards, 20 touchdown catches, 42 total tackles and six interceptions including a pick six as a senior. As a junior, Hendrix was a TSF NKY Defensive Player of the year finalist and a. His 40 career touchdown reception ties him for 16th most in Kentucky history and 2nd most in Northern Kentucky all-time (47 – Brett Hamblen, Highlands, '98-'00). The 3,106 receiving yards Hendrix racked up is 12th best in Kentucky history and his 170 receptions at the varsity level is 19th best in Kentucky history. On defense he snared 13 career interceptions. Hendrix has verbally committed to Indiana State.
Other finalists included five seniors – Armand Jackson (Conner), Aiden Justice (Beechwood), Jared Lonaker (Cooper), Tanner Morgan (Ryle), Cameron Racke (Simon Kenton) as well as juniors Jake Chisolm (Ryle) and AJ Mayer (CovCath). This the second straight finalist nomination for Morgan and Racke.
TriStateFootball.com was founded in 2005 and started its postseason awards in 2007. Hendrix is the 10th player to win this award. Here the list of winners of this award all-time:
2016 – Dante Hendrix (Cooper)
2015 – Dillon Powell (Simon Kenton)
2014 – Drew Moore (Dixie Heights)
2013 – Brenan Kuntz (Simon Kenton)
2012 – Blake Bir (CovCath)
2011 – Patrick Towles (Highlands)
2010 – Patrick Towles (Highlands)
2009 – Miles Simpson (Simon Kenton)
2008 – Miles Simpson (Simon Kenton)
2007 – Corey Farris (Boone County)