Where They're Headed: Division I – FBS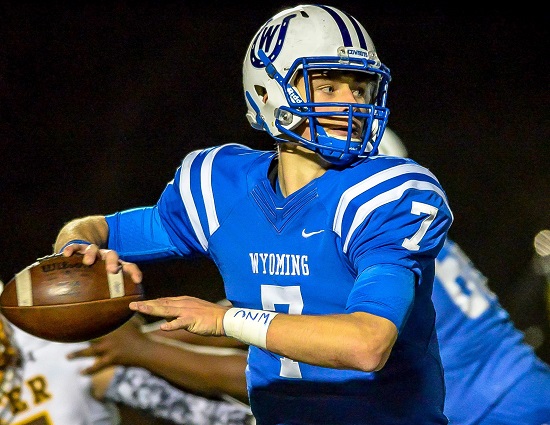 The TriState Football area's Class of 2017 may not have had as many players sign with Division I FBS schools as in previous years but is an intriguing group nevertheless. The talent at the top is fantastic and the richness of depth at some positions is impressive to say the least. There are some great story lines amid those who did sign to play big time college football.
The Big 10 was a huge winner locally. Very rarely does the area send three quarterbacks to the conference. This year it happened. Tanner Morgan (Ryle) will follow coach PJ Fleck to Minnesota. Morgan verbally committed Western Michigan where Fleck led the Broncos to a 13-1 record and Cotton Bowl appearance. Morgan is out of the mold of Drew Brees, not as tall as your prototypical QB, height-wise but has a big arm and is incredibly efficient and accurate. Sean Clifford (St. Xavier) is off to Penn State after playing his best ball during the Bombers state championship run this past season. Perhaps the steal of the bunch in the end will be Andrew Marty (Wyoming) who will wear Northwestern purple. Marty is equipped with all the tools to be a three-year starter for the Wildcats.
Ohio State only plucked a trio of players from Southwest Ohio but they are all very special. It starts with OL Josh Myers (Miamisburg) who is one of the best high school lineman to ever put on pads in the Buckeye state. The sky is the limit and All-America status is not out of the question for Myers at OSU. On defense, DE Jerron Cage (Winton Woods) has pedigree. he looks to hit the field sooner rather than later like his older brother Daniel has done Notre Dame. Amir Riep (Colerain) just adds more depth to the Buckeyes sensational secondary.
Considering all the success Indiana has had recently in the area including those who are currently making major contributions for the Hoosiers, they did not sign any locals. Michigan also didn't pen any players which is very unusual.
Speaking of defensive backs, the Class of 2017 in the TriState had some special ones along with Riep. Josiah Scott (Fairfield) is already enrolled at Michigan State and looks to make a difference as a true freshman for the Spartans. TreSean Smith (La Salle) heads south to Louisville with three state championship rings weighing down his duffel bag. Keontae Jones (Colerain) will join his brother DeShaunte at Iowa State. DeShaunte set the school record for touchdown receptions by a true freshman last season for the Cyclones.
Kings never had a player sign with a Division I, Power 5 conference until this season when brothers Dan and Matt Sichterman became the first. Dan will play DE at Iowa State and Matt will be an OL at Nebraska. They are part of triplets along with sister Megan who is will swim for Tennessee next winter. Matt has a high football IQ already. Don't be surprised if he ends up a two-year captain for the Cornhuskers and perhaps one at the next level beyond that. Dan's high motor and dogged-determination will make him a crowd favorite at ISU.
Air Force flew in and scooped up a quintet of "nose to the grindstone" players. The Falcons may want to reconsider changing their name to the Bulldogs with this group of ground troops.
One of the great oddities of this class is that Kentucky and Miami (OH) each only have one local signee. It is a little out of place from what each program has tried to accomplish on the recruiting trail here over the past several campaigns. West Virginia also signed no one after a long run of success from out of here.
Here is a look at the TriState's Division I-FBS signees:
AAC
Cincinnati: Kyle Bolden, Colerain, LB, 6-1/218; Cody Lamb, Miamisburg, OL, 6-4/255; Cole Smith, Middletown, K, 6-1/168; Jarell White, La Salle, RB/DB, 5-11/200, Cincinnati; Brady Stoll, St. Xavier, LB, 6-1/219 (PWO)
Connecticut: Darrian Beavers, Colerain, DB, 6-5/222
Navy: Micah Farrar, St. Xavier, WR, 6-0/170; Samari Saddler, Moeller, OL, 6-3/295
ACC
Clemson: Matt Bockhorst, St. Xavier, OL, 6-4/300
Louisville: TreSean Smith, La Salle, DB, 6-3/180
BIG 10
Illinois: Ra'Von Bonner, Sycamore, RB, 6-0/190; Howard Watkins, Colerain, OL/DL, 6-5/290
Indiana:
Ohio State: Jerron Cage, Winton Woods, DL, 6-3/260; Josh Myers, Miamisburg, OL, 6-5/280; Amir Riep, Colerain, DB, 6-1/180; Garyn Prater, Wyoming, WR, 6-6/210 (PWO)
Michigan State: Matt Dotson, Moeller, TE, 6-5/225; Josiah Scott, Fairfield, DB, 5-11/175; Darrien Tipps-Clemons, Piqua, RB, 6-0/210
Minnesota: Tanner Morgan, Ryle, QB, 6-1/200
Nebraska: Matt Sichterman, Kings, OL, 6-5/278
Northwestern: Charlie Kuhbander, Springboro, K, 5-9/165; Andrew Marty, Wyoming, QB, 6-4/205
Penn State: Shawn Clifford, St. Xavier, QB, 6-3/200
Purdue: Derrick Barnes, Holy Cross, LB, 6-3/240
Wisconsin: Danny Davis, Springfield, WR, 6-3/190
BIG 12
Iowa State: Keontae Jones, Colerain, DB, 6-1/175; Dan Sichterman, Kings, DE, 6-3/235
CONFERENCE USA
Old Dominion: Jeremy Meiser, Moeller, DL, 6-3/270
MOUNTAIN WEST
Air Force: Luke Bohenek, Turpin, RB, 6-3/200; Nick Noyen, CHCA, OL/DL; 6-2/280; Kyle Roshong, Alter, LB, 6-2/200; Vince Sanford , Hamilton, WR/DB, 6-1/195; Grant Young, Sycamore, LB, 6-2/224
MAC
Ball State: David Rueth, Alter, LB, 6-1/205; David Walcott, Lakota West, DL, 6-1/250; Zack Waddell, Fairfield, DB, 5-10/175 (PWO); Sid Fox, East Central, LB, 6-1/215 (PWO)
Bowling Green: Colin DeBord, Centerville, ATH, 6-1/185; Matt Wilcox, Wayne, ATH, 5-10/185; Darius Wortham, Trotwood-Madison, CB/WR, 6-0/170
Buffalo: Jacob Gall, Moeller, OL, 6-3/295
Eastern Michigan: Preston Hutchinson, Mason, QB, 6-3/180
Miami: Michael Davenport, Walnut Hills, WR, 6-3/231; Mason Kuhr, Centerville, RB, 5-10/190 (PWO); Paul Young, La Salle, K, 6-2/180 (PWO)
Kent State ; Kesean Gamble, CHCA, RB, 6-1/230; Ray James, Wayne, WR, 5-11/175; Nathan Monnin, Piqua, TE/DE, 6-5/267
Toledo: Jamal Hines, Princeton, DE, 6-2/216; Nick Kovacs, Springboro, WR, 6-2/195; Shane Ramey , Springfield, RB, 6-2/221
Western Michigan: Jack Knippper. Beavercreek, LB, 6-2/240
SEC
Kentucky: Alex King, Mason, DE, 6-3/221
PAC 12
California: Chris Landgrebe, Madeira, K, 6-1/195