2017 Snapshot: Roger Bacon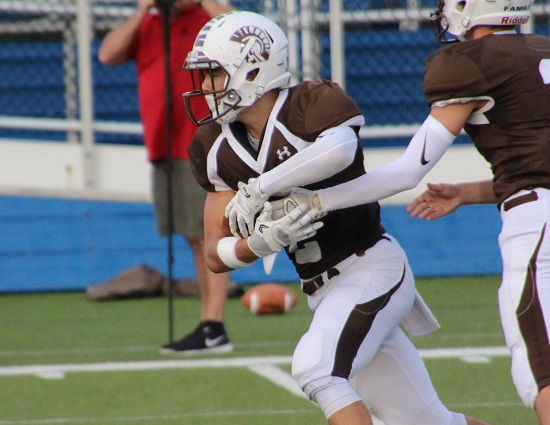 Roger Bacon RB Chris Kugele (photo by Dion Daniels/TSF)
Entering his third season as the Roger Bacon head coach, Mike Blaut sees thing looking up at his alma mater. After back-to-back 3-7 campaigns Blaut has given the 2017 Spartans an identity and that may just be what the doctor ordered to bring winning football back Bron Bacevich Stadium.
"We have had great numbers in the weight room and several new players coming out for the team. Every player in the weight room has had fantastic gains in speed and strength. We have a great new attitude and we hope to carry it over into the season. RISE OF THE SPARTANS!" Blaut exclaims. It is a team credo that is so appropriate for a team that has had its lows the past several years.
The "Rise of the Spartans" is a motto that is about a trickle-down effect. One that will rub off on the classes not graduating in 2018. "We only have nine seniors. There is a good group of young players coming up," Blaut says. Those underclassmen bring the element of speed and athleticism. Unfortunately they lack Friday night game experience but they do have an identity and that puts a chip on their shoulder.
There is little doubt that the program is starting to take the shape that Blaut foresaw when he was hired. Youth and inexperience will have growing pains early. As the season wears on look for Roger Bacon to improve and learn how to win. It will be tough to crack that code with the youngsters but when it happens confidence will soar. At that point, success will be within the Spartans grasp for a run of fruitful campaigns.

Division V, Region 20
2016 RECORD: 3-7, 1-6 GCL Coeds
COACH:  Mike Blaut (6-14 @ Roger Bacon, two years, 6-14 overall)
HONOR ROLL
Logan Wolf, Sr, WR/DB – A Second Team All-GCL Central selection as a junior Wolf had seven of his 16 receptions over the last two weeks of '16. He is also starter in the secondary and finished last season with 22 total tackles.
Thomas Curtis, Jr, OL/DL – The 6-foot-1, 260 pound Curtis is one of the GCL Co-eds top returning lineman. He was a Second Team All-GCL Central selection as a sophomore.
Kobe Taylor, Sr, WR – Taylor led Roger bacon with 24 receptions and 320 yards in '16. He was named Second Team All-GCL Central for his efforts. Don't be surprised if Taylor also see time at quarterback. He has 132 yards passing over the past two campaigns.
Zac Whitton, Jr, LB – A bust out sophomore season saw Whitton earn Second Team All-GCL Central honors. Despite being just a junior Whitton has been named a team captain for '17.
OTHER RETURNEES
Nate Stark, Jr, OL/DL – A high motor guy who makes the most of being an undersized defensive lineman. Stark recorded 33 total tackles and two sacks as a sophomore. He has been named one of the team captains for '17.
Chris Kugele, Sr, RB/LB – Kugele will be the Spartans top option in the running game. He has run for 481 yards and nine touchdowns for the brown and white during his career. Kugele was voted a team captain for '17.
Chaz Scholz, Sr, OL/DL – one the team's leading tacklers as a junior Scholz had 28 solo takedowns and forced two fumbles for the Spartans.
Zach Kuhlman, Jr, WR/DB – Kuhlman came on the scene in a big way as a sophomore. He finished second on the team with 46 total tackles, had an interception, averaged 23.8 on kickoff returns including a touchdown return and had seven receptions for 78 yards.
Jakob Jones, Sr, RB/DB – The senior is a valuable commodity on both sides of the ball for coach Blaut. Jones gave fans a glimpse of greatness running for 89 of his 164 yards as a junior against Chaminade Julienne.
Mykale Carson, So, LB – Carson was solid in his varsity debut recording 16 total tackles as a freshman.
NEWCOMERS
The Spartans Class of 2020 is oozes with potential at the skill positions and along the line as WR/DB Ryan Blaut, RB/DB Aidan Baker, RB/DB Keontay Dear, OL/DL Noah Miller, OL/DL Nolan Tebbe and OL/DL James Thompson all look to have breakout seasons. Junior WR/DB Zac Cappel is also in the mix for playing time on both sides of the ball. Freshman RB Corey Kiner is already getting the attention of his coaches despite not having seen pads yet.
PLAYOFF HISTORY
(five appearances, 2-5) – 2010, 2005, 2001, 1998, 1997
2017 SCHEDULE
The non-conference portion of the schedule has the Spartans on the road at a pair of CHL foes, Reading and Indian Hill. Sandwiched in between those affairs is a home game against Division I, Western Hills. The month of September will be trying for the Spartans who have to face Alter and McNicholas early in league play.
FINISHING STRONG
Roger Bacon wore down late last season. The Spartans gave up 266 yards a game rushing over the last six weeks of the season, going 1-5 in that span. They must do a better job of getting off of the field if they are to make it to the postseason.
CHANGING DIRECTION
Things in the GCL Co-eds have been rough for Roger Bacon the past two seasons with only one win (1-13) in league play during that time. They have been outscored by an average of 32.7 in those conference contests. The good news is last season's victory over Purcell Marian in the finale ended a 13-game losing streak against the GCL Co-eds. The Spartans can build on that.