Competitive Balance Hits GCL Co-eds Hard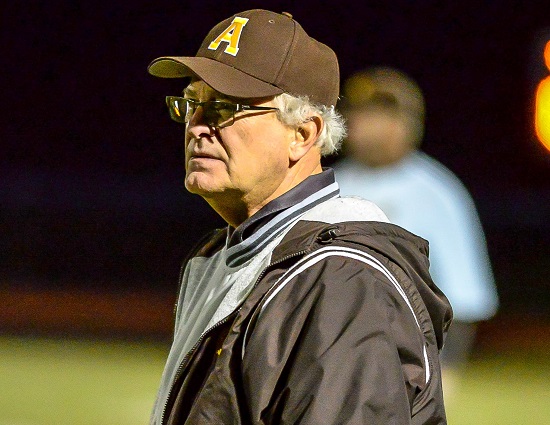 Alter head coach Ed Domsitz (photo by MikeNoyes/TSF)
Six of the eight football teams in the Greater Catholic League Co-eds will move up a division in 2017. It is all courtesy of the Competitive Balance roster data which has been implemented for the first time. It upped all eight schools enrollment totals by more than 23%.
The Competitive Balance roster data in football, volleyball and soccer, were approved Thursday morning by the Ohio High School Athletic Association Board of Directors during its April meeting. Division assignments are based on school enrollment numbers provided by the Ohio Department of Education, and then modified in football, volleyball and soccer based on Competitive Balance factors that OHSAA member schools approved by referendum vote in 2014.
According to Competitive Balance regulations, the previous season's roster data (grades 9-12) is used for affecting the following season's additional roster count in the selected sports. The additional roster count is added to the school's base enrollment number to determine the final adjusted enrollment count before divisional placements are made.
"This is a journey that we have been on for more than eight years to get to this point," Dr. Dan Ross, OHSAA Commissioner, said. "Today's approval of the fall sports divisional breakdowns is the result of countless hours of work by our staff and our member schools. For the first time in OHSAA history, enrollment isn't the only factor in determining a school's division in certain sports. But the journey isn't over. We will study the results of this first go-around and discuss with the Competitive Balance Committee and the board."
In laymen's terms it means this for GCL Co-ed schools. Carroll moves up to Division II. The Patriots will be the smallest school in Division II. Competitive Balance inflated Carroll's male enrollment totals by 67 kids from 323 to 390 (17.2%).
Moving up from Division IV to Division III are Badin, Alter and Chaminade Julienne. Badin was walloped by Competitive Balance which added 84 males to its adjusted enrollment. It took the Rams from 227 to 321 male students (26.2%). Alter saw Competitive Balance add 70 men to their adjusted enrollment. That moved the Knights from 228 males to 298 (23.5%). The adjusted enrollment numbers for Chaminade Julienne went from 257 to 326 a jump of 69 males (21.1%). McNicholas remains in Division III. Despite the addition of 60 (20.2%), the Rockets ironically become the smallest adjusted enrollment schools of the four GCL Co-eds in Division III at 297 boys.
Just missing the cut and staying in Division IV is Fenwick. The Falcons saw Competitive Balance add 66 males (24.0%) to its adjusted enrollment. It makes Fenwick the largest school in Division IV at 275 males. Roger Bacon joins the Falcons moving up from Division V with a plus-63 (27.0%) to its enrollment totals.
The GCL Co-eds smallest school Purcell Marian gets bumped up to Division V. The Cavaliers adjusted enrollment climbed by 46 males to 183 (25.1%).
It is hard to say what impact these moves will have on the Regions. The OHSAA will announce which Regions schools will be placed, on June, 6th. It looks like what will be Division III, Region 12 could highly entertaining with the additions of Badin, Alter, Chaminade Julienne along with other newcomers Butler, Piqua and Dunbar making perennial Regional champion Trotwood-Madison's road to the title that much difficult.