The Mayer of CovCath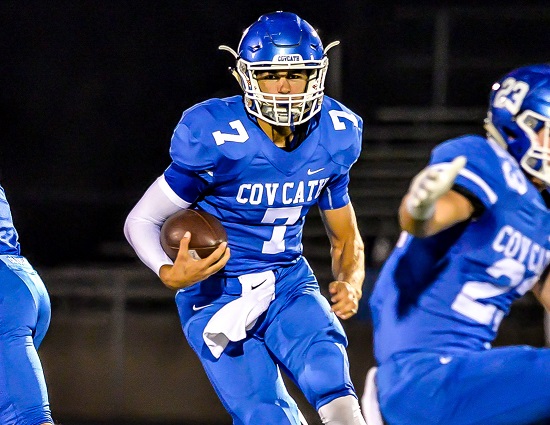 Covington Catholic QB AJ Mayer (photo by Mike Noyes/TSF)
For the past two season the Covington Catholic offense has run through quarterback AJ Mayer. He has shredded opposing defenses with his arm and legs. Mayer will head into his senior campaign as one of the most feared offensive players in Northern Kentucky. The Colonels are poised for a big year behind his leadership.
Mayer was the 2016 Class 5A, District 5 Player of the Year and a TriState Football Northern Kentucky Offensive Player of the Year finalist. His talents have not gone unnoticed. The 6-3, 200 pound Mayer has offers from Akron, Ball State, Eastern Kentucky, Miami (OH), Murray State and Ohio.
Here is a look at Mayer, By The Numbers.
1 – Game of 300 yards passing or more in his career
2 – Games of 100 yards or more rushing in his career
3 – Games with two or more rushing touchdowns in his career
4 – Most rushing touchdowns in a game (at Highlands – 10/14/16)
5 – Most passing touchdowns in a game (at Scott County – 10/30/15)
6 – Games with three or more passing touchdowns in his career
8 – Rushing touchdowns as a sophomore
8 – Games of 200 yards passing or more in his career
11 – Rushing touchdowns as a junior
17 – Passing touchdowns as a sophomore
19 – Games with 200 yards or more of total offense in his career
19 – Rushing touchdowns in his career
20 – Passing touchdowns as a junior
34 – Yards passing yards as a freshman
37 – Passing touchdowns in his career
168 – Career high rushing yards in a game (at Highlands – 10/14/16)
302 – Career high passing yards in a game (vs. Beechwood – 9/16/16)
321 – Completions in his career
340 – Career high yards of total offense in a game (at oak Hills – 8/25/16)
521 – Yards rushing as a junior
631 – Yards rushing as a sophomore
1,154 – Yards rushing in his career
1,974 – Yards passing as a sophomore
2,461 – Yards passing as a junior
4,469 – Yards passing in his career