2017 Snapshot: Harrison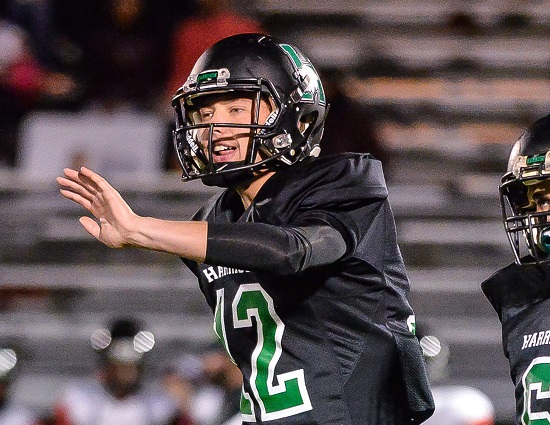 Harrison QB Frankie Young (photo by Mike Noyes/TSF)
Continuity is so very important when building a winning football program especially when adversity arises. Harrison finds itself in that position with a new head coach for the first time in seven years. Hoping not to upset the apple cart they stayed in house and hired assistant coach, Derek Rehage to keep the team's success going. Five of the Wildcats 10 playoff appearances have come in the last seven years. Now the school turns to Rehage to move the program up the ladder another rung.
The cupboard is not bare for the young coach who sees the team return eight starters on defense and five on offense. "Building on last year's team success," is one of the 2017 Wildcats biggest strength's, Rehage says. Harrison players know how to win and expect to do so every Friday night. They are not intimidated by anyone.
As plentiful as the past several seasons has been there is still another level to get to. Making the playoffs is one thing, winning in them is another. That is where the Wildcats need to go. To get there, "we need to become a more physical team," Rehage states.
Harrison is not blessed with beef up front. What this team lacks in size they have to make up for in fight and heart. Postseason victories will come if they can conquer that hurdle.
Division II, Region 8
2016 RECORD: 6-5, 4-2 Southwest Ohio Conference (SWOC)
COACH: Derek Rehage (0-0 at Harrison, first year; 0-0 overall)
HONOR ROLL
Frankie Young, Sr, QB – Young shattered the Harrison record books in '16. He set the school single season records for passing yards (3,024), passing touchdowns (31), pass attempts (360), completions (214), yards passing in a game (501) and touchdown passes in a game (six). That effort earned Young Division II Honorable Mention All-Southwest District and First Team All-SWOC accolades.
Austin Silcox, Sr, OLB – An outstanding outside rush presence Silcox was named Division II Second Team All-Southwest District as a junior. He is a Division 1-AA (FCS) college recruit.
Kyle Farfsing, Jr, K – Heading into his junior campaign Farfsing has already had a career that most high school kickers only dream about. A Second Team All-SWOC selection in '16, Farfsing has connected on 95/97 extra points and 7/11 field goals at the varsity level. He is just 46 points away from setting the school record for kicking points.
Mike Browning, Sr, DB – An Honorable Mention All-SWOC pick as a junior, Browning tied for the team lead with four takeaways (three interceptions, one fumble recovery). He is the leader of the defensive backfield.
OTHER RETURNEES
Nate Weber, Sr, OL – The spark that keys the ignition of the offense. A returning starter, Weber epitomizes the character of the o-line.
Mason Murphy, Jr, OL – Rock solid as a sophomore starter, Murphy has all-conference potential.
Daniel Nienaber, Sr, OL – A returning starter and one of the leaders along the line.
Eddie Sunderhaus, Sr, OL – At 6-foot-3 and 230 pounds Sunderhaus is the largest of the Wildcats four returning starters up front.
Ben Scott, Sr, TB – Starting last October, Scott really came on. He ran for 514 of his 523 yards over the Wildcats last five tilts. Scott had games of 202 and 171 yards rushing in that span.
Jace Fette, Jr, WR –  Fette should go into the season soaring with confidence after catching two of his four passes as a sophomore for 65 yards and a touchdown in last year's playoff loss to Turpin.
Austin Campton, Sr, DL – Campton is the leader of a d-line that will be one of the Wildcats best attributes in '17.
Max Boyle, Jr, DL – The sky is the limit for Boyle who had an impressive sophomore campaign.
Simon Shirley, Sr, ILB – Really showed signs that he could impact a game during the second half of last season. Confidence should be oozing for Shirley as a junior.
Logan Weber, Sr, ILB – A real pleasant surprise who had a breakout season in '16. Expect even bigger things from Weber this fall.
Cooper McElroy, Sr, CB – McElroy should benefit greatly from the defensive front sevens pressure that will create takeaway opportunities for the secondary.
Hayden Ellis, Sr, DB – Back for a third year as a starter, Ellis is a dependable tackler. Look for big interceptions numbers from him.

NEWCOMERS
A sophomore class that includes DB Max Tidwell, RB/LB Derek Smith, ATH Jason Reardon, LB Brett McIntosh, WR Kyler Frankhauser and ATH Blake Cox will get plenty of snaps in training camp thanks to the departure of such a stellar Class of '17. The opportunities are there to be had.
Senior DB Jack Bonfield has minimal varsity minutes but will still be a leader in the secondary. Keep an eye on junior TB Brandon Bevis. He could be a fine compliment to Scott in the backfield.
PLAYOFF HISTORY
(10 appearances, 5-10) – 2016, 2014, 2013, 2011, 2010, 2006, 1997, 1989, 1988 (Regional Champions), 1987
2017 SCHEDULE
The first three weeks are really going to test Harrison's depth in all phases of the game. Going to East Central (IN) for the opener then home games versus Findlay and Anderson will see the all kinds of looks thrown at the Wildcats. Harrison must keep focus as a stretch of four tilts on the road in five weeks at Edgewood, at an on the rise Little Miami, at Franklin County (IN) and on the road versus Mount Healthy in Week 9. Any slip ups here could put a big damper on Harrison's playoff hopes. Wins on the other hand will boost those Harbin Ratings big time.
THE WILDCATS WINNING WAYS
Harrison has career winning records against all its six rival SWOC schools – Talawanda (22-1); Ross (17-3); Northwest (17-8); Mount Healthy (13-6); Edgewood (7-4) and Little Miami (5-0). The program's 22 wins against Talawanda and East Central (22-17-1) are the most versus any opponent.
40 GOOD, 40 BAD
Five times last season the Wildcats scored 40 points or more. They went 5-0 in those affairs. Harrison won a pair of one-point games but allowed 47 and 48 points in them. The Wildcats allowed 40 points or more on five occasions going 2-3 in those contests.
RECEIVERS WANTED
Of the 31 touchdown passes that Frankie Young threw last season 29 went to players who graduated. Junior Jace Fette caught the other two scoring strikes. They were two of the last five that Young threw last fall. The first 26 all went to seniors.