Best Bets: NKY – Week 4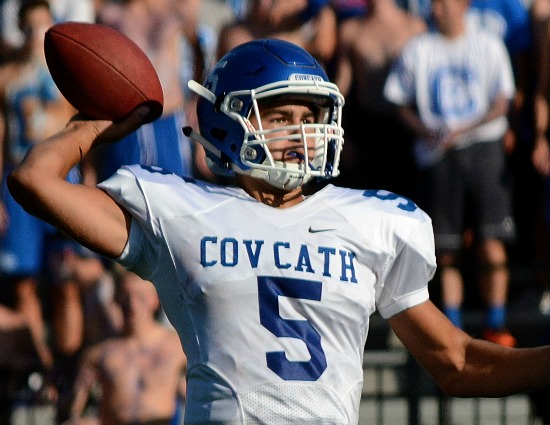 Two of the area's top Class 6A teams vie for supremacy, undefeated rivals clash and Northern Kentucky powers will be challenged by strong downstate teams.
Here are the Best Bets for Week 4 of prep football in Northern Kentucky:
Covington Catholic (4-0) at Beechwood (3-0), 7:30 p.m. – A pair of unbeatens continue their annual series. The Colonels have won the past two meetings and are absolutely loaded this season. The Colonels have outscored their opponents, 173-33 – that's an average winning score of 43-8. A.J. Mayer has an 11-1 touchdowns-to-interceptions ratio, and he has completed 62.8 percent of his passes for an average of 17.4 yards per completion. Beechwood has pulled out back-to-back seven-point wins over downstate foes Somerset and Corbin following a 35-14 opening-night victory over Lloyd. Logan Castleman has thrive in a rusher-receiver role for the Tigers, leading the team in catches (11), yards (127) and combining for three scores.
Campbell County (3-1) at Ryle (3-1), 7:30 p.m. – Campbell County has yet to lose in regulation (its lone blemish was a 27-20 overtime decision at Highlands), and the Camels answered that Week 1 defeat with wins over NewCath and Cooper by an average margin of 24. Alex Dowds has been the staple of the Camels' offense, rushing for 762 yards and 10 touchdowns while averaging over eight yards per carry. Ryle lost to CovCath by 32 in Week 0 but has rebounded with three straight victories, and has scored an average of 43 points in those wins. What a going-away party Jake Chisholm is having after an already-stellar prep career: 84 carries for 806 yards, 12 catches for 178 yards, 15 total touchdowns.
Lexington Catholic (2-2) at Highlands (2-2), 7:30 p.m. – LexCath always plays one of the toughest schedules in the state, so the Knights' record is somewhat deceiving as its losses have come to CovCathy and a better-than-normal Lexington Christian team. LexCath has allowed an average of 264 rushing yards per game and has struggled offensively in that department. Beau Allen has thrown for 759 yards, and he uses a ton of targets, as five of his targets have over 100 yards receiving.
Cooper (0-4) at Simon Kenton (4-0), Saturday, 7 p.m. – Even with a 3-8 season mixed in and an 0-4 start to 2017, Cooper is 15 games over .500 the past five years. But this appears to be a major down season for the Jaguars, who are averaging just 217 yards of offense while allowing more than that on the ground alone (225 YPG). Anthony Witschey has been a bright spot for Cooper, gaining 351 yards on the ground and scoring three times. Simon Kenton has won 51 games since the start of 2013, and the Pioneers are undefeated while averaging 406 yards of offense in 2017. QB Matt Shearer is 51-for-80 for 692 yards and 12 touchdowns with no interceptions, and both Fisher Hayden and Sam Murray have caught four TD passes. This game will air on Channel 64, which is why it was moved to Saturday.
Conner (2-1) at Dixie Heights (0-4), 7 p.m. – Conner's lone loss was to Simon Kenton by seven, and the Cougars have beaten Dixie Heights each of the past two seasons since these teams resumed their all-time series. Cooper Gullion was 10 of 11 passing last week for 113 yards, two touchdowns and no picks, and he has an 81.0 percent completion rate for the season. The Colonels have allowed more points each week this season: 27, 42, 49, 59. Dixie Heights has only thrown about 15 percent of the time, with Paul Guenther and Brandon Barker both gaining over 300 yards each on the ground.
Bellevue (3-1) at Gallatin County (2-2), 7 p.m. – Following a two-point, overtime loss at Nicholas County, Bellevue has won three straight by an average of 20 points. Eric Atkins has thrown for 944 yards and 15 touchdowns on a team that throws half the time. Gallatin County is 0-2 vs. Northern Kentucky teams – it lost to Pendleton County opening night and was blown out, 40-7 by Ludlow. The Wildcats are 2-0 at home this year and beat the Tigers in 2016.
Newport (1-2) at Ludlow (3-0), 7 p.m. – Following consecutive 1-10 seasons, Newport won its opener vs. Finneytown and was competitive in its subsequent losses to Owen County and Brossart. QB Giaunte Jackson has led with his legs, gaining 247 yards on the ground, and Tyler Porter has scored all four of the team's rushing touchdowns. Ludlow won three games all of last season under then first-year coach Greg Taphouse but has already matched that total, averaging 41.0 points per game. Justin Blackbrun has dominated out of the backfield, rushing for 565 and nine touchdowns at an 11 yards-per-carry clip.
Louisville Christian (4-0) at Newport Central Catholic (2-2), 7:30 p.m. – This is an exceptional Louisville Christian team that has outscored its opponents, 100-30. The Centurions have allowed just 171 yards of offense per game. NewCath won its first two games while surrendering a total of 14 points against Scott and Cooper but were beaten soundly by Campbell County and Belfry. All-purpose back Kyle Kelly lead the Thoroughbreds in carries (80), rushing yards (389), rushing TDs (2), catches (10) and receiving yards (128).