2017 Snapshot: Lakota West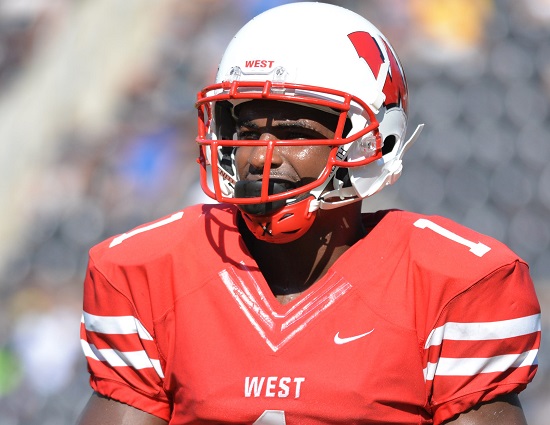 Lakota West MLB Xavier Peters (photo by Mike Noyes/TSF)
Last season, the first six games for Lakota West could not have gone any worse. The Firebirds started 0-6 and after three games they were allowing 50 points per contest during the non-conference portion of their schedule. To compound matters the team scored just seven points in each of the last four games of that losing streak.
Lakota West was its own worst enemy in 2016. The majority of the Firebirds wounds from the poundings were self-inflicted. In their eight losses the Firebirds coughed the ball up 27 times and had a turnover margin of -22. Lakota West created eight turnovers and had a +6 turnover margin in its two wins. Priority number one for this squad will be to take care of the football. That will give them a fighting chance to win every Friday night.
There is never a shortage of size at Lakota West and that is the case again this fall. It will be one of this team's biggest strengths. "Our offensive and defensive lines as well as overall team speed," head coach Larry Cox laments on where his team will shine. The Firebirds speed can mask and overcome mental miscues on the field that a fledgling set of skills players may make. That group's success is still going to be predicated on cherishing the football.
There has always been plenty of talent at Lakota West and this season will be no different. The biggest hurdle for Cox and his staff will be getting his troops to be cohesive. This team will benefit greatly from a couple of early confidence building wins. Once they start believing the Firebirds could be very dangerous in the hunt for a playoff berth.
Division I, Region 4
2016 RECORD: 2-8, 2-5 GMC
COACH: Larry Cox (112-97 @ Lakota West, 20 years, 125-102 overall, 22 years)
HONOR ROLL
Xavier Peters, Sr, MLB – Cox moved Peters from receiver to linebacker in Game 5 a year ago and the young man elevated his game to a whole other level. Peters' stock has risen dramatically since last season ended. His offers include Georgia, Iowa State, LSU, Maryland, Minnesota, Oregon, Pitt, Texas, UCLA and Virginia Tech.
Tyler Bentley, Sr, DL – One of the top returning linemen in the Greater Miami Conference, Bentley was a First Team All-GMC selection as a junior. The 6-foot-2, 302 pound Bentley has offers from Alabama, Boston College, Bowling Green, Cincinnati, Florida, Indiana, Iowa State, Kentucky, Louisville, LSU, Marshall, Maryland, Miami (OH), Minnesota, Missouri, Ohio, Rutgers, Tennessee, Toledo, Virginia, West Virginia and Wisconsin.
Steven Faucheux, Jr, DL – A fantastic varsity debut saw Faucheux record four sacks with eight tackles for losses as a sophomore. He was named Honorable Mention All-southwest District for his efforts. Faucheux is one of the top prospects in the Class of '19 ad currently has offers from Cincinnati, Florida, Indiana, Iowa State, Kentucky, Maryland, Miami (OH), Tennessee and Tulane.
WELCOME TO THE BIG SHOW
Lakota West expects to see big improvements up front on offense. The Firebirds started three sophomores on the interior of the offensive line last fall – C Ryland Chaney, OG Elijah Hale and OG Ryan Francisco. Don't be surprised if the 6-foot-4, 285 pound Hale starts picking up offers from MAC schools before the year is over.
NEWCOMERS
There are plenty of spots up for grabs at the skills positions for the Firebirds. Juniors RB Jalen Swanson and DB Jeremiah Ross should move into starting roles. A freshman team that went 9-1 last season has Cox excited about what the future holds. Members of that squad who look to make an immediate impact at the varsity level are QB MyJaden Horton, RB David Afari and LB Daved Jones. Horton is the youngest in a family that has put some very good football players on the field at Lakota West. His upside has no limits.
PLAYOFF HISTORY
(five appearances, 2-5) – 2014, 2013, 2009, 2006, 2004
*Lakota High School went to the playoffs in 1995. They went 2-0 (gaining a win due to forfeiture)
2017 SCHEDULE
The GMC adds an eighth league game to the regular season schedule. The Firebirds will face all GMC rivals except Sycamore. The first three contests on the schedule which will include home games versus Centerville and Fairfield present huge opportunities. Two or three victories would give Lakota West some great early momentum that could payoff big time come October. It is odd to see the Firebirds playing Lakota East in September and not in the regular season finale.
WANTED 1,000 YARD RUSHER
Last season marked the first time that the Firebirds haven't had a 1,000 yard rusher since '10.

WINNING WAYS AT WEST
Last fall marked the first time that the Firebirds haven't had a winning campaign since '11. It also broke the programs longest streak of four consecutive seasons above .500.