Radio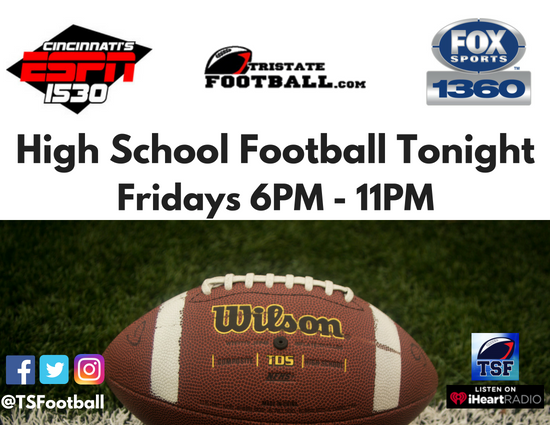 The area's No. 1 source for high school football fans on Fridays, TriStateFootball.com, returns to the radio for the 2021 season! Tune as we bring the thrill of game night to the airwaves every Friday night this season.
High School Football Tonight is on not one, but two different radio stations. The only two radio stations in the market dedicated to 24/7 sports coverage, ESPN 1530 and FOXSports 1360, each are broadcasting high school football once again this fall. In addition, all broadcasts will be carried on mobile devices and online via the I-Heart Radio and the I-Heart app.
LISTEN LIVE | ON-DEMAND INTERVIEWS
Co-hosts Dan Clasgens, Greg Shoemaker and Safwan Alvi will serve as fans' tour guides around the area's top games as they welcome in members of the TSF staff throughout the evening and talk to players and coaches directly from the field.
The St. Xavier Bombers will also once again be broadcasting their games in 2021 on WSAI-AM (1360), as well as on WCKY-AM (1530) most weeks.
High School Football Tonight will have a pregame show (6:00 PM – 15 minutes before kickoff) and a postgame show immediately following the game (approx. (9:30 PM) to 11:00 PM each week.
Here is the schedule of games to be aired on Fridays this fall:
Aug 20 – Lakota West at St. Xavier – 7:00 PM – (FOX Sports 1360 only)
Aug 27 – St. Xavier at Colerain – 7:00 PM – (FOX Sports 1360 only)
Sep 3 – St. Xavier at Olentangy Liberty – 7:00 PM – (ESPN 1530 / FOX Sports 1360)
Sep 10 – St. Xavier at Penn – 7:00 PM – (ESPN 1530 / FOX Sports 1360)
Sep 17 – St. Xavier at Moeller – 7:00 PM – (FOX Sports 1360 only)
Sep 24 – Elder at St. Xavier- 7:00 PM – (ESPN 1530 / FOX Sports 1360)
Oct 1 – Louisville Trinity at St. Xavier- 7:00 PM – (ESPN 1530 / FOX Sports 1360)
Oct 8 – LaSalle at St. Xavier – 7:00 PM – (ESPN 1530 / FOX Sports 1360)
Oct 15 – High School Football Tonight – 6:00 – 8:00 PM only – (ESPN 1530 / FOX Sports 1360)
Oct 22 – Eagles Landing Christian at St. Xavier – 7:00 PM – (ESPN 1530 / FOX Sports 1360)
Oct 29 – High School Football Tonight – 6:00 – 8:00 PM only – (ESPN 1530)
Nov 5 – St. Xavier vs. TBA – 7:00 PM (FOX Sports 1360 only)
Nov 11 – High School Football Tonight airs on Thursday 6:00-8:00 PM (ESPN 1530)
Nov 19 – St. Xavier vs. TBA – 7:00 PM (FOX Sports 1360 only)
Nov 25 – High School Football Tonight airs on Thursday 6:00-8:00 PM (ESPN 1530)
Dec 3 – State Championship Weekend – TBD
*Postseason schedule subject to change