Streaking Into 2017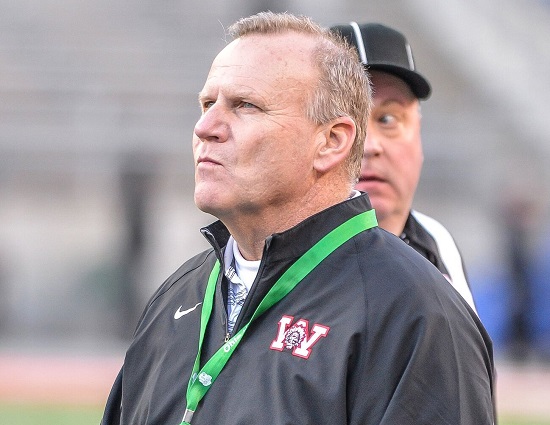 Wayne Head Coach Jay Minton (photo by Mike Noyes/TSF)
There were three state champions last season amongst all the schools that TriState Football covers. In Kentucky, Beechwood won the small school Class A title. North of the river, GCL South rivals St. Xavier captured the Division I crown while La Salle brought home its third straight championship in Division II.
Beechwood and La Salle head into 2017 with 11-game winning streaks. Best in the area. St. Xavier is next on the win streak list at six in a row. Even though they didn't make the playoffs Bishop Fenwick ended the year on a five game roll. The Falcons have been strong finishers the last three seasons for head coach Joe Snively. They have won their last five twice and last four once in that span under him.
Wayne heads into '17 with 19 consecutive regular season triumphs. The Warriors opener last season was called due to lightning and was never made up. They went into the playoffs at 9-0. They haven't lost a regular season tilt since the '14 finale versus Centerville. That is Wayne's only glitch in its last 35 regular season contests.
Also with 19 straight victories in the regular season is CHCA. The Eagles have won 43 of their last 44 in the regular season dating back to October 4th, 2012.
Greenon has never been a football school but things have never been this bad. It was a third consecutive winless season for the Knights. The program hasn't seen a victory since October 25th, 2013. Lack of offense has been the downfall during their current 31-game skid. How bad has the futility been during the streak? Greenon has been shutout 12 times, scored six points eight times, scored seven points once and eight points once. They have only put up more than 15 points. The Knights are a combined 2-48 over the past five campaigns.
Here is a look at who is streaking into 2017.
Current winning streaks (games)
11…Beechwood, La Salle
6…..St. Xavier
5…..Bishop Fenwick
Current regular season winning streaks
19…CHCA, Wayne
17…Colerain
16…Alter
15…Indian Lake
11…Ryle, Turpin, Wyoming
10…Franklin
9…..New Richmond
8…..Carlisle, Clinton-Massie
6…..Aiken, Beechwood, Belmont, La Salle, Taft
5…..Bishop Fenwick, Blanchester, Hillcrest Academy, Indian Hill, Troy, Valley View
Current losing streaks
31…Greenon
19…Finneytown
10…Middletown, South Dearborn, Waynesville
8…..Newport
7…..Ross, Trimble County, West Carrollton
6…..Clark Montessori, Dayton, Greenville, Purcell Marian, Walnut Hills
5…..Badin, Beavercreek, CCPA, Deer Park, Eaton, Grant County