Best Bets: NKY – Week 6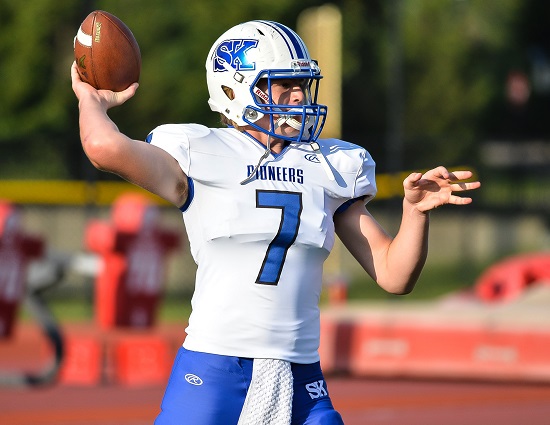 It's Week 6 in Northern Kentucky, but the majority of key matchups still involve non-district foes.
Smaller schools Beechwood and Lloyd look to pull out wins against Simon Kenton and Conner, respectively, and Ryle takes on Indianapolis power Cathedral.
Here are the Best Bets for Northern Kentucky in Week 6:
Simon Kenton (6-0) at Beechwood (4-1), 7:30 p.m. – Simon Kenton has won four games easily and two by one score: 13-6 over Conner on Sept. 1 and last week when the Pioneers edged Highlands, 35-30. QB Matt Shearer's numbers are ridiculous: He's 80-for-126 (63.5 percent) for 1,217 yards (15.2 per completion) for 20 touchdowns and one pick. Beechwood's lone loss was a sobering 45-9 defeat vs. Covington Catholic. The Tigers have thrived with their defense – they have posted a pair of shutouts and allowed held Holy Cross to just 79 yards of offense last week.
Paris (4-1) at Bracken County (5-1), 7:30 p.m. – Paris has not allowed more than 16 points in any game this season, and that was in its lone loss to Louisville Holy Cross. Opponents are averaging just 143 yards per game. Matthew Barber is pacing the Greyhounds' offense with 519 ground yards and seven TDs on just 47 carries. Bracken County has allowed just 51 points all season, and eight or fewer in all of its wins. Tad Fisher has 96 carries for 883 yards and 12 scores.
Mount Healthy (Ohio) (2-3) at Campbell County (3-2), 7:30 p.m. – After an 0-3 start, Mount Healthy has won consecutive games by margins of six and seven points. Four of the Owls' five games have been decided by eight points or fewer. Campbell County has had three one-possession decisions, going 1-2 in tight games. Alex Dowds has grounded out 777 yards and scored 11 times.
Lloyd (4-1) at Conner (3-2), 7 p.m. – Since losing to Beechwood in Week 1 and an ensuing bye, Lloyd has reeled off three straight wins and outscored its opponents, 124-30. Travon Mason and Jordan Fann have combined for 984 rushing yards and 11 touchdowns. Juggernauts opponents are averaging just 221 yards per game. Four of Conner's games have been decided by a touchdown. The Cougars have been more successful throwing the ball thus far. This is the third straight year these teams have played each other, and Conner has won each of the past two matchups.
Owen County (3-2) at Gallatin County (3-3), 7:30 p.m. – Owen County's win have been by margins of 19, nine and six. Its losses were by scores of 42-0 and 61-0. The Rebels have held opponents to an average of 169 yards of offense and have relied on David Gray's 323 rushing yards. Gallatin County has a pair of wins vs. small, out-of-state schools but is 1-3 vs. Kentucky opponents. These matchups have been incredibly close the past two years, with Owen County winning by two in 2015 and the Wildcats earning a 1-point win last year.
Brossart (4-1) at Ludlow (5-0), 7 p.m. – Yes, those records are correct. Brossart is an anomaly for a small school, as it throws nearly half the time. QB Tyler McDonald has thrown for 1,105 yards, and Bryce Donnelly has caught 22 passes for 471 yards and seven TDs – all team bests. Ludlow averages 44.6 points per game. QB Justin Blackburn has already gained 1,000 yards rushing, and he has scored 15 times.
Indianapolis Cathedral (2-4) at Ryle (4-1), 7:30 p.m. – Cathedral has only played one in-state opponent and lost to its sole Kentucky foe – Louisville St. Xavier – 35-28. Since losing its season opener, Ryle has won four straight, including an overtime victory over Henry Clay and a seven-point win vs. Campbell County last Friday. Jake Chisholm has already rushed for 915 yards and 14 touchdowns. These teams have not met in the past few decades.