Winton Woods ends West Clermont's honeymoon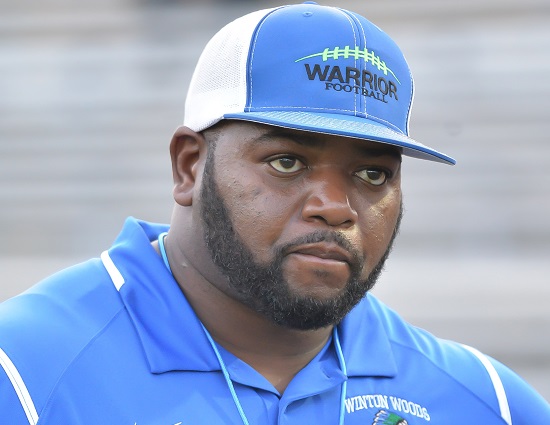 Winton Woods head coach Andre parker (photo by Mike Noyes/TSF)
CINCINNATI, ohio – It was back to reality for West Clermont. Winton Woods shot them down from bliss the Wolves won their inaugural game. The Warriors defense was stellar holding the home team to just 44 total yards on 44 plays and forcing three turnovers on the night. Winton Woods did not let the weather with its torrential downpours and roaring winds upstage their efforts.
The dominated performance saw the Warriors Winton hold West Clermont to 0-13 on third down conversions. They did not allow a play of longer than seven yards in the contest. A week earlier the Wolves had five different runners had runs of 17 yards or more and a pair of touchdown passes of 48 and 65 yards against Princeton. It makes what the Winton Woods defensive unit did seem even more impressive.
For the winners, Cornell Beacham led all runners with 55 yards on the ground of which 45 came on one carry. Raequan Prince had an 81-yard kickoff return to start the second half. Sophomore Miyan Williams ran for his third touchdown of the season.
Winton Woods 0-8-7-10-25
West Clermont 0-0-2-0-2
W: Mayberry 2 run (Clark run)
W: Prince 81 kickoff return(Velasquez kick)
E: Team Safety
W: Velasquez 23 FG
W: Williams 5 run (Velasquez kick)
RECORDS: Winton Woods (2-0); West Clermont (1-1)
UP NEXT: Winton Woods at Springboro (1-1); West Clermont at La Salle (2-0)