It's back to the finals for East Central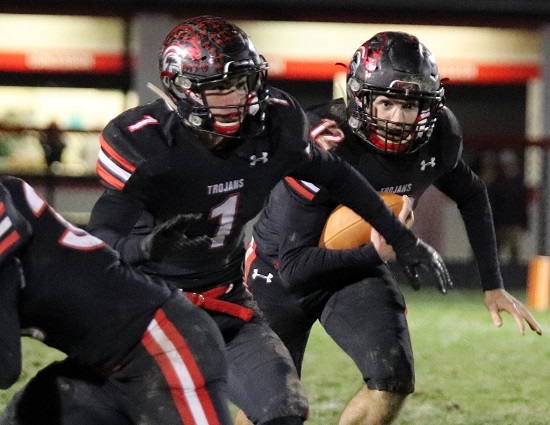 East Central RB Logan Storie and QB Alex Maxwell (12) (photo by Linda Lyness Maxwell)
ST. LEON, indiana – There is no doubt about it, East Central is peaking at the right time. The Trojans took down Greenwood with a timely running game and a staunch defense for the programs fourth semi-state crown. The victory puts East Central back in the IHSAA Class 4A championship game for the second time in the last three years. Now the Trojans look to capture the schools second title and first since 1994.
Running back Logan Storie ran for three second half touchdowns and kept the Woodsmen at arm's length from being a threat. The senior would finish the night 164 yards on 13 carries. He was not the only one doing damage with his feet. Junior quarterback Alex Maxwell ran for 113 yards and a score on 20 carries. Of the Trojans 341 yards of total offense, 329 of it was on the ground.
No to be overshadowed, the East Central defense has now held all five of its playoff opponents scoreless in the first half. In their last nine wins the Trojans have held all of their foes to 14 points or fewer including five shutouts.
The only carrot left on the table for the East Central seniors, who are 14-2 in the playoffs since their sophomore year, is to bring home the ring. That task won't be easy against the state's top-ranked team in Class 4A, Lowell. The Red Devils won their only state title in 2005 under current Franklin County head coach, Kirk Kennedy.
Greenwood 0-0-0-14-14
East Central 0-7-6-14-27
E: Maxwell 38 run (kick failed)
E: Storie 43 run (Browndyke kick)
G: Gallman 3 run (Gallman run)
E: Storie 17 run (Browndyke kick)
E: Storie 56 run (Browndyke kick)
G: Drew 28 pass from Gallman (pass failed)
RECORDS: Evansville Central (11-3); East Central (11-3)
UP NEXT: East Central vs. Lowell (14-0), Saturday, November 25th, 3:30 p.m. at Lucas Oil Stadium (Indianapolis)