Wildcats Air it Out in Win Over Aviators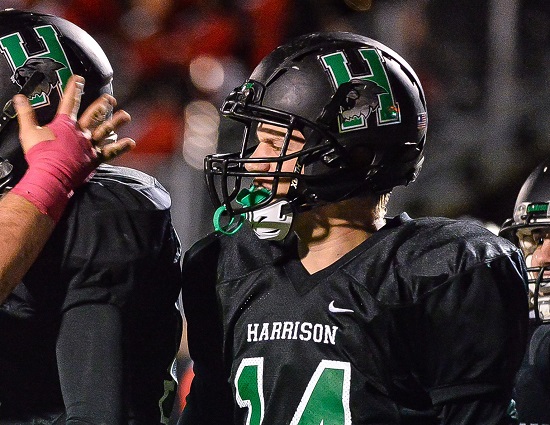 Harrison WR Jace Fette (photo by David Shelton/TriStateFootball.com)
HARRISON, ohio – In his first start under center Harrison junior Connor Kinnett was a dominant force leading his team to a resounding 42-19 victory over Butler. The 6-foot-3, 225-pound Kinnett showed he more than looked the part having a hand in all six Wildcats touchdowns. He finished the contest going 18-23 for 392 yards, had 75 yards rushing with four touchdowns passing and two more on the ground.
Three Wildcats had more than 100 yards receiving. Senior Jace Fette paced the trio with seven receptions for 145 yards and a score. Junior Levi Tidwell caught six balls for 113 yards while finding the end zone twice. Tidwell's classmate, CJ Young hauled in four balls for 120 yards and a touchdown.
Butler had its share of big plays. Aviators senior star wide receiver Bryan Johnson had an 83-yard touchdown catch from quarterback Mason Motter. Johnson scampered 83 yards on a kickoff return but fell just short of paydirt. Motter also hooked up with Ryan Wilson on a 42-yard scoring strike. Running back Ryan Martin gained 66 of his 101 yards on one carry.
SCORING BY QUARTERS
Butler 7-0-6-6-19
Harrison 14-14-7-7-42
SCORING PLAYS
H: Kinnett 3 run (Farfsing kick)
H: Tidwell 26 pass from Kinnett (Farfsing kick)
B: Johnson 83 pass from Motter (Boren kick)
H: Young 85 pass from Kinnett (Farfsing kick)
H: Kinnett 12 run (Farfsing kick)
H: Tidwell 24 pass from Kinnett (Farfsing kick)
B: Martin 2 run (kick failed)
B: Wilson 42 pass from Motter (pass failed)
H: Fette 53 pass from Kinnett (Farfsing kick)
RECORDS: Butler (0-1); Harrison (1-0)
UP NEXT: Butler at Tecumseh (1-0); Harrison hosts East Central in their annual interstate rivalry, "The War on 74."