Alter cruises past Fenwick 45-20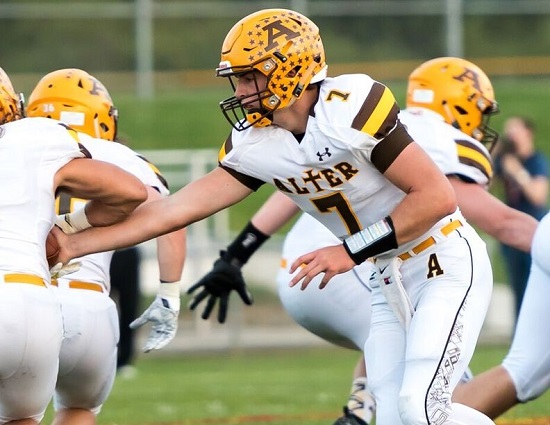 Archbishop Alter was in control tonight as they faced GCL-COED rival Bishop Fenwick, holding them scoreless in the first half en route to a 45-20 win.
It was homecoming for the Alter Knights, and they had no plan on dropping this game against the Falcons.
Alter came out of the gates hot, outgaining their rival on the field, 275-105 in the first half, and 458-291 in total.
It was Brandon McDonald who led the way for Alter, scoring on two long rushes in the first half, one from 39-yards out, and another from 47.
Peter Riazzi scored a rushing touchdown as well for the Knights, and Jack Ruffalo nailed a 29-yard field goal to make it 24-0 at the half.
Despite not scoring in the first half, Fenwick scored on three straight possessions in the second. The run included a 44-yard touchdown rush by senior Jack Fessler, and two touchdown passes from Sully Janeck to Thomas Vogelsang, one from 70-yards out, and one from six.
Those were the only points Alter's defense allowed, as they were dominant for most of the game. They recovered a forced fumble, and snagged an interception against the Falcons.
The lone touchdown pass for Alter came on a 37-yard connection in the second half by Connor Bazelak to senior Jack DiMario.
McDonald led the way for the Knights, running for 228 yards on 23 carries to go along with three touchdowns.
With the win, Alter gets one step closer to it's 16th North-Division title in 17 years, and now lead the all-time series against Fenwick 12-3.
SCORING BY QUARTERS
Bishop Fenwick: 0-0-14-6-20
Archbishop Alter: 7-17-7-14-45
RECORDS: Fenwick (3-2, 1-1); Alter (4-1, 2-0)
UP NEXT: Fenwick travels to Archbishop McNicholas (1-4, 0-1); Alter visits Purcell Marian (4-1, 1-0).