Alter Wins on Late Touchdown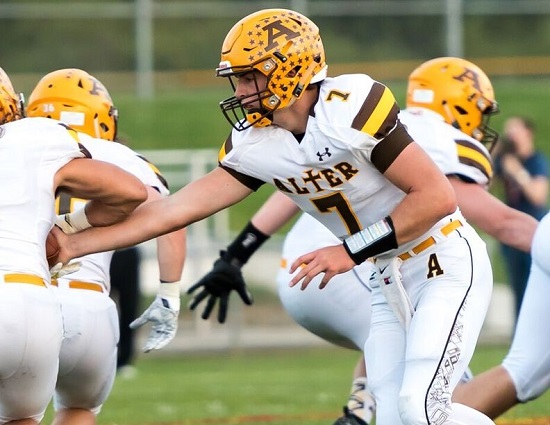 Alter QB Connor Bazelak
Alter scores the game-winning touchdown with just under two minutes left to edge Centerville, 10-7, on the road Friday night.
It took Alter close to 46 minutes until they were able to get in the endzone on a rainy night in Centerville. Lamar Landers ran into the endzone on a 4-yard run to give Alter the win.
This was the first scoring drive for both teams since the first quarter. Alter opened the scoring when Jack Ruffalo kicked a 38-yard field goal.
The Centerville Elks answered on the next possession when Chase Harrison scored on a 5-yard run to take a 7-3 lead.
Both teams struggled to run the football as the Elks had 23 rushing yards and Alter only had 56. They were both able to find success through the air with 283 yards compared to Centerville's 147.
Alter's Connor Bazelak completed 25 passes for 227 yards and threw two interceptions. He helped the offense record 21 first downs and go an impressive 8-for-18 on third down. He also found eight different receivers.
The Knights defense held the Eks to only that one score in the first quarter, and 1-for-11 on third down. They forced Harrison to throw more passes than both previous games combined. They forced two turnovers and recorded a sack.
Centerville has lost the last two games by six points or less after falling to Lakota West last week. The Elks are now winless in the first three games after opening last season with seven straight wins and a trip to the playoffs.
They open GWOC play next Friday at home to undefeated Springfield. Alter will host Roger Bacon. This was Alter's second win after defeating Marshall last Friday. They lost the season opener to Fairmont.
Alter 3 0 0 7 10
Centerville 7 0 0 0 7
A: Ruffalo 38 FG
C: Harrison 5 run
A: Landers 4 run
RECORDS: Alter (2-1); Centerville (0-3)
UP NEXT: Alter hosts Roger Bacon (2-1); Centerville hosts Springfield (3-0)