Castleman the King in Beechwood Win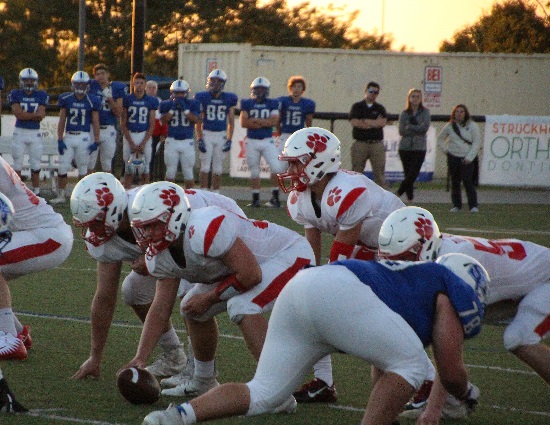 Beechwood QB Cameron Hergott (photo by Dion Daniels/TriStateFootball.com)
INDEPENDENCE, kentucky
Logan Castleman did what no other running back has done all season, shred the Simon Kenton run defense. The Beechwood senior churned out 292 yards on 21 carries with a pair huge of fourth quarter scores helping to propel the smaller Tigers to a huge road victory.
The Pioneers came into the contest allowing just 72.9 yards per contest on the ground. Castleman was terrific, slicing through Simon Kenton like a hot knife through butter. The big night for Castleman was highlighted with milestones for the youngster. His performance sent him over 1,200 yards with 22 touchdowns both rushing and receiving in a Tigers uniform. He also had his 10th career interception.
Beechwood was able to overcome two first half picks including one in the red zone by quarterback Cameron Hergott. The sophomore settled in and finished the night with 178 yards through the air with two touchdown passes and 69 more yards rushing.
Simon Kenton was not as fortunate. Bechwood intercepted three Caleb Farfsing passes. Still somehow Farfsing managed to keep his team close throwing for a pair of scores. He ended his evening with 204 yards passing and 111 yards rushing. Untimely mistakes made for a frustrating night for the home team.
SCORING BY QUARTERS
Beechwood 0-14-0-14-28
Simon Kenton 0-7-7-7-21
SCORING PLAYS
B: Castleman 7 pass from Hergott (Graman kick)
S: Sergent 10 run (Seger kick)
B: Sherron 31 pass from Hergott (Graman kick)
S: Brown 61 pass from Farfsing (Seger kick)
B: Castleman 7 run (Graman kick)
B: Castleman 82 run (Graman kick)
S: Kaiser 18 pass from Farfsing (Seger kick)
RECORDS: Beechwood (4-2); Simon Kenton (5-2)
UP NEXT: Beechwood will host Bellevue (4-2) in its third and final home game of the season; Simon Kenton welcomes in Boone County (2-4).