East Central slays South Dearborn in EIAC Showdown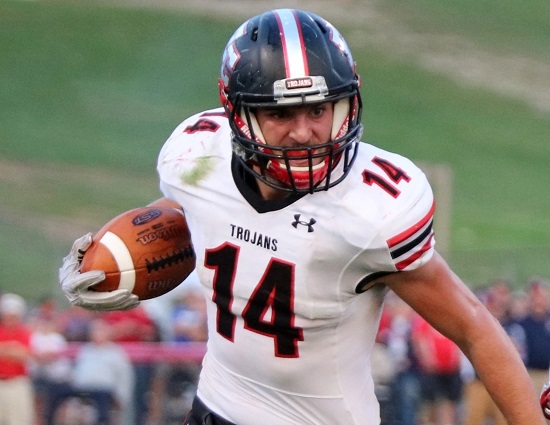 East Central RB Eric Rosemeyer (photo by Linda Lyness Maxwell)
AURORA, Indiana – The East Central rushing attack is wearing down opponents on a weekly basis. Friday night was no different as the Trojans knocked off upstart South Dearborn and clinch no less than a share of the EIAC 4A title.
East Central racked up 531 yards of total offense of which 449 was on the ground. Seniors Eric Rosemeyer (240 yards/28 carries) and Alex Maxwell 176/24 carries) combined for 416 of those rushing yards. Maxwell found the end zone three times and threw for another score. Rosemeyer hit paydirt twice. The Trojans now have 30 rushing touchdowns through six contests. Maxwell has 16 of those touchdowns.
Less than two minutes into the second quarter South Dearborn pulled to within two points at 14-12 after an Adam Dixon to Trey Thies 17-yard scoring strike. The Knights offense sputtered out after that. They ended the night with just seven first downs while committing 10 penalties for 100 yards. Dixon ended up 8-24 for 115 yards and an interception.
East Central is now on a four-game winning streak. The Trojans have averaged 51.0 points during that span. South Dearborn came into the affair having only allowed 21 points the entire season. The Knights gave up that much in each half to the Trojans.
SCORING BY QUARTERS
East Central 14-7-7-14-42
South Dearborn 6-6-0-0-12
SCORING PLAYS
S: Dixon 3 run (pass failed)
E: Rosemeyer 2 run (C. Browdyke kick)
E: Maxwell 9 run (C. Browndyke kick)
S: Thies 17 pass from Dixon (pass failed)
E: Fike 35 pass from Maxwell (C. Browndyke kick)
E: Maxwell 1 run (C. Browndyke kick)
E: Maxwell 33 run (C. Browndyke kick)
E: Fike 10 run (C. Browndyke kick)
E: Rosemeyer  run (C. Browdyke kick)

RECORDS: East Central (5-1, 2-0); South Dearborn (4-2, 1-1)
UP NEXT: East Central is at Connersville (0-6, 0-2); South Dearborn is on the road at Franklin County (2-4, 1-1)