Horton's Big First Half Propels La Salle Past Scott County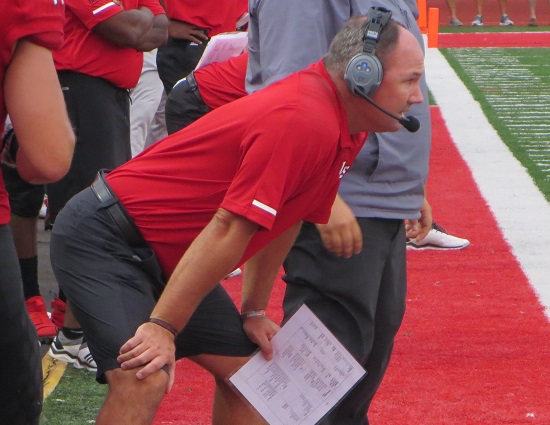 La Salle head coach Pat McLaughlin (photo by Greg Shoemaker/TriStateFootball.com)
GEORGETOWN, Kentucky – The La Salle Lancers travelled to the commonwealth of Kentucky and pulled off a huge victory over Scott County. A week earlier the Cardinals made the trip to Cincinnati and beat La Salle's GCL South rival, Moller, 10-7.
Scott County had all kinds of problems stopping the Lancers. La Salle was successful on 10-13 third and fourth down conversion attempts.
The Lancers got things rolling early, building a 34-7 advantage heading by halftime. Quarterback MJ Horton did plenty of damage with a pair of rushing and passing touchdowns. The junior finished the contest 15-21 through the air with another 78 yards on the ground. It was the first time in his career that Horton has thrown for more than 200 yards in a game.
La Salle receiver Kevin Swift continues his hot ways with career bests of eight catches and 123 yards receiving. His two touchdown receptions upped his total to five on the season. All of those trips to the end zone have come in a span of 10 quarters over the last three games.
SCORING BY QUARTERS
La Salle 14-20-0-3-37
Scott County 7-0-0-0-7
SCORING PLAYS
L: Swift 15 pass from Horton (Seibert kick)
L: Porter 6 run (Seibert kick)
S: Covington 14 pass from McKee (Giese kick)
L: Horton 2 run (kick failed)
L: Swift 31 pass from Horton (Seibert kick)
L: Horton 2 run (Seibert kick)
L: Seibert 21 field goal
RECORDS: La Salle (3-1); Scott County (4-1)
UP NEXT: La Salle hosts Royal Imperial Collegiate; Scott County is on the road at Bryan Station (0-3)