Strong 4th Quarter Leads Indian Hill Past Madeira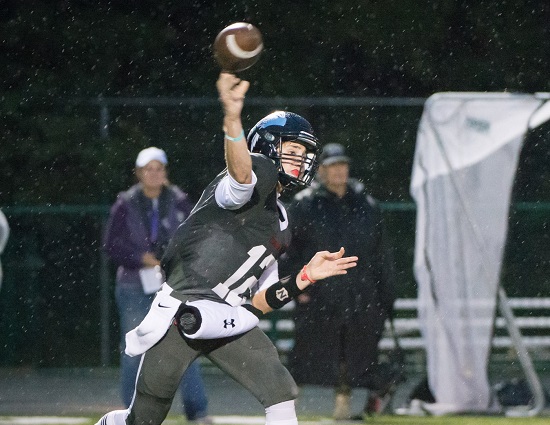 Indian Hill QB Cole Dein (photo by Mitchell Cooke/TriStateFootball.com)
CINCINNATI, ohio – The Indian Hill Braves continued their strong start to the season tonight by defeating the Madeira Mustangs 30-7.
Dimetrius Baylor put on a show on both sides of the ball for Indian Hill. He opened the scoring on the night with a 1-yard touchdown run in the first quarter that was set up by a 50-yard Tre Lopez carry just before, giving the Braves a 7-0 lead.
Luke Lundberg nailed a 32-yard field goal after a long drive by the Braves offense, one which was led by Freshman QB Ty Thornton, who entered the game late in the first.
Both defenses looked stout throughout the game, primarily in the first half, which kept the scoring to a minimum.
Madeira looked to be putting together a successful drive to get themselves on the board in the second, but were picked off by Lopez in the redzone.
With just 44 seconds left in the first half, Madeira was able to rebound and get on the scoreboard thanks to a five yard rush by Lee Megois. The score cut Indian Hill's lead going into halftime, making it a close 10-7 contest.
It was a quiet third quarter on paper, but it was a different story on the field. Indian Hill had two promising drives going for them, only to be stopped each time by a Lee Megois interception of the Braves' Senior QB Cole Dein, one of which was in the redzone.
Baylor took off for his team early in the fourth quarter on a 24-yard touchdown run, making the score 17-7 in favor of the Braves, but he wasn't done there.
Baylor, the Senior two-way player, also delivered a forced fumble on a QB sack that was scooped up by teammate Jalen Thornton who took it 10-yards to the endzone. Baylor then capped things off with a 70-yard run in the final few minutes of the game for good measure.
Indian Hill hopes to continue their winning ways on their path towards a Cincinnati Hills League Conference Championship. The Braves came in second the last year two years to Wyoming, and is seeking their first CHL crown since 2015.
SCORING BY QUARTERS
Madeira: 0-7-0-0-7
Indian Hill: 7-3-0-20-30
SCORING PLAYS
I – Baylor 1 run (Lundberg kick)
I – Lundberg 32 field goal
M – L. Megois 5 run (Hanlee kick)
I – Baylor 23 run (Lundberg kick)
I – Thornton 10 fumble return (pass failed)
I – Baylor 70 run (Lundberg kick)
RECORDS: Madeira (2-2, 0-1); Indian Hill (3-1, 1-0)
UP NEXT: Madeira plays at Mariemont (4-0, 1-0); Indian Hill travels to Reading (1-3, 0-1).