Team of the Week: Week 5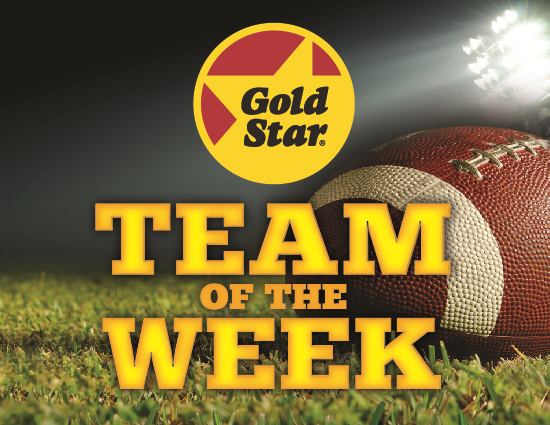 Gold Star Chili and TriStateFootball.com are partnering once this year to present the Gold Star Chili Team of the Week during the 2018 regular season. Each week 8-10 schools will be nominated from the Greater Cincinnati area to be included in an online voting poll to determine a winner.
The voting is open now until Wednesday afternoon at 12PM Eastern. Voters can vote once per hour, per IP address.
Once a team has won, they were ineligible to be nominated a second time. All of the winning teams will receive a trophy to be presented at their school by Gold Star Chili. Teams can only be nominated three times during the course of the season.
+++
Take advantage of the TSF-only deal at Gold Star this week:

Free regular 3-Way with the purchase of any regular 3,4 or 5-Way – PRINT COUPON
+++
Here are this week's nominations:
BATESVILLE (4-2)
The Bulldogs won in a thriller over Lawrenceburg, 33-30.
CHAMINADE JULIENNE (5-0)
The Eagles dismantled Carroll 61-30 in Week 5 to keep their undefeated season intact.
HIGHLANDS (4-1)
The Bluebirds got a statement win, taking down Simon Kenton at home 38-9.
LITTLE MIAMI (5-0)
The Panthers remained unbeaten with 48-16 road victory over Talawanda.
LLOYD (4-1)
The Juggernauts picked up a big 26-12 road win at Grant County in Week 5.
MOELLER (4-1)
The Crusaders got the early leg up in the GCL South by winning at St. Xavier, 19-14.
MVCA (5-0)
The Lions stayed perfect on the season by pitching their third shout of the year, taking down Lockland 41-0.
MILFORD (4-1)
The Eagles are flying high after taking down Loveland, 71-21.
PRINCETON (1-4)
After a tumultuous week that saw the Vikings have to forfeit three wins for eligibility violation, the players left behind rallied from a 16-point, second-half deficit to beat Middletown 32-29 on the road.
TAFT (4-1)
The Senators picked up a third straight victory by taking down Hughes, 55-0.