Walton-Verona claims first-ever regional crown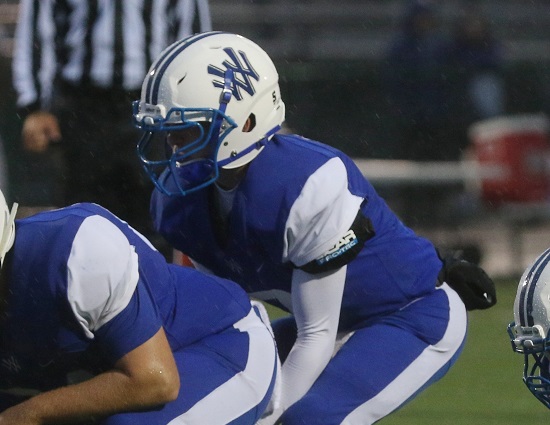 Walton-Verona QB Garrett Jones (photo by Carla Martin)
WALTON, kentucky – In its 11th season playing football Walton-Verona finally captures a regional championship with a thrilling fourth quarter comeback. Down 14-6 in the last stanza, a pair of touchdown passes propelled the Bearcats to a first title in front of their home crowd.
Walton-Verona would prevail 18-14 against a Glasgow team that has had no problem putting points on the scoreboard all season. The Scotties entered the game averaging 41.2 points per contest, but had problems finding the end zone on the Friday. The Bearcats held Glasgow to a season-low in points. The Walton-Verona defense has held 11 opponents to 14 points or less including seven shutouts.
Despite not getting an offensive touchdown in the first three quarters and trailing 14-6 to start the fourth quarter, Walton-Verona (11-2) final put two scores on the board in the final frame. The decisive blow came on a 37-yard TD pass from Garrett Jones to Peyton Smith with 2:23 left. Jones finished the contest 12-22 for 144 yards. He now has 14 touchdown passes (on 57 completions) and just one interception on the year.
Glasgow stymied Walton-Verona's powerful rushing attack as the Bearcats mustered just seven yards on the ground as a team. Overall the Scotties outgained Walton-Verona 235 to 151 yards but Glasgow hurt itself greatly with three turnovers including a costly scoop and score by Walton-Verona senior Tyler Schrader. The Bearcats never turned the ball over.
Walton-Verona set the school record for victories with 11. They won 10 games in '12. The Bearcats haven't had a losing season since their second year of existence.
SCORING BY QUARTERS
Glasgow 7-0-7-0-14
Walton-Verona 0-6-0-12-18
SCORING PLAYS
G: Mitchell 10 run (Elizalde kick)
W: Schrader 14 fumble return (kick failed)
G: Flynt 21 pass from Abernathy (Elizalde kick)
W: Bauer 49 pass from Jones (run failed)
W: Smith 38 pass from Jones (pass failed)
RECORDS: Glasgow (11-2); Walton-Verona (11-2)
UP NEXT: Walton-Verona will host Mayfield (13-0)