2020 Snapshot: Norwood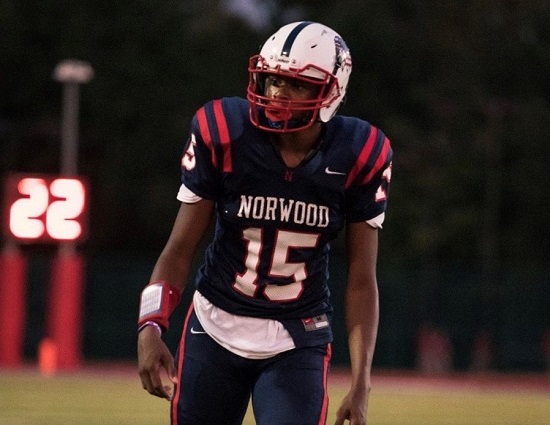 Norwood WR/DB Kevin English (photo courtesy of Carter Horsley Photography)
There will be no more complacency or just settling for surrendering at Norwood under new head coach Brian Pitzer. He inherits the remains of an Indians squad that went 0-10 in 2019. Pitzer is here to change a culture and he has wasted little time in doing so, since taking over the reins.
This is a wake up call for those players that return from a team that gave up 52.6 points per game with an average margin of defeat of 39.8 points per contest, a year ago. Nine times Norwood started the second half on the running clock.
Pitzer is already pushing his Indians to strive for pride. "We feel that if you show up, you will be developed and every day you will have the opportunity. Our race to "manturity" (becoming a man) will be our daily focus!" Pitzer emphatically states. "We strive to "BE ELITE" academically, athletically, and socially every single day. Weakness is not a term used within our program."
"Our youth will be a strength. We are one of the youngest teams on our schedule. We have players who started as freshmen that will make a huge impact in our league and versus our schedule. We look to embrace our youth, not shy away from it.," Pitzer says.
There is too much talent at Norwood to have a listless performance like it did last season. The skills positions should be dynamic. The Indians will put up plenty of points on the scoreboard. How this team plays on both sides of the line will fuel the success of those skills players.
The Indians play five teams the made the playoffs in 2019. The other five contests are all winnable games. Take care of business in those affairs and steal a couple of victories against the upper echelon foes, is not a far-fetched goal for Norwood. However, learning to win is easier said than done. It is the ultimate challenge for Pitzer and crew.
Division IV, Region 16
2019 RECORD: 0-10, 0-4 MVC Scarlet
COACH: Brian Pitzer (0-0 at Norwood, first year; 0-0 overall, first year)
HONOR ROLL
Mike Wood, Sr, WR/DB – The lone returning First Team All-MVC Scarlet member for the Indians. A valuable two-way player, Wood had 21 receptions, 139 receiving yards, one touchdown catch and a pair of interceptions as a junior.
Kevin English, Sr, WR/DB – Despite playing just five games English was still good enough to earn Second Team All-MVC Scarlet honors in 2019. English has 70 receptions for 953 yards, six touchdowns catches, a fumble recovery and two interceptions in his career.
Jake Tanner, Jr, OL/DL – A big part of the o-line, Tanner was a Second Team All-MVC Scarlet selection as a sophomore.
William Paulino, Jr, OL/DL – Like Tanner, Paulino will be counted on up front to be a leader. He was a Second Team All-MVC Scarlet honoree in 2019.
Ryan Peter, Jr, QB – Threw for 1,857 yards and 15 touchdowns to earn Honorable Mention All-MVC Scarlet accolades as a sophomore. Peter should have a monster year in the spread offense.
OTHER RETURNEES
Eli Partin, Jr, WR/DB – Caught 15 balls for 132 yards and a pair of touchdowns in 2019. Should see his role expand on offense as a junior and senior.
Dylan Horsley, So, ATH – Has too much talent not to be on the field as much as possible. Horsley is primed for a breakout campaign.
Dylan Carter, So, ATH – In six games as a freshman, Carter ran for a team high 181 yards, had 30 receptions for 285 yards and found the end zone twice (one rush, one pass). Carter has all-district talent.
Quinterrius Jemison, So, DL – Had a good taste of Friday night lights as a freshman. Expect an even more productive Jemison this fall.
Don'Tae Maxberry, Jr, DL – Expected to be a leader on the d-line even though he is just a junior.
PLAYOFF HISTORY
(four appearances, 1-4) – 2014, 2012, 2004, 1991
2020 SCHEDULE
Fri – 08/28/20 – MADEIRA – 7:00 PM
Fri – 09/04/20 – at Batavia – 7:00 PM
Fri – 09/11/20 – at Wyoming – 7:00 PM
Fri – 09/18/20 – CLEVELAND CENTRAL CATHOLIC – 7:00 PM
Fri – 09/25/20 – at New Richmond – 7:00 PM
Fri – 10/02/20 – at CHCA – 7:00 PM
Fri – 10/09/20 – SUMMIT COUNTRY DAY – 7:00 PM
Fri – 10/16/20 – at Columbus KIPP – 7:00 PM
Fri – 10/23/20 – at Roger Bacon – 7:00 PM
Fri – 10/30/20 – PURCELL MARIAN – 7:00 PM
CATCH THIS
A quartet of Indians English (70), Carter (30), Wood (26) and Partin (24) have combined for 160 receptions, 1,615 receiving yards and 11 touchdowns at the varsity level.