Lecher leads Batesville in 4Q comeback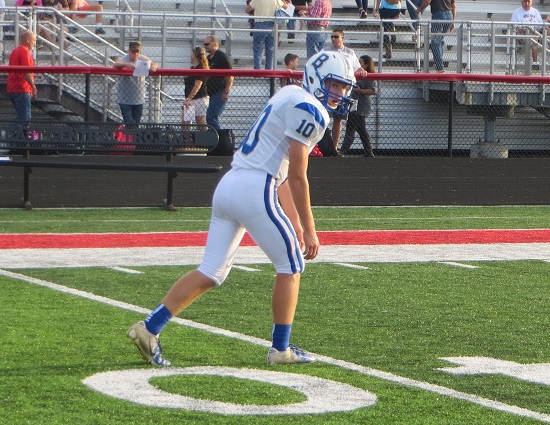 Batesville RB Austin Pohlman (photo by Greg Shoemaker/TriStateFootball.com)
MILAN, Indiana – Down by 11 points entering the fourth quarter Batesville finished with a fury. The Bulldogs reeled off 26 unanswered then held off Milan despite a late score by the Indians.
Batesville junior quarterback Travis Lecher fueled the comeback with three rushing touchdowns and a 56-yard scoring strike to Kurt Seifert. Lecher had a big night, racking up 367 yards of total offense (216 pass, 151 rush) and accounting for six touchdowns (four rush, two pass).
The Bulldogs ended the game with 485 total yards of offense. (268 pass, 217 rush). Senior Seifert had five receptions for 119 yards and two touchdowns in his best performance in a Batesville uniform. Classmate Austin Pohlman ran for 112 yards. It was his fifth straight game with 100-plus yards on the ground, dating back to last season.
Milan was led by quarterback Peyton Wert. The senior amassed 276 yards of total offense (106 pass, 170 rush) and accounted for three touchdowns (two pass, one rush). Classmate Adam Norman hauled in six catches for 95 yards and two touchdowns. Sophomore Logan Reed found the end zone twice while running for 51 yards on 14 carries.
SCORING BY QUARTERS
Batesville 7-7-2-26-42
Milan 7-14-6-7-34
SCORING PLAYS
M: Logan Reed 2 run (Ethan Kaulig kick)
B: Travis Lecher 9 run (Braiden Foster kick)
M: Reed 5 run (Kaulig kick)
M: Adam Norman 14 pass from Peyton Wert (Kaulig kick)
B: Kurt Seifert 4 pass from Lecher (Foster kick)
B: Team Safety – Austin Pohlman/Colt Swingle
M: Wert 64 run (kick failed)
B: Lecher 4 run (2-pt conv. failed)
B: Lecher 4 run (2-pt conv. failed)
B: Seifert 56 pass from Lecher (Foster kick)
B: Lecher 91 run (Foster kick)
M: Norman pass from Wert (Kaulig kick)
RECORDS: Batesville (0-1); Milan (1-1)
UP NEXT: Batesville hosts South Dearborn (2-0); Milan at Lawrenceburg (1-1)