Wyoming wins third straight regional title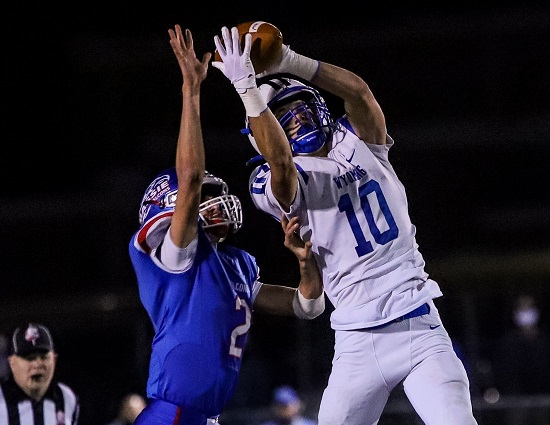 Wyoming WR/DB Joop Mitchell (photo by Shelby Frieszell/TriStateFootball.com)
CINCINNATI, Ohio – Something had to give, as the best offense faced the best defense in Region 16 for the regional title. It would be the Wyoming defense that showed why they were a special group keeping Clinton-Massie out of the end zone on the way to its third straight regional title and seventh in program history.
A couple of big plays early by the Wyoming offense set the tone. Running back CJ Hester ripped off an 84-yard touchdown run with less than a minute to go in the first quarter. That put Wyoming up, 7-3. They would hold the advantage the rest of the night. Less than five minutes later the Cowboys expanded their lead when quarterback Brennan Pagan connected with Nathan Glisson on an 88-yard touchdown pass.
That allowed Wyoming to do what it does best, play defense. The Cowboys who were giving up just 8.1 points per contest corralled a Clinton-Massie offense that was averaging 56.7 points with a herd-like mentality. They held a Falcons squad that had 62 rushing touchdowns in nine games to just three Trevor McGuiness field goals on the night.
Clinton-Massie ran the ball 58 times for 177 yards (3.1/carry). The Falcons won the time of possession battle, holding the ball for more than two-thirds of the game. They ran 67 plays to just 26 for Wyoming. Somehow the Cowboys found the determination to persevere.
Hester scored the only second half touchdowns, on a run and a reception. The sophomore finished with 176 yards on the ground with three trips to the end zone. Pagan went 3-4 for 99 yards and two touchdown passes. Clinton-Massie running back Carson Vanhoose came into the game averaging 178.5 yards with 30 rushing. He was held to 60 yards on 23 carries and no touchdowns.
SCORING BY QUARTERS
Wyoming 7-7-7-7-28
Clinton-Massie 3-3-7-3-9
SCORING PLAYS
C: Trevor McGuiness 31 field goal
W: CJ Hester 85 run (Spencer Gonzalez kick)
W: Nathan Glisson 88 pass from Brennan Pagan (Gonzalez kick)
C: McGuiness 36 field goal
C: McGuiness 27 field goal
W: Hester 2 run (Gonzalez kick)
W: Hester 6 pass from Pagan (Gonzalez kick)
RECORDS: Wyoming (9-0); Clinton-Massie (9-1)
UP NEXT: Wyoming vs. Van Wert (8-1) at Alexander Stadium (Piqua HS) – OHSAA Division IV State-Semifinal; Saturday, November 14th, 7:00 p.m.