Elks buck Fairfield late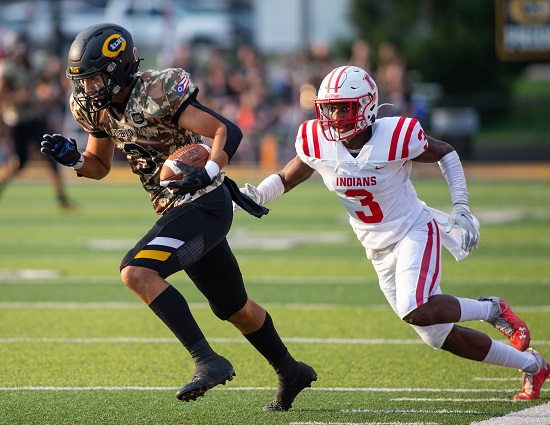 Centerville WR Cam Smith out running Fairfield DB Jordon Jackson (photo by Shelby Frieszell/TriStateFootball.com)
CENTERVILLE, Ohio – With less than 16 minutes left in the game Fairfield grabbed its first and only lead of the contest at 17-14. It took 54 seconds for Centerville to go back on top after a 67-yard touchdown run by junior Emable Wakilongo, the first of his first career. The Elks would outscore the Indians, 24-7 to close out the victory.
A star was born in Wakilongo who finished with 192 yards on 15 carries and added second rushing touchdown in the fourth quarter. He had never carried the ball at the varsity level before Friday night.
Centerville also got clutch performances from seniors Chase Harrison, Cam Smith and junior Nic Bruder. Harrison threw for 174 yards and a pair of scoring tosses. He upped his school record to 53 career touchdown passes. Smith had three receptions for 117 yards and teamed with Harrison on 61-yard touchdown for the games final score. He now has 10 touchdown receptions in his last five starts. Bruder had the Elks first to touchdowns on a 21-yard catch from Harrison and a 27-yard pick six.
Fairfield was led by sophomore quarterback Talon Fisher who threw for 297 yards, ran for 74 yards and accounted for three touchdowns (two pass, one rush). Senior Nate Hannah had seven receptions for 124 yards and a score.
SCORING BY QUARTERS
Fairfield 7-7-3-7-24
Centerville 7-7-7-17-38
SCORING PLAYS
C: Nic Bruder 21 pass from Chase Harrison (Jackson Courville kick)
F: Nate Hannah 61 pass from Talon Fisher (Aiden McGuire kick)
F: Fisher 19 run (McGuire kick)
C: Bruder 27 INT return (Courville kick)
F: McGuire 27 FG
C: Emable Wakilongo 67 run (Courville kick)
C: Courville 47 FG
C: Wakilongo 8 run (Courville kick)
F: Fisher 7 run (McGuire kick)
C: Cam Smith 61 pass from Harrison (Courville kick)
RECORDS: Fairfield (0-1); Centerville (1-0)
UP NEXT: Springfield (1-0) at Fairfield; Centerville at Mason (1-0)