Dayton Round-Up: Piqua Ups Dominance to New Level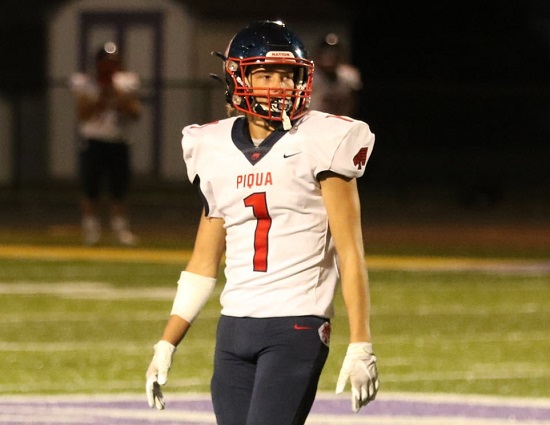 Piqua RB/LB Tanner Kemp (photo courtesy of ScoutingOhio.com)
Something special is taking place at Piqua (6-0, 5-0). The Indians remained undefeated after dominating Fairborn (0-6, 5-0) with a 70-point first half outburst. Seven different players found the end zone before halftime. Piqua has outscored its opponents by a 47.2 to 4.0 margin per game this season (236-20, not including a forfeit win over West Carrollton).
Piqua quarterback Brady Ouhl went 5-6 for 147 yards and a pair of touchdowns tosses. The junior also ran for 77 yards on three totes and a score. Senior Tanner Kemp carried the ball three times for 68 yards and three touchdowns. Classmate Jasiah Medley had 73 yards on five carries and found the end zone twice. Medley now has 14 rushing touchdowns on the seasons.
Since the beginning of 2020 Piqua is 12-1 (sans the forfeit win). In that span, they have held 10 of their foes to seven points or fewer including five shutouts with an average margin of victory of 35.8 points per contest.
SCORING BY QUARTERS
Fairborn 0-0-0-0-00
Piqua 35-35-0-7-77
SCORING PLAYS
P: Jasiah Medley 59 run (Jackson Trombley kick)
P: Tanner Kemp 2 run (Trombley kick)
P: Cory Miller 35 pass from Brady Ouhl (Trombley kick)
P: Medley 1 run (Trombley kick)
P: Giovanni Barron 66 pass from Ouhl (Trombley kick)
P: Ouhl 9 run (Trombley kick)
P: Kemp 20 run (Trombley kick)
P: Ky Warner 20 run (Trombley kick)
P: Kemp 46 run (Trombley kick)
P: Andrew Miller 1 run  (Trombley kick)
P: Warner 2 run (Trombley kick)

RECORDS: Fairborn (0-6, 10-5); Piqua (6-0, 5-0)
Fairborn hosts Stebbins (3-3, 2-3); Piqua at Greenville (2-4, 2-3)

Here are some other scores from Dayton area teams in action in Week 6:
GWOC
MIAMISBURG 22, NORTHMONT 16
CENTERVILLE 45, SPRINGBORO 26
SPRINGFIELD  17, FAIRMONT 0
WAYNE 41, BEAVERCREEK 8
MVL
GREENVILLE 21, WEST CARROLLTON 14
BUTLER 1, STEBBINS 0 forfeit
TIPPECANOE 30, XENIA 0
TROY 23, SIDNEY 6  
SWBL
MONROE 24, CARLISLE 21 – Elijah Jackson sprinted 60-yards for a late fourth quarter score to seal the victory for Monroe (5-1, 2-0). He finished the game with 246 yards and three touchdowns on runs of 60, 53 and 47 yards. It is the first four game winning streak since 2014 for the Fighting Hornets. Jackson is averaging 215.3 yards per game rushing. Monroe's only loss is to unbeaten Ross, By seven points.
BELLBROOK  42, WAYNESVILLE 17
BROOKVILLE 41, VALEY VIEW 26
EATON 51, MADISON SENIOR 0
FRANKLIN 41, OAKWOOD 21
GCL CO-ED
CHAMINADE JULIENNE 32, FENWICK 0 – Quarterback Luke Chandler threw for two touchdowns and ran for another as Chaminade Julienne (2-2, 1-0) picked up a victory after a 20-day layoff. Chandler went 10-14 for 180 yards and ran for another 80 yards on nine carries. The Eagles defense was led by junior Nesta Owens who had two sacks and six solo tackles.
McNICHOLAS 20, ALTER 7
BADIN 62, CARROLL 0

DPL
MEADOWDALE 46, THURGOOD MARSHALL 0
TROTWOOD-MADISON 28, BELMONT 3
DUNBAR 12, PONITZ  9