VOTE: Player of the Week – Week 10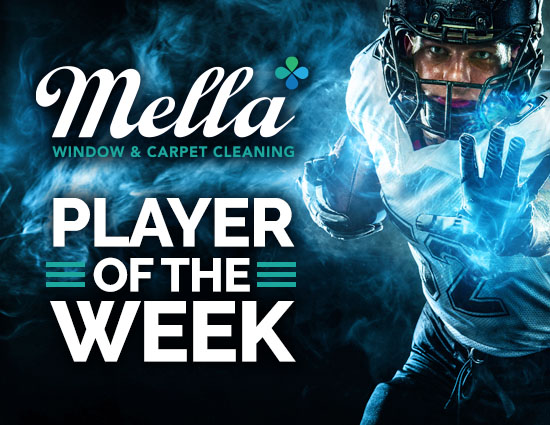 TriStateFootball.com is proud to present the Mella Window & Carpet Cleaning Player of the Week for the 2021 regular season. Players will be nominated from the Cincinnati, Northern Kentucky and Eastern Indiana areas throughout the season.
Each week a group of nominees will be selected from a large list of some of the area's top performances and will be included in an online voting poll to determine a winner. The poll will launch weekly on Sundays. Voters can vote once per hour, per IP address (we track it on the back end so cheating will result in votes being voided) through Wednesday at 12:00 PM Eastern weekly.
Once a player has won, they are ineligible to be nominated a second time. Players can only be nominated up to a max of three times during the course of the season.
All of the season winners will be recognized and receive a plaque at the TriStateFootball.com Year in Review Show in February of 2022 (more details announced once season concludes).
+++
Take advantage of this internet special at Mella Window & Carpet Cleaning:
+++
Wiley Baker, Walton-Verona, Sr, RB – Ran for 164 yards and three touchdowns on just five totes as the Bearcats battered Trimble County.
Deondre Bothast-Revalee, Talawanda, Sr, RB – Piled up 376 yards and two touchdowns rushing as the Brave beat Northwest.
Josh Botts, Ross, Jr, LB – Was in on 12 total tackles with two tackles for losses and two pass break ups in the Rams' win over Mount Healthy.
Zachery Chisman, Western Brown, Jr, RB/WR – Found the end zone five times (three rushing, two receiving), had four receptions for 139 yards and ran for another 52 yards as the Broncos blew past Batavia, 75-0.
Gavin Crawford, Taft, Jr, RB – Pounded out 244 yards and five touchdowns on 26 totes as the Senators knocked off Woodward.
Tavionne Crosby, Edgewood, Jr, RB – Carried the ball 16 times for 204 yards and three touchdowns as the Cougars beat Harrison for their seventh win in a row.
Leo Hennegan, Purcell Marian, Sr, ATH – Found the end zone five times (three rush, one rec, one KR) and amassed 329 all-purpose yards (137 rec, 106 rush) in the Cavaliers' win over Summit Country Day.
William Ingle, Sycamore, Sr, QB – Ran for 201 yards on 12 carries with four touchdowns on the ground and 43 yards passing as the Aviators flew past Oak Hills.
Norey Johnson, Deer Park, Sr, RB/DB – Ran for 149 yards on 14 totes with two touchdowns and 10 total tackles as the Wildcats roared past Finneytown.
Sean Krueckenberg, Mason, Jr, LB – Tallied nine total tackles and snared a pair of interceptions as the Comets got by Hamilton, 28-21.
Brogan McCaughey, St. Xavier, Sr, QB – Aired it out with 279 yards and four touchdowns passing as the Bombers picked up the victory against Eagles Landing Christian Academy.
Braxton Newborn, Ludlow, Sr,, RB/LB – Caught four passes for 107 yards, had 115 yards rushing, found the end zone three times (two rec, one rush) and recorded nine total tackles in the Panthers' win over Dayton.
Charlie Noon, Highlands, Jr, RB – Churned out 129 yards with three touchdowns on 12 carries and had an interception in the Bluebirds' victory over Cooper.
Drew Ramsey, Elder, Sr, WR/RB – Caught 12 balls for 89 yards, had another 90 yards and two touchdowns rushing in the Panthers' 28-21 win over rival La Salle.
Jacob Smith, Milford, Jr, LB – Was in on 16 total tackles with an interception in the Eagles' 28-7 victory over West Clermont.
Mark Smith, CCPA, Sr, QB/DB – Accounted for four touchdowns (two rush, one pass, one rec), had 142 yards rushing, 115 yards passing, four solo tackles and a fumble recovery in the Lions' rout of Hillcrest.
Ashton Snell, Cincinnati Country Day, Sr, RB/DB – Had 294 yards and four touchdowns rushing on 19 carries in the Indians' win over MVCA.
Bo Snider, New Richmond, Sr, QB – Amassed 332 yards of total offense (225 rush, 107 pass) and accounted for three touchdowns (two rush, one pass) as the Lions got past Goshen.
Jadyn Thomas, Lockland, So, RB/LB – Scored four times on two rushes, one reception and a fumble recovery, had 13 total tackles and 188 yards (141 rush) from scrimmage on 10 touches as the Panthers beat New Miami.
Jack Walsh, Badin, Sr, RB – Found the end zone five times on 18 carries for 108 yards in the Rams' win over previously unbeaten McNicholas.
Ashton Wolfe, Bethel-Tate, Sr, DB – Snared four interceptions in the Tigers win over Fayetteville-Perry.
Kaiden Zulager, Lloyd, RB/DB – Ran for 192 yards and a pair of touchdowns in the Juggernauts' win over Holy Cross.
*This our final Mella Window Player of the Week poll of the season.