Dayton Round-Up: Piqua Perfect, Trounces Troy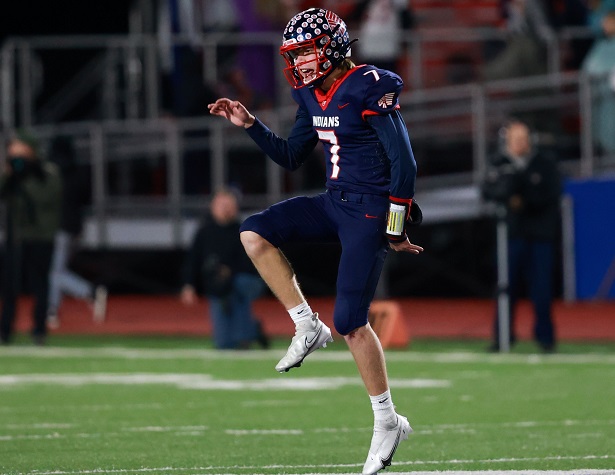 Piqua QB Brady Ouhl (photo by Shelby Frieszell/TriStateFootball.com)
Ohio's oldest high school rivalry had one of its most lopsided outcomes in history as Piqua throttled Troy, 59-0, in the 138th meeting between the two the schools. It was the third straight win for the Indians over the Trojans and their 19th consecutive regular season victory. Piqua has outscored its foes 172-0 in 2022. The Indians have played the entire second half of all three of their contests on the running clock.
Midway through the second quarter the Indians built a 31-0 lead on the strength of three defensive touchdown returns and it all happened in span of 12-plus minutes. Bryson Roberts got things started with a 36-yard pick-six with just under six minutes left in the first quarter. Less than a minute later Brennan Johns was in the end zone after returning a Troy fumble 10 yards. At that point the rout was on.
Piqua senior Sam Schmiesing ran for a game high 98-yards and a pair of scores. Classmate Brady Ouhl went 7-8 for 140 yards and a touchdown toss. He is now 18-22, has an 81.8 completion rate with 369 yards passing, six touchdown tosses and no interceptions on the season.
The Indians defense posted its ninth shutout during the teams current 19-game regular season winning streak. They are holding foes to 5.5 points per game during that span.
The all-time series between Troy and Piqua now stands at an eerily appropriate 66-66-6.
SCORING BY QUARTERS
Troy 0-0-0-0-0
Piqua 17-21-7-14-59
SCORING PLAYS
P: Bryson Roberts 36 INT return (Jackson Trombley kick)
P: Brennan Johns 10 FR return (Trombley kick)
P: Trombley 30 FG
P: Ky Warner 8 run (Trombley kick)
P: Colten Beougher 10 FR return (Trombley kick)
P: Sam Schmiesing 2 run (Trombley kick)
P: Mickey Anderson 9 pass from Brady Ouhl (Trombley kick)
P: Sam Schmiesing 24 run (Trombley kick)
P: Andrew Miller 24 run (Trombley kick)
RECORDS: Troy (1-2); Piqua (3-0)
UP NEXT: Troy is at Stebbins (3-0); Piqua is at Xenia (0-2)
Here are some other scores from Dayton area teams in action in Week 3:
GWOC
NORTHMONT 31, HILLIARD DAVIDSON 0 – Undefeated Thunderbolts are getting it done on D. Northmont has allowed just 13 points with two shutouts while its defense has scored 24 points itself with a pair of scoop-and-scores and pick-sixes.
WAYNE 10, PICKERINGTON CENTRAL 9 – Wayne (3-0, 1-0) senior RJ Mukes III had nine receptions for 113 yards. It was his third straight game with 100-plus yards receiving. He never had 100 yards receiving in a game before this season.
CENTERVILLE 10, GAHANNA LINCOLN 0
MIAMISBURG 43, HARRISON 14
SPRINGFIELD 41, TROTWOOD 0
BEAVERCREEK 56, PONITZ 23
FAIRMONT 10, LA SALLE 3
ELDER 21, SPRINGBORO 20
MVL
XENIA 47, FAIRBORN 0 – Xenia (3-0, 2-0) Has a three-headed monster on offense with seniors, Trei'Shaun Sanders (585 RuYds, 15.8/carry, eight RuTDs), Ramon Browder (262 RuYds, 10.1/carry, three RuTDs) and Tremell Wright (14 rec, 372 ReYds, 26.6/rec, six ReTDs). The terrific trio has accounted for 79.6% of the
Buccaneers total yards from scrimmage.

STEBBINS 53, WEST CARROLLTON 8
SIDNEY 49, GREENVILLE 48 OT
TIPPECANOE 35, BUTLER 0
GCL CO-ED – All 6 GCL CO-ED Teams won on Friday night. The league is a 16-2 in non-conference play through three weeks. The combined records of the 16 teams they beat 12-35 (.255 winning %).
CHAMINADE JULIENNE 42, NORTHWEST 20
CARROLL  39, THURGOOD MARSHALL 6
ALTER 38, MEADOWDALE 0
BADIN 24, WITHROW 17
FENWICK, 17, CLINTON-MASSIE 7
McNICHOLAS 49, GOSHEN 13
SWBL
BELLBROOK 14, TECUMSEH 7 – Golden Eagles win for the 26th time in their last 31 games dating back to 2019.
EATON 31, TALAWANDA 14 – Eagles win for the 15th time in their last 18 games dating back to 2020.
MADISON SENIOR 27, TROY CHRISTIAN 7
WAYNESVILLE 45, BLANCHESTER 0
BROOKVILLE 44, BETHEL 13
VALLEY VIEW 33, ROSS 0
WESTERN BROWN 65, MONROE 51
MILTON-UNION 45, OAKWOOD 13
EDGEWOOD 41, FRANKLIN 7
NORTHRIDGE 28, CARLISLE 8
DPS
BELMONT 52, RIVERVIEW EAST ACADEMY 20
LIMA SENIOR 25, DUNBAR 12
2022 Dayton Round-Ups
WEEK 2: Bellbrook Belts the Burg
WEEK 1: Elks Roar on Road