INDIANA Playoffs – Regional Finals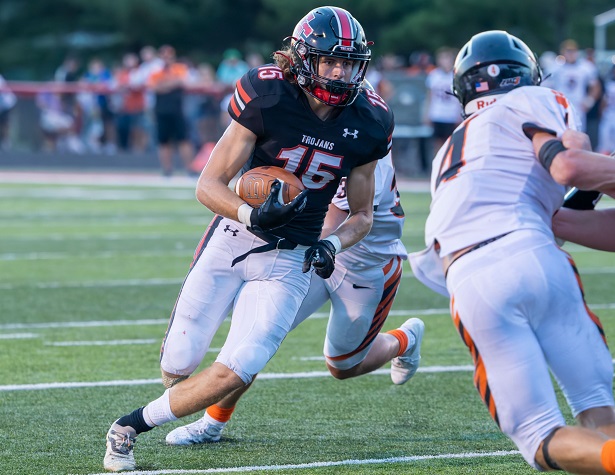 East Central RB Josh Ringer (photo by Sandy Mahoney/Twitter: @InMotionBySandy
Here's your guide to our local teams East Central, Lawrenceburg and North Decatur who are battling for regional titles this weekend.
Class 4A, Regional Final (Friday, 7:00 P.M. EST/6:00P.M. CST)
**East Central (10-2) at Evansville Memorial (9-3)**
–A rematch of last year's regional final that Evansville Memorial won 17-14.
–East Central beat Martinsville 47-0 last Friday to win the schools the 21st sectional title, its second in a row and sixth in the last eight years.
–The Trojans are looking for their ninth regional championship and first since 2017. They won three in a row from 2015-'17 including the state title in '17.
–East Central junior running back Josh Ringer has 1,891 yards and 31 touchdowns rushing. Classmates Cole Burton has thrown for 1,646 yards and 20 touchdowns, Ryan Brotherton has hit paydirt on 11 of his 28 receptions for 780 yards (27.9 yards/catch) and has 1,371 all-purpose yards.
–Evansville Memorial Tigers have won 5 straight and 9 of last 10 since starting 0-2.
–The were Class 4A state champions in 2019, Class 3A state champions in '17 (knocked off Lawrenceburg in the Regional semifinal)
–The Evansville Memorial offense is led by junior running back Porter Rode who has 1,107 yards and 12 touchdowns rushing. Sophomore Matthew Fisher has thrown for 1,642 yards and 14 touchdowns.
–The Tigers defense is fueled by senior Kelton armer who has 88 total tackles, 14.5 tackles for losses and four-and-a-half sacks. Classmate Jackson Draper has seven takeaways (four INTs, three FRs).
Class 3A, Regional Final (Saturday, 5:00 P.M.)
**Lawrenceburg (11-1) at Southridge (11-1)**
–Lawrenceburg beat Batesville 37-7 last Friday for the schools 21st Sectional title, its fourth in a row and sixth in the last seven years. The Tigers have also won 11 straight games for the fourth straight year and the sixth time in the last seven years.
–Lawrenceburg has given up just 33 points (3.0 PPG) with seven shutouts since dropping the opener, 38-7, to East Central.
–The Tigers have forced 30 turnovers (16 INTs, 14 FRs). Senior defensive back Jake Pierce has 95 total tackles, 9.0 tackles for losses and six takeaways (four INTs, two FRs).
–Teagan Bennett leads Lawrenceburg with 1,111 yards rushing. Bennett and Alex Witte are tied with a team best 14 rushing touchdowns. Witte has 829 yards on the ground.
–Southridge Raiders only loss to Gibson Southern (10-1) who won the 2021 Class 3A state championship (which is also the last 3A team to beat Lawrenceburg). The Raiders are looking for their 4th Regional title in last six years. They won the Class 2A state champions in 2017.
–Southridge is paced on offense by senior running back Reid Schroeder who has 1,055 yards and 23 touchdowns rushing. Juniors O'Ryan Curry has 10 scores on the ground and Hudson Allen has thrown for 1,482 yards and 15 touchdowns.
–The Raiders defense gets after it with four players that have at least 10.0 tackles for losses – junior Yamil Arroyo (15.0), seniors Luke Meyer (14.0), Caleb Kramer (10.0) and sophomore Blake Taylor (11.0). Taylor has a team high five sacks.
Class 1A, Regional Final (Friday, 7:00 P.M.)
**North Decatur (11-0) at Sheridan (11-1)**
–North Decatur beat Knightstown 56-6 last Friday for the schools fourth sectional championship in the last five years (fifth overall). The have never won a regional title.
–North Decatur is averaging 43.25 points per game. The Chargers has given up just 6.2 points per game with six shutouts. No one has scored more than 18 on them.
–North Decatur senior Reid Messer does it all. He has 1,365 yards rushing 34 rushing touchdowns, 31 receptions for 493 yards, four touchdown catches, one punt return for a score, 2,163 all-purpose yards, 64 total tackles, four interceptions and 242 points scored.
–Sheridan Blackhawks Head Coach, Larry Wright is in his 57th year at the school (446-205).
— Sheridan is averaging 43.75 points per contest while giving up just 13.5 points per game.
–The Blackhawks have churned out 4,122 yards on the ground averaged 8.2/carry with 63 rushing touchdowns They have an additional 514 yards and seven scores through the air. Senior Peyton Cross has run for 2,082 yards and 27 touchdowns. Classmate Jacob Jones has 707 yards and 14 scores on the ground. Junior Zach Bales has chipped in with 630 yards and 10 touchdowns rushing.
–Bales and Cross are the Blackhawks leading tacklers on defense with more than 110 and each has 14.0 tackles for losses.