2022 TSF Leaders: Rushing Yards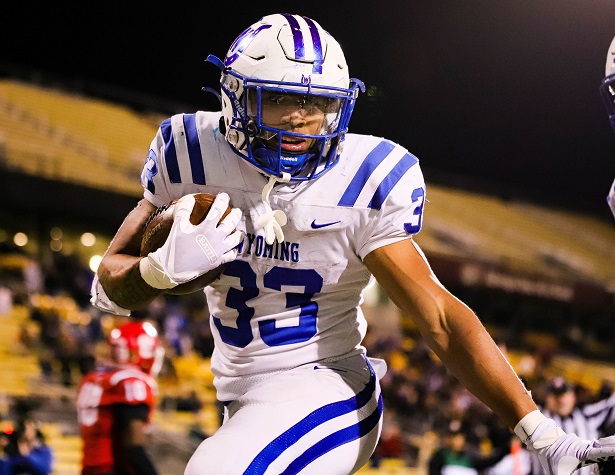 Wyoming RB CJ Hester (photo by Shleby Frieszell/TriStateFootball.com)
What a year it was for Wyoming's CJ Hester. The senior ran for 3,178 yards, the 10th best single season total in Ohio history. The Western Michigan commit was one of three local players to run for more than 2,000 yards. There were 14 local players that ran for 1,500 yards or more.
3,178…CJ Hester, Wyoming, Sr.
2,368…Josh Ringer, East Central, Jr.
2,118…Brock Short, Greenville, Sr.
1,951…Jordan Marshall, Moeller, Jr.
1,757…Trei'Shaun Sanders, Xenia, Sr.
1,721…Landyn Hopper, Dayton, Sr.
1,650…Tavionne Crosby, Edgewood, Sr.
1,639…Tim Davis, Brookville, Sr.
1,629…Trey Cornist, Winton Woods, Sr.
1,604…Reid Messer, North Decatur, Sr.
1,583…Brent Thompson, Gamble Montessori, Sr.
1,566…Thad Stuckey, Wilmington, Sr.
1,566…Talon Fisher, Fairfield, Jr.
1,506…Jake Clark, Valley View, Sr.