Trio tucked in National Top 30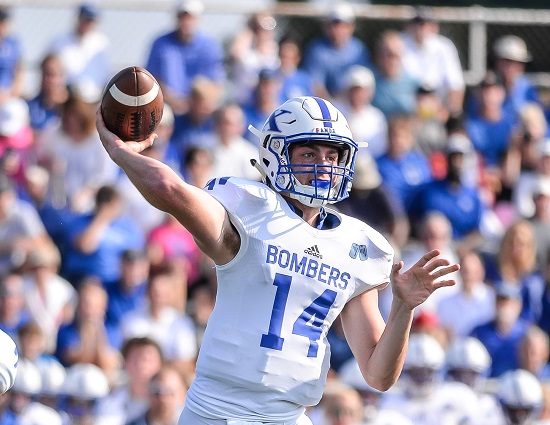 Less than a week after prevailing over St. Xavier by three points in overtime Colerain falls at La Salle by three. The Lancers needed a 41-yard field goal by Ohio State-commit, Drue Chrisman in the games final moments to remain unbeaten. The early round-robin of close games with Colerain has set La Salle at No. 28, Colerain No. 29, and St. X at No. 30 in this week's Media HSFB100 Rankings.
To complete the triad of games St. Xavier will host La Salle on October, 9th. The Bombers handed the Lancers their only loss of 2014. It was a last second field goal that was the difference in that contest.
The rarity of a change-free week was had atop the HSFB100 following Week 3 as the Top 10 remained the same as that from Week 2 with each team from the previous Top 15 won.
Previous-No.11 Katy (TX) slid to No. 20 this week after winning a battle with The Woodlands (TX) and each of the others slide forward to create the new Top 15.
Beyond that there were eight teams turning over in the rankings — with five teams from power states accounting for five leaving from those respective states.
Past HSFB100 RANKINGS :
Select Week
Preseason – Aug. 4
Week 0 – Aug. 24
Week 1 – Aug. 31
Week 2 – Sept. 7
Week 3 – Sept. 14
Arlington Martin (TX) and DeSoto (TX) both were hit with a heavy penalty as Martin was bettered by a quality South Grand Prairie (TX) team. Martin had previously throttled DeSoto and the pair will drop near the No. 20 spot in the state of Texas rankings. Each will be replaced by two other teams from the Lone Star State as Dickinson (TX) and Cedar Park — the top team in Class 5A — breaking into the HSFB100 for the first time this season.
Two from Florida are also trading places, with Lakeland (FL) and Cocoa (FL) dropping out after losing to Carol City (Miami, FL) and IMG Academy (Bradenton, FL), respectively. Making a move up the Sunshine State Top 25 is West Orange (Winter Garden, FL) and Osceola (Kissimmee, FL). West Orange moved up from No. 15 to No. 10 inside the state by beating HSFB100 member, Dr. Phillips (Orlando, FL), while Osceola was on the fringe the week before at No. 13 in the state and moved up to No. 11 and into the back of the HSFB100.
An unexpected loss by Crespi (Encino, CA) will push the team out of the poll and allow for the re-entry of Serra (Gardena, CA) which fell last week after it was crushed by Centennial (Corona, CA). The Cavaliers were without its starting quarterback in the game and it showed. The fully-healthy team is a threat in the Mission League and is back in as the No. 12 team in the state.
Other fallers were Bellevue (WA) after it was dismantled by Bishop Gorman (Las Vegas, NV); Oak Grove (Hattiesburg, MS) as the state of Mississippi has proven to be a mess in the first four weeks of play, and Scotland County (Laurinburg, NC) which won the last two weeks in very unimpressive fashion and was pushed out after barely clinging to one of the final slots last week.
The trio replacing those three will be Walton (Marietta, GA), South Pointe (Rock Hill, SC), and Brophy (Phoenix, AZ).
Check out the complete HSFB100.
JOIN THE HSFB100 DISCUSSION: Create a user name | Post on The Varsity Board
RANK

TEAM

CITY, ST

RECORD

LW

1
St. John Bosco

Bellflower, CA

3-0

1

St. John Bosco went into Oregon and beat Portland Central Catholic, 66-17. Perhaps one of the last two seasons that would have come with more fanfare but this year the Rams are a little down and so it comes almost as a 'check the box' victory. The strength of schedule didn't get any help with Week 4 opponent Crespi losing this week and Week 5 foe St. Peter's Prep being blown out.
2
Bishop Gorman

Las Vegas, NV

3-0

2

Bishop Gorman blew out previously-ranked Bellevue (WA), 35-7. The Gaels will have a major test to its offense this coming week with Long Beach Poly (CA) coming to town. The Gaels had a lot of turnover from last season but it doesn't appear to be missing a beat at any position.

3
St. Thomas Aquinas

Ft. Lauderdale, FL

3-0

3

Another convincing victory for the Raiders as the team bettered Plantation, 43-20. It will have another game versus an in-state foe that has its best days in the rearview this week against Cypress Bay — which had been nationally ranked five years ago, but not since.

4
DeMatha

Hyattsville, MD

2-0

4

DeMatha was idle this week and kept its spot. It was a needed rest as the Stags didn't have quarterback Beau English in practice at all prior to the game with American Heritage (Plantation, FL). It returns to the field against La Salle (Wyndmoor, PA) this week.

5
Colquitt County

Moultrie, GA

4-0

5

Colquitt County blew out Enterprise (AL) this week as quarterback Chase Parish and receiver Kiel Pollard continue to move up the all-time ranks for the Packers. The grip on this spot is loose as Corona Centennial has the look of a Top 5 team and could make the jump soon.

6
Centennial

Corona, CA

3-0

6

Centennial was in a bit of a battle with now-No. 60 Orange Lutheran into the middle of the third quarter before pulling away for the win. At times it looked like the closeness was self-inflicted but the Huskies overcome its errors to get a convincing victory, 35-14. This figures to be a Top 5 team soon.

7
Allen

Allen, TX

3-0

7

Allen turned to four-star, dual-threat quarterback transfer Seth Green this week and he passed for 200+ and rushed for 100+ in a 45-15 victory. The Eagles defensive unit is pretty nasty and with the addition of an explosive quarterback it could push Allen to a four-peat in Texas.

8
Cedar Hill

Cedar Hill, TX

3-0

8

The Longhornns won a solid contest with now-No. 35 Dallas Skyline, 20-10. It wasn't overly impressive but the job was done and it keeps the team as the favorite for a 6A-DII state title as it stood tall on both sides of the ball.

9
American Heritage

Plantation, FL

2-1

9

Playing a Miami Northwestern team that was dealing with the tragic loss of a teammate, American Heritage got the job done in a 44-23 victory. The Patriots have a HSFB100 showdown with No. 63 Coconut Creek this week.

10
IMG Academy

Bradenton, FL

3-0

10

IMG cruised to another victory bettering previously-ranked Cocoa, 49-7. The Ascenders probably could have scored 100 if it wanted and that is more a compliment to the team coming together than a knock on a Cocoa team that can still go on to win a state title in Florida.

11
Ocean Lakes

Virginia Beach, VA

3-0

12

The Dolphin defense put up what another shutout as it blanked Princess Anne, 70-0. It has outscored its last two opponents 125-0. The top of Virginia is as impressive as any year in recent memory and this team is loaded with talent but it may not be tested until late in the playoffs.

12
Euless Trinity

Euless, TX

3-0

13

Trinity has unimpressive in its downing of Lancaster this week but it didn't cost the Trojans a spot in the HSFB100. The team has a bit more of a measuring stick game this coming week against HSFB100-ranked North Shore and so the built-in excuse of looking ahead can be played. With a win over De La Salle, that card gets thrown.

13
De La Salle

Concord, CA

2-1

14

De La Salle beat down Servite this week, 52-15. The Spartans are really good and the team is still a threat to win the CIF Open Bowl despite being ranked below the two favorites from SoCal. It will take on Orange Luthern this week which may be the fastest game in the country with the De La Salle veer going against OLu's Wing-T.

14
Spartanburg

Spartanburg, SC

3-0

14

A singularly-focused Spartanburg team could be nasty and challenge for a Top 10 finish. It beat Gaffney this week 41-14 and it left points on the field. With Austin Scott, Tavaris Scott, and Tavien Feater on offense there are not many 'Big Three' that can claim to be better.

15
Mater Dei

Santa Ana, CA

3-0

21

It could be a negative commentary on La Mirada that it was carved up by freshman JT Daniels or it could be a glimpse into a very bright future for the Monarchs. The bet is on the latter. Daniels is the top freshman passer in the country and he is showing why.

16
Rummel

Metairie, LA

2-0

23

There wasn't a letdown from the U-Lab game in shutting out Covington, 48-0. The measure of the Raiders season is still coming with Don Bosco (Ramsey, NJ) in a few weeks. It will be the first hotel stay for the program and the first time that under coach Jay Roth it has traveled north of Alexandria — three hours from New Orleans.

17
Grayson

Loganville, GA

2-0

31

Talk was that Grayson should have been ahead of Archer entering the showdown last week and now the Rams officially make the jump after beating now-No. 25 Archer, 26-24. The game was decided on a last-second field goal and it puts three teams from Georgia into the Top 25.

18
Cibolo Steele

Cibolo, TX

3-0

27

This is a bit of a risk moving Steele into the Top 25 the week before it has to play previously-ranked DeSoto. The team looks like it has all the pieces in place to be among the best in the country and it will have to prove its placement this coming week. It downed O'Connor on Thursday, 52-27, but didn't gain a day of rest as DeSoto is also a Thursday night affair.

19
Male

Louisville, KY

4-0

46

STOCK UP: Male played at full strength with Keion Wakefield this week and looked very impressive in pummeling now-No. 54 Louisville Trinity, 42-13. The defense only allowed a single first down in the second half against the Shamrocks and that kind of effort is rewarded.
20
Katy

Katy, TX

3-0

11

STOCK DOWN: The game between Katy and The Woodlands is always a war. It was again this week with a 14-7 victory. The issue is that Katy has shown some flaws — some which were known and others exposed this week — its schedule doesn't have another team that will test it until the third round of the playoffs so there is time to shore up the holes but not test them for strength.
21
Chandler

Chandler, AZ

3-1

19

The Wolves put up big points against a Top 15 foe from Arizona in Desert Ridge, winning 60-39. There is more coming on the schedule as the top of the state looks to be pretty tough this year. Chandler can push back into the Top 15 when it gets healthy.

22
Mainland

Daytona Beach, FL

3-0

24

It is still a debate each week as to whether or not Mainland is the favorite to win its state title over Miami Central but for now the team stays in that position within the class and state. It beat Flagler Palm Coast to the tune of 35-10. That didn't really swing the conversation one way or the other.

23
South Panola

Batesville, MS

3-0

30

South Panola welcomed back quarterback Tyler Pogue for the first time after hurting his ACL in the offseason and the Tigers downed now-No. 85 Madison Central, 24-6. The results should only improve as Pogue gets back in a rythm. He wasn't that sharp this week but it was to be expected.

24
Bergen Catholic

Oradell, NJ

2-0

43

STOCK UP It is a second straight week with the 'Stock Up' introducing the team as it blew out St. Peter's Prep, 47-14. The Crusaders will have a stiff test against IMG this week — especially in the trenches — but it could be a shootout if quarterback Jarrett Guarantano stays sharp.
25
Archer

Lawrenceville, GA

2-1

22

Archer fell this week against now-No. 17 Grayson on a field goal with seven seconds left on the clock, 26-24. The team is still considered a strong threat to make a run at the state title but baring something unforeseen it will not win its Region and play a couple road playoff games.

26
Bishop Amat

La Puente, CA

2-1

26

Defeated Colony, 59-12.

27
Flanagan

Pembroke Pines, FL

2-0

28

Idle.

28
La Salle

Cincinnati, OH

3-0

38

Defeated now-No. 29 Colerain, 39-36 (OT).

29
Colerain

Cincinnati, OH

2-1

20

Lost to now-No. 28 La Salle, 39-36 (OT).

30
St. Xavier

Cincinnati, OH

2-1

29

Beat now-No. 78 Mentor, 59-13.

31
Byrnes

Duncan, SC

3-0

33

Idle.

32
Mallard Creek

Charlotte, NC

3-1

34

Defeated Garinger, 70-0.

33
Westfield

Houston, TX

3-0

35

Defeated now-No. 86 North Shore, 31-28.

34
Miami Central

Miami, FL

2-1

40

Defeated First Coast, 41-0.

35
Dallas Skyline

Dallas, TX

2-1

17

Lost to No. 8 Cedar Hill, 20-10.

36
Clay-Chalkville

Pinson, AL

4-0

48

Defeated Huffman, 41-7.

37
Apopka

Apopka, FL

3-0

42

Defeated DeLand, 49-7.

38
Jenks

Jenks, OK

2-0

44

Defeated now-No. 80 Union, 45-27.

39
Manvel

Manvel, TX

1-1

36

Idle.

40
Lake Taylor

Norfolk, VA

2-0

37

Idle.

41
McEachern

Powder Springs, GA

2-1

16

STOCK DOWN McEachern had everything go wrong at the wrong times in a 9-6 loss against Peachtree Ridge. An interception on the two, a fumble on the goaline, a pick-six, and a safety all went against McEachern — which only allowed 99 yards against it on defense. Too hard to punish a quality team.
42
Homewood-Flossmoor

Flossmoor, IL

3-0

45

Defeated Stagg, 67-6.

43
Eastside Catholic

Sammamish, WA

2-0

54

Defeated Enumclaw, 56-6.

44
Hillcrest

Simpsonville, SC

3-0

55

Defeated Mann, 21-14.

45
Poly

Long Beach, CA

2-0

56

Idle.

46
Fayetteville

Fayetteville, AR

2-0

58

Defeated North Little Rock, 53-14.

47
St. Joseph's

Montvale, NJ

2-0

60

Defeated now-No. 75 St. Edward, 22-20.

48
Roswell

Roswell, GA

3-0

64

Defeated Lassiter, 52-10.

49
Santa Margarita

Rancho Santa Margarita, CA

3-0

41

Defeated Dorsey, 33-13.

50
Bingham

South Jordan, UT

3-1

50

Defeated West Jordan, 54-14.

51
Hoover

Hoover, AL

4-0

39

STOCK DOWN: A week after defeating Mountain Brook by a single touchdown the Bucs come back with a three-point win against Oak Mountain, 17-14. That isn't Top 50 results..
52
Central Catholic

Pittsburgh, PA

2-0

51

Defeated Shaler, 42-6.

53
Narbonne

Narbonne, CA

1-1

61

Defeated Palos Verdes, 45-14.

54
Trinity

Louisville, KY

3-1

18

STOCK DOWN: The 'Stock Down' is appropriate after suffering the third-worst loss in the Bob Beatty-era against now-No. 17 Male, 42-13. The Shamrocks only had 33 yards on offense in the second half.
55
L.C. Bird

Chesterfield, VA

3-0

62

Defeated Midlothain, 67-0.

56
Webb City

Webb City, MO

4-0

63

Defeated Republic, 36-18.

57
Don Bosco

Ramsey, NJ

1-1

67

Defeated Philly St. Joseph, 55-21.

58
Klein Collins

Spring, TX

3-0

69/td>


Defeated Bellaire, 48-22.

59
Northwestern

Rock Hill, SC

3-1

70

Defeated Greenwood, 52-7.

60
Orange Lutheran

Orange, CA

2-1

32

STOCK DOWN So, which is the real Orange Lutheran? The so-so win versus Dominquez. The blowout win over Crespi. The team that runs out of gas against Centennial. Lancers get De La Salle next but the real answers will come in Trinity League play.
61
Hallandale

Hallandale, FL

2-0

71

Idle.

62
Maryville

Maryville, TN

4-0

52

Defeated Alcoa, 20-14.

63
Coconut Creek

Coconut Creek, FL

2-1

66

Defeated Boyd Anderson, 46-21.

64
Lake Travis

Lake Travis, TX

3-0

72

Defeated Hays, 49-13.

65
Bishop Alemany

Mission Hills, CA

3-0

74

Defeated Downey, 42-6.

66
Westlake

Austin, TX

3-0

76

Defeated Anderson, 73-10.

67
Hamilton

Chandler, AZ

4-0

77

Defeated Horizon, 55-25.

68
Southlake Carroll

Southlake, TX

2-1

78

Defeated Midlothian Heritage, 52-14.

69
Elder

Cincinnati, OH

3-0

65

Defeated Scott County, 35-17.

70
West Orange

Winter Haven, FL

3-0

—

Defeated now-No. 87 Dr. Phillips, 41-34.

71
Center Grove

Greenwood, IN

4-0

99

STOCK UP Through four wins the top team in Indiana has knocked out Warren Central, Carmel, and now Ben Davis. It claimed a 31-19 victory versus Ben Davis this week.
72
Lee County

Leesburg, GA

3-0

85

Idle.

73
Wayne

Huber Heights, OH

3-0

81

Defeated Lakota West, 28-9.

74
Pearland

Pearland, TX

3-0

83

Defeated Dobie, 35-0.

75
St. Edward

Lakewood, OH

2-1

91

Lost to now-No. 47 St. Joseph, 22-20.

76
Gilman

Baltimore, MD

2-1

92

Defeated Eastern Christian, 42-14.

77
Good Counsel

Olney, MD

2-1

93

Defeated DePaul, 42-28.

78
Mentor

Mentor, OH

2-1

47

STOCK DOWN: A week after knocking off St. Ignatius in a shootout it was on the receiving end of a beating by now-No. 30 St. Xavier, 59-13. It is hard to know what to make of this squad after scoring 63 to be held to 13 is stunning.
79
St. Ignatius

Cleveland, OH

2-1

49

Defeated Valley Forge, 41-0.

80
Union

Tulsa, OK

0-2

79

STOCK DOWN: A week after seeing a lead evaporate against Southlake Carroll the Redskins were soundly beaten by now-No. 38 Jenks, 45-27. There are some that think this isn't a Top 3 team in Oklahoma but that is hard to buy at this point.
81
Zachary

Zachary, LA

2-0

88/td>


Defeated Baton Rouge Catholic, 41-26.

82
Grant

Sacramento, CA

3-0

86

Defeated Bullard, 21-14.

83
Osceola

Kissimmee, FL

3-0

—

Defeated Liberty, 48-7.

84
Walton

Marietta, GA

4-0

—

Defeated Etowah, 35-10.

85
Madison Central

Madison, MS

3-1

75

Lost to now-No. 23 South Panola, 24-6.

86
North Shore

Houston, TX

1-2

98

Lost to now-No. 33 Westfield, 31-28.

87
Dr. Phillips

Orlando, FL

2-1

57

Lost to now-No. 70 West Orange, 41-34.

88
Christian Brothers

St. Louis, MO

4-0

95

Defeated Vianney, 63-0.

89
South Pointe

Rock Hill, SC

4-0

—

Defeated now-No. 97 Vance, 41-34.

90
Spanish Fort

Spanish Fort, AL

4-0

100

Defeated LeFlore, 42-38.

91
Dickinson

Dickinson, TX

3-0

—

Defeated Texas City, 59-26.

92
Brentwood Academy

Brentwood., TN

3-1

90

Defeated Jackson Central, 70-0.

93
Mays

Atlanta, GA

3-0

96

Idle.

94
Cedar Park

Cedar Park, TX

3-0

—

Defeated Westwood, 56-6.

95
Arch. Wood

Warminster, PA

2-0

89

Defeated Simon Gratz, 44-30.

96
St. Mary's

Orchard Lake, MI

3-0

94

Defeated Penn, 24-21.

97
Vance

Charlotte, NC

2-1

84

Lost to now-No. 89 South Pointe, 41-34.

98
Brophy

Phoenix, AZ

4-0

—

Defeated Red Mountain, 22-18.

99
West Monroe

West Monroe, LA

2-0

68

STOCK DOWN: A win at the Battle on the Border comes at a loss as quarterback Jon Randall Belton was hurt for the third straight season. West Monroe hasn't show to be HSFB100 without him and so the team could be on the way out despite bettering Lufkin, 44-36.
100
Serra

Gardena, CA

2-1

—

Defeated Carson, 43-0.
JOIN THE HSFB100 DISCUSSION: Create a user name | Post on The Varsity Board