Player of the Week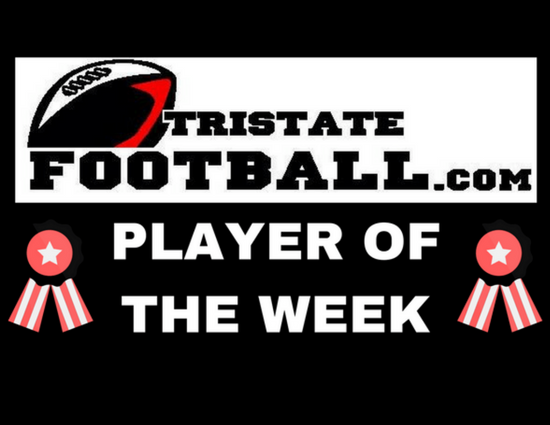 TriStateFootball.com is proud to once again present its Player of the Week for the 2017 regular season. Players were nominated from the Cincinnati, Dayton, Northern Kentucky and Eastern Indiana areas.
Each week a small group of nominees will be selected from a large list of some of the area's top performances and will be included in an online voting poll to determine a winner. The poll will launch weekly on Sundays. Voters can vote once per hour, per IP address through Thursday night at 6PM E.T weekly.
Once a player won, they will be ineligible to be nominated a second time. All of the season winners will be recognized and receive a plaque at the TriStateFootball.com Year in Review Show in February (more details announced during postseason).
Taking advantage of the TSF-only deal at Gold Star this week:
Free Cheese Coney with purchase of 2 Cheese Coneys – PRINT COUPON
Here are this week's nominations…
You can send your weekly nominations to us on twitter @TSFootball or by email.
Congratulations to all of this year's Player of the Week winners…
WK 1
Bailey Armstrong,
Highlands
recovered a fumble and had a 55-yard pick six vs. Campbell County.
WK 2
Brennen Wallace,
Norwood
rushed for 218 yards & 6 TD's vs. Woodward
WK 3
D.J. Ames,
Wilmington
328 total yards, 3 TD's vs. Butler
WK 4
Ivan Pace Jr.,
Colerain
rushed for 160 yards, 4 TD's vs. Sycamore
WK 5
Jason Griffin,
Batavia
rushed for 133 yards, 3 TD's; 39-yd ReTD vs. Fayetteville-Perry
WK 6
Maleek Jarrett,
Hamilton
rushed for 157 yards, 4 TD's vs. Middletown
WK 7
Cameron Rountree,
Springboro
155 PaYd, 3 PaTD; 170 RuYd, 3 RuTD vs. Miamisburg