2015 Breakout Performers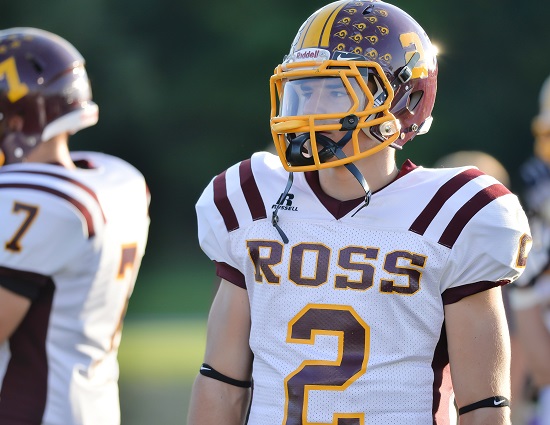 As we turn the page and head into the 2015 season there are plenty of players waiting to have their moments and steal the spotlight. Next fall looks to be another banner year but it's the surprise's that make the football season so great. We take a look at who might be the next Jarell White of LaSalle with a momentous campaign. There are plenty of candidates to choose from and here is a look at some of those high on TSF's list poised to bust out this coming year.
Nick Hall (Elder), WR: When healthy Hall is a serious factor in the Panthers offense. In five games as a junior he had at least five receptions on four occasions and 100 yards three times. He finished 2014 with 29 receptions for 469 yards and two touchdowns.
Cole Hannon (Ross) RB/DB: The explosive Hannon will be the featured back for Ross. Head coach Brian Butts is very pleased with the gains that Hannon has made in the weight room this off-season. He will benefit from that hard work greatly in order survive the hard hitting opponents he will face in the SWOC. As a junior, Hannon found the endzone four different ways – rushing, receiving and on kickoff and interception returns. He ran for 391 yards (5.5/carry), three rushing scores, had 183 yards receiving with two touchdown catches, compiled 495 yards on kickoff returns while amassing 1,134 all-purpose yards.
Tom MacVittie (Moeller), QB: Patience is a virtue if you want to play quarterback for the Crusaders. The 6-foot-5, 215 pound MacVittie will be Moeller's fourth different starter under center in the last four years. His talents got him to the field as a receiver and backup quarterback reeling in 12 receptions for 164 yards while completing 8-9 passes for 59 yards and two touchdowns. MacVittie, who has a canon for an arm has scholarship offers from Pitt, Cincinnati and Miami (OH) even though he has yet to start a game as a signal-caller.
Sawyer Klingelhoffer (Oak Hills), WR/TE: New Highlanders head coach Evan Dreyer is high on the 6-foot-4 Klingelhoffer who is currently being recruited as a tight end but could also see snaps under center. Klingelhoffer should post big numbers in Dreyer's spread offense after catching just four passes for 46 yards as a junior.
Cameron Specht (St. Xavier), RB: The son of Bombers head coach Steve Specht, Cameron drew high praise from his dad who said that he has all the tools to be as good as former St. Xavier star Scott Sollman. Specht saw action in one game as a freshman last season carrying the ball four times for 23 yards and a touchdown in the team's playoff win over Central Crossing.
Jermaine Fulton (Reading), DB/RS: There is a big upside for Fulton. He will add depth to the backfield and be a factor in the return game for the Blue Devils. "He really came on towards the end of the JV season at running back and we think has the potential to be a great football player. He is extremely athletic and if Jermaine puts the time in the off-season, I believe he can help us in the secondary this season" Reading head coach Pat McLaughlin says of his talented youngster.
L'Christian Smith (Wayne), WR/QB: Even though he was only a freshman that didn't keep Smith from making an impact for the state runner-up Warriors last season. The 6-foot-4, 205 pound rising star caught 12 passes for 276 yards (23.6/catch), averaged 11.6 yards on seven carries, went 5-10 for 110 yards passing and accounted for four touchdowns (two receiving, one rushing, one passing).
Corde' Kyles (Fairmont), QB/ATH: Kyles started games at quarterback, running back and wide receiver last season for the Firebirds. Once he settles in to a position expect Kyles to post big numbers as a senior.
Lamont Harris (Carroll), LB: A real beast at 6-foot-2, 220 pounds Harris recorded 22 tackles (13 solo) in six games as a sophomore in 2014. He will be a difference maker in what should be a strong Patriots defense.
Joseph Scates (Dunbar), ATH: The sophomore-to-be has Wolverines head coach Darran Powell excited calling Scates a "very explosive player who can play anywhere on the field. He can stretch the field at wide receiver, is very crafty as a return man and can play the middle of the field well at safety."
Clay Washington (Dixie), RB: Washington carried the ball 54 times for 372 yards and three touchdowns as a sophomore for the winless Greyhounds in 2014. Washington has a great shot at topping the 1,000 yard mark rushing in each of the next two seasons.
Austin Hergott, (Highlands), QB: Hergott will be the fifth straight different senior in the last five years to start at quarterback for the Bluebirds. In limited action as a backup Hergott has gone 15-39 for 155 yards with two touchdown tosses over the past two campaigns.
Cole Hicks (Cooper), DB: Injuries cut Hicks' season short but not before he intercepted three passes in three tilts for the Jaguars. Hicks is an integral part of a very solid Cooper secondary.
Nelson Perrin (Scott), QB/DB: The sophomore will be able to ease into the starting quarterback role as the Eagles return a veteran cast on offense. He is another option for a Scott team that loves to run the football and that fits perfectly with his style of play.