ECC stocked with talent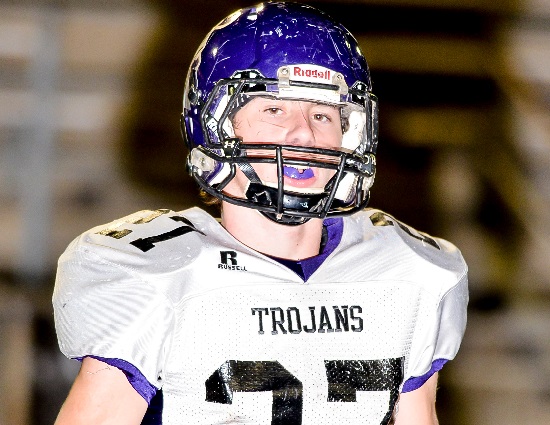 Time to sing the praise of the ECC's finest. The league is loaded with talent in 2015 and their coaches are humming happy tunes. Experience and proven stars will light up the marquees on Friday nights this fall. Things are in place for the conference to have a big year from top to bottom.
Here is a closer look at some of the ECC's top returnees and its teams this season.
B.B. king of the Knights: Blake Bockrath started 2014 out with a flurry registering three and a half sacks as Kings beat Lebanon in its opener. Bockrath recorded 13 sacks during over the Knights first seven games. Teams figured out that they had to run away from Bockrath as he only got one and a half sacks over Kings final five tilts. He did average 10 tackles the last four contest of the year. Bockrath was named Second Team All-Ohio for his efforts.
Dylan is "blowin' in the wind": Anderson quarterback Dylan Smith had a solid junior season in his first year as the Redskins starter under center. Smith threw for 190 yards or more four times in his last seven starts. He finished with 1,136 yards and eight touchdowns passing.
Bennie and his jets: A healthy Bennie Stoll showed just how valuable his presence in the Turpin lineup was during the last five weeks of '14. Stoll threw for 785 yards with eight of his 10 touchdown passes the last half of the year. He loses five of his top six receivers from last season.
Popp Music: Loveland linebacker Eric Popp led the Tigers in tackles as a junior. He heads into his senior campaign with 101 career tackles and four and a half sacks.
Kings of the hill: In 2014 Kings went undefeated during the regular season for the second time in the last four years. The Knights won at least 10 games for the third time in the last five campaigns.
Eagles in it for the long run: A strong finish to last season has Milford believing they can go the distance. With wins in their final two games the Eagles finished at .500 for just the second time in the past decade. With confidence oozing this squad feels they are a legitimate threat to win a league title.
Boone lights up Glen Este's life: Robby Boone had three straight games in which he ran for 110 yards or more as a junior last season. Glen Este went 3-0 in those affairs as Boone had his longest three runs of the year (51, 46, 34 yards) in those affairs. Boone gained 396 of his 825 yards in that span. In the Trojans other eight games he never gained more than 83 yards or had a run of more than 25 yards in a game and Glen Este went 3-5.
Jackson's five: Over the last three games of 2014 Austin Jackson kicked seven field goals, five of which were 31 yards or longer including a career best 45-yard blast in the Spartans finale. He scored 27 points over the last three weeks. Jackson finished his junior year with 49 total points (19/20 XPs, 10/13 FGs).
Jeremiyah was a bull…: Things weren't so cheery for Walnut Hills in '14 but Jeremiyah Hairston did bring some joy to the Eagles world. Hairston led the team in scoring, was second in rushing, on defense he tied for the team lead in sacks and tackles.