Newbies need to step up for Alter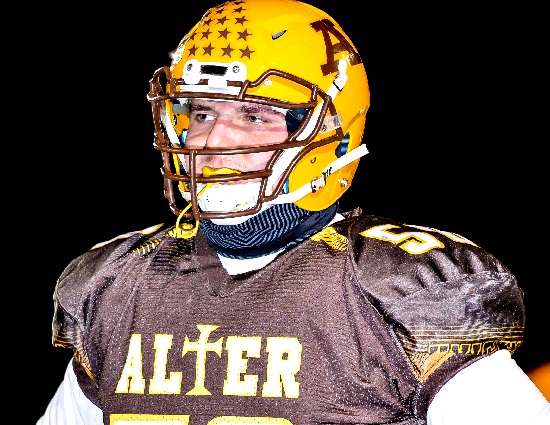 A senior laden team led Alter to the state finals last season. Now the Knights must reload with a group of "green" players especially at the skill positions.
Competition is a god thing, lack of experience is another story. If ever was a time for Alters opponents to avenge past losses this would be the year.
Alter head coach Ed Domsitz will have many decisions to make with this version of the Knights. Getting this group in the right positions to succeed will be a huge challenge for Domsitz. Reshaping the offense is a huge key to making it back to the playoffs. He will need this team to gel early on to gain confidence at the varsity level as everyone will be gunning for them.
Division IV, Region 14
2014 RECORD: 14-1, 7-0 GCL Co-eds (State Runner-up)
COACH: Ed Domsitz (211-56 @ Alter, 23 years, 297-140 overall, 39 years)
TOP RETURNEES
Chris Beech, Sr, OL – The 6-foot-2, 280 Beech is the heart and soul of the Alter offense. A First Team All-GCL North selection in '14 Beech has offers from Army, Ball State and Eastern Michigan.
Marcus O'Neal, Sr, DB- O'Neal recorded 24 total tackles and recovered a fumble as a junior.
Tony Petrosino, Jr, DL – One of the few sophomores who gained experience on the varsity squad last season Petrosino registered 19 total tackles a year ago.
David Reuth, Jr, LB – There is a bright future Reuth who was in on 33 total tackles and recovered a fumble as a sophomore.
John Ruff, Sr, DL – A returning starter Ruff was in on 56 total tackles and had an interception as a junior.
Conor Ryan, Sr, DL – All the stars are aligned for the 6-foot-6, 245 pound Ryan to have a monster senior season. He registered 55 total tackles in '14.
Andy Turpin, Sr, RB/LB – One of the few players that has logged anytime in the backfield Turpin ran for 278 yards and three touchdowns as a junior.
PLAYOFF HISTORY
(20 appearances, 36-18) – 2014, 2013, 2012, 2011, 2010, 2009 (State Champions), 2008 (State Champions), 2007, 2006 (State runner-up), 2005, 2004, 2003, 2002 (Regional Champions), 2001 (Regional Champions), 1996, 1992, 1991, 1987 (Regional Champions), 1984 (Regional Champions), 1983
2015 SCHEDULE
Right out of the gate the Knights will be challenged by size and speed with non-conference tilts versus Division I Fairmont, Division II Withrow and Thurgood Marshall to start the season. A Week 4 battle with Bishop Fenwick to open GCL Co-ed play has all the makings of a letdown game something this young team has to be wary every Friday.
KINGS OF THE CO-EDS
Alter has won 15 consecutive games and 27 of 28 tilts versus its GCL Co-ed rivals. Since the conference added Bishop Fenwick and Carroll in 2006 the Knights have gone 61-2 in league play.