Montgomery wards off defenders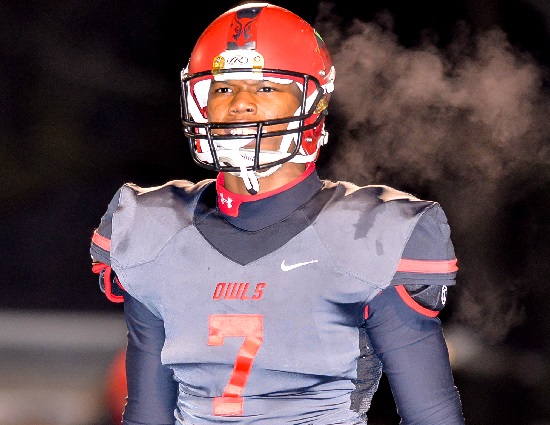 In 2014 Mount Healthy quarterback David Montgomery was named Division II Third Team All-Ohio after the Owls went 12-1. The honors capped off a wonderful season in which Montgomery fell just 49 yards short of 2,000.
Montgomery who has lettered since his freshman season now enters his third year as a starter under center. He has diversified his game but will enter the 2015 as one of the Tri-State's top returning rushers and winningest players (32-5). He has offers from Army, Miami (OH) and Buffalo.
Here is a look at Montgomery, By The Numbers
2 – Games with a career high two touchdown passes in his career
3 – Games of 100 yards passing or more in his career
4 – Most rushing touchdowns in a game (at Northwest 11/1/13)
5 – Games with three rushing touchdowns in his career
6 – Rushing touchdowns as a freshman
6 – Games of 200 yards or more rushing in his career
7 – Passing touchdowns as a junior
11 – Passing touchdowns as a sophomore
13 – extra points kicking in his career
15 – Games with two or more rushing touchdowns in his career
18 – Passing touchdowns in his career
19 – Consecutive regular season wins as Mount Healthy's starting QB heading into 2015
21 – Games of 100 yards or more rushing in his career
22 – Rushing touchdowns as a sophomore & junior
32 – Mount healthy wins during his career
36 – Yards passing as a freshman
37 – Games played in his career
50 – Rushing touchdowns in his career
68 – Punts in his career
73 – Yards on longest punt in his career
144 – Career high passing yards in a game (vs. Beechwood – 8/30/14)
223 – Yards rushing as a freshman
243 – Career high rushing yards in a game (vs. Ross – 10/3/14)
315 – Points scored in his career
363 – Career high yards of total offense in a game (vs. Harrison – 10/9/14)
685 – Yards passing as a sophomore
836 – Yards passing as a junior
858 – Yards rushing in the playoffs in his career (seven games)
1,557 – Yards passing in his career
1,783 – Yards rushing as a sophomore
1,951 – Yards rushing as a junior
3,957 – Yards rushing in his career
5,514 – Yards of total offense in his career