Milestone win for Elder over Centerville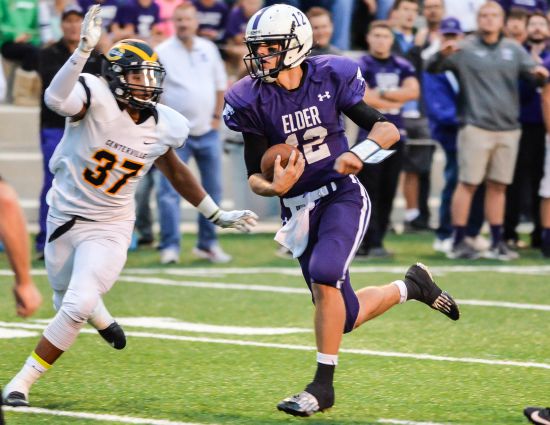 Elder and Centerville combined for over 1,000 yards of offense as the Panthers won their 350th all-time game at the Pit, 56-39 on Friday.
Elder QB Peyton Ramsey finished 11 of 15 passing for 216 yards and two touchdowns, and he also rushed 16 times for 178 yards and four TDs.
But Ramsey was not the Panthers' leading rusher. JaVahri Portis ran for 195 yards and a pair of scores on 27 carries, including the clinching touchdown with 2:12 left.
Adam Schwallie was Elder's leading receiver with four catches for 95 yards and a touchdown.
Jacob Harrison threw for 309 yards and three TDs, completing 27 of 39 attempts. Colin Debord caught seven of them for 121 yards and two touchdowns, and Nate Richmond finished with 10 catches for 110 yards and one score.
The Panthers open GCL South play next week when they travel to St. Xavier. Centerville will host Fairmont in its GWOC Central opener.