Best Bets: Dayton – Week 10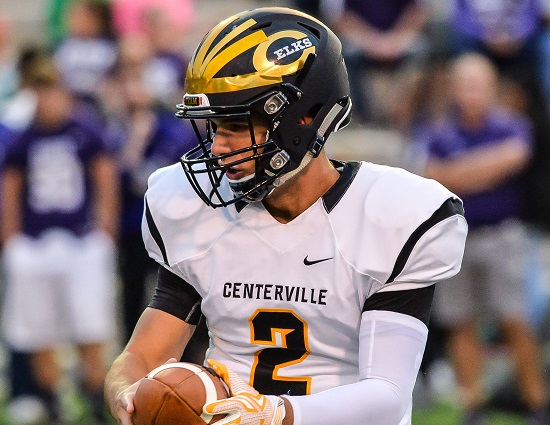 League championships and playoff berths are on the line. The regular season finale is loaded with meaningful games. Some will achieve their goals while others will be left wondering what could have been. It has been a year of missed opportunities, a theme that has resonated for nine weeks. Close losses will be haunting some squad's just hours before Halloween strikes the clock.
Here is a look at this week's Best Bets in and around the Dayton area.
Centerville (6-3, 4-0) at Wayne (9-0, 5-0) – It has become the annual battle for the GWOC Central crown. The Wayne defense has given up just six points with three shutouts in league play. The Warriors defense has allowed just 58 points on the year. They have scored five touchdowns on takeaways. Centerville has won four games in a row. The Elks have scored at least 32 points in every contest and are averaging 42.3 per game. This affair is highlighted by a pair of quarterbacks who are having outstanding senior campaigns after transferring having already had successful runs at smaller schools. Wayne's Messiah DeWeaver has thrown at least three touchdowns passes five times in the last six contests. Jacob Harrison is rewriting the record books at Centerville. He has accounted for 2,997 yards of total offense (2,231 passing, 761 rushing) and 33 touchdowns (25 passing, eight rushing). When DeWeaver came over from Trotwood-Madison and Harrison left Chaminade Julienne this what the duo longed for, the chance to show off their skills versus the very best.
Trotwood-Madison (6-3, 2-2) at Butler (7-2, 4-0) – It sounds funny to say but Trotwood-Madison will take on GWOC North champion Butler. The Aviators league title ended a run of seven straight crowns by the Rams. Raveion Hargrove is the gas that makes the Trotwood-Madison offensive machine literally run at a whole different level. The sophomore was back to being 100% healthy last Friday running for a career high 385 yards and four touchdowns. He has run for 215 yards or more on five occasions. This is a senior-laden Butler squad that has not fared well versus the Rams scoring three, six and seven points the last three meetings between the two schools. It is a must for the Aviators to find a way to keep up on the scoreboard as the explosive Hargrove can put points on the board in a hurry by himself.
Piqua (5-4, 2-2) at Troy (2-7, 1-3) – The oldest continuous rivalry in the United States has Troy holding a 62-61-6 advantage all-time. To put it in perspective some parents and the grandparents who would have come to see those kids play in that first game in 1899 would have lived through the Civil War. Piqua could even things up with its fourth straight win in the series. All four of Indians losses have been by eight points or less. The one last week to Sidney hurt the most as it was the final nail in the coffin for Piqua's playoff hopes. Even if they were to win Troy would still finish with a losing but there would be plenty to build on. Nabbing victories over Piqua and Trotwood-Madison this season will give Trojans head coach Matt Burgbacher's boys confidence to grow upon entering 2016.
Lebanon (4-5, 2-2) at Springboro (7-2, 3-1) – This has all the makings of high scoring affair. Springboro looks to rebound after a tough loss to Miamisburg. The Panthers have scored 40 points or more five times in the last eight weeks. Lebanon has scored 31 points or more in all but game. The Warriors defense is giving up 31.6 points per contest. The game features four receivers that have 56 or more receptions. Lebanon's Cody Brown leads the GWOC with 72 catches and has 920 yards with 14 touchdowns. Teammate Mitch Turpin has 56 receptions. Springboro's Nick Kovacks leads the GWOC in receiving yards with 940 on 60 receptions with 13 touchdowns. Alex Feldman has 69 receptions for 695 yards with eight scores for the Panthers.
Brookville (9-0, 5-0) at Franklin (5-4, 3-2) – Brookville is the real deal with its smash-mouth style of football. The Division V Blue Devils are looking for their fifth win in the last six weeks versus a larger school. They are led by Harry Hall and Bailey Wallen who have combined for 1,941 yards and 30 touchdowns rushing. Franklin wishes they could have the last two weeks back. The Wildcats fell to Monroe and Oakwood, teams they should have beaten. Franklin could still find their way into the post-season with a victory and some help.
Tippecanoe (8-1, 3-1) at Kenton Ridge (7-2, 3-1) – The battle for the CBC Kenton crown should mean hosting a first round playoff game for the winner. This looks like a bad matchup for Kenton Ridge on paper. The Cougars defense is allowing 31.3 points per contest over the last three weeks. They gave up 400 yards rushing to Stebbins last week. A pair runners of who average more than a first down per carry, Jakob Prall and Cameron Gibbs will be a load for Kenton Ridge to handle. The Tippecanoe tandem paces a group of Red Devils backs that average 298.7 yards, 8.0 yards and 4.0 touchdowns per game.
Indian Lake (7-2, 4-0) at Benjamin Logan (6-3, 4-0) – Indian lake is on the cusp of its first ever playoff appearance and undisputed CBC Mad River championship. The Lakers only losses were to Kenton Ridge by seven points and Tippecanoe by four. They are on a four game winning streak with an average margin of victory of 40.5 points. A win by Ben Logan could push them into the Division IV, Region 12 post-season but they will need some help from the teams above them in the Harbin Ratings. The Raiders have opened up their offense. Quarterback Trey Wilson has thrown for 300 yards or more four times in the last five weeks. He has 33 touchdown passes on the season. Top targets for Wilson are Jarret Matthews who has 54 receptions for 1,127 yards, 21.7/catch and 23 touchdowns. Teammate Josh Whitten has 60 receptions for 1,032 yards with 12 trips to the end zone.