Deer Park forges into the future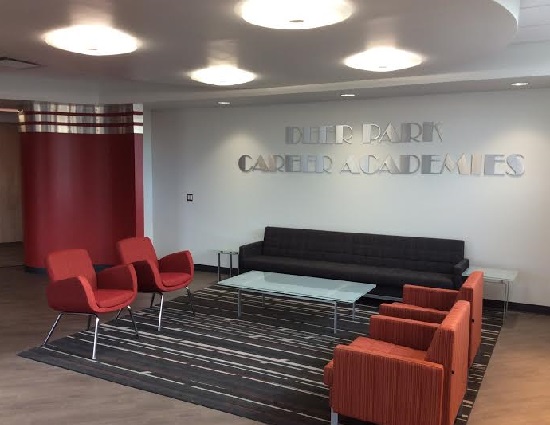 Stand outside of the main entrance of Deer Park High School and you feel like you are back in the 1950's. It's as if a piece of the Snow Village collection that has come to life. Walk through those doors and it becomes a place that time forgot that is until you descend down the stairs to the lower level and see that the school has evolved with its sights on the future, the Deer Park Career Academies.
When Eric Taylor announced he was leaving CHCA to become the athletic director and head football coach at his alma mater Deer Park it was a stunner! Taylor had gone a combined 77-17 the past eight years with the Division V Eagles. He had it made at the private school and was winning, winning, winning while coaching Division I athletes on Friday nights every year.
Was Taylor entering coaching suicide taking over a Wildcats program that had gone a combined 8-72 over their last eight campaigns? Not in his eyes. The day he walked through the main entrance of the Deer Park Career Academies, Taylor knew it became more than just winning football games. He saw possibilities that go way beyond potential.
This was all about making and impact over being an influence in kid's lives." Taylor said. Home is where he knows he can make that difference. The school district is making that commitment and giving Taylor the tools that he never had growing up. He sees opportunities and wants to make sure these kids are given the chance to see them through.
The DPCA is like being on a small college campus only it has been condensed to fit Deer Park's 21st century needs. The days of yesteryear are just that at the high school, ancient history (sorry Bill Cunningham). This is all about paving that road into the future. Taylor was given the keys to a car that looked like a Pacer on the outside but had a Ferrari engine on the inside.
Entering through the front doors of the DPCA there is a "welcoming area" with couches and even a coffee bar. It's like walking into a sleek, hip university student union or trendy up and coming small business foyer. The vitality of the place hits you right away.
The DPCA really explodes and opens up your mind to all kinds of possibilities past the entry. There is a commons area and across from that a centerpiece circular classroom with whiteboard walls and all the gadgets and gizmo's a teacher or coach could ever want. It is multi-purpose, comfortable and inviting.
That's just the beginning of the journey. There is state of the art equipment in classrooms that are conducive to giving a student a wonderful learning experience no matter what vocation they want to pursue, the arts, trades or sports. It lives up to its careers academy name.
The updated locker rooms, new coach offices and "super-sweet" weight room were just cherries and whipped cream on top of the sundae for Taylor with his decision to come back.
The DPCA has vibe and a great energy about it. It is a where teachers, coaches, parents are going to thrive learning from one another.
This just the beginning of something special at Deer Park, Taylor sees the vision. This easily a place where everyone can buy into and make it their own for years to come.