The Mount Eyes Playmakers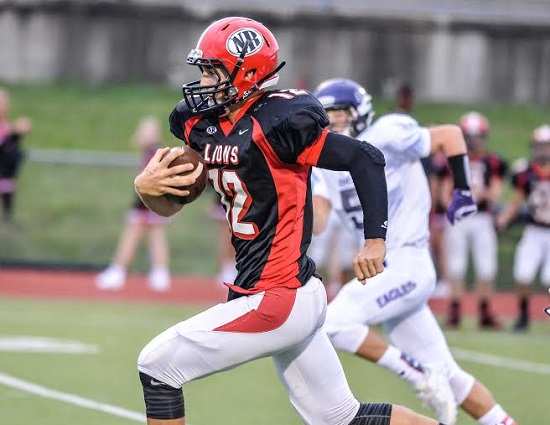 Mount St. Joseph University dedicated its attention on playmakers with its 2016 class of recruits. The small Division III School on the west side of Cincinnati has plenty to be pleased about after a 7-3 finish a year ago. The Lions future is looking very bright as they reeled in local talent that put big numbers during their high school careers.
"This was a much targeted recruiting class. We only graduated four players from last year's Heartland Collegiate Athletic Conference runner-up team. We currently have 75 players in spring football drills," MSJ Head Coach Rod Huber said.
Huber's familiarity with the Southern Buckeye Academic and Athletic Conference allowed him to pluck several of the league's top players. Huber, a graduate from Glen Este always recruits the east side of Cincinnati heavily.
The dynamic Western Brown pitch and catch combination of Chaiten Tomlin and Eean Hornung put up big numbers in high school. Tomlin amassed 7,322 (5,956 passing, 1,366 rushing) yards of total offense and accounted for 83 touchdowns (74 passing, nine rushing) over the last two years for the Broncos. Hornung had more than 1,000 yards receiving in each of the last three years while hauling in 66, 71 and 75 passes in that span. He finished his career with 251 receptions, 3,869 receiving yards, 39 touchdown catches, 850 yards rushing, 10 rushing touchdowns and 5,446 all-purpose yards.
Other Lions skill position signees from the SBAAC include the incredibly versatile Austen Torrens from New Richmond and Clermont Northeastern receiver Jessie Blevins.
A trio of running backs who had monster senior seasons will give MSJ depth and contested competition in the backfield. Robby Boone from Huber's alma mater ran for 1,551 and found the end zone 30 times (23 rushing, seven receiving) in 2015. Corey Hastings from Carroll made the most of his only season as the Patriots featured back. Hastings churned out 1,267 yards and 10 touchdowns on his way to Greater Catholic League North Co-Offensive Player of the Year honors. Wyoming's Justin Shields ran for 1,343 yards and 20 scores last fall.
Other local skill position players include Devonte Martin from Withrow and Neriah Brooks out of Reading. Brooks who excelled in all three phases of the game is the epitome of what Huber was looking for. On offense, Brooks ran for 922 yards, averaged 9.8 yards per carry, caught 17 passes for 319 yards and found the end zone 18 times (13 rushing, five receiving). Defensively he was in on 32 total tackles with a sack, a fumble recovery and an interception. On special teams, Brooks returned a punt and a kickoff for scores.
"Our primary focus was on speed and skill and I am very excited about the incoming talent. Many of these skilled players can play on either side of the ball which will allow us to place them in a position to compete immediately for playing time," Huber stated. "We are still a young team with only 10 seniors this coming fall but I like the direction we are going."
The foundation is being laid for a long run of winning seasons at the Mount. The Lions will be exciting to watch over the next several years. Huber and his crew are on the right path to win their fifth HCAC title and first since 2009. Mount St. Joseph went a combined 2-18 in his first two seasons as the schools head coach. In the 14 years that have followed under Huber MSJ has won more than two thirds of its contests compiling a 98-47 record in that span. The winning trend at Mount St. Joseph shows no signs of slowing down.
The Mount St. Joseph Class of 2016 recruits:
Jessie Blevins, WR, Clermont Northeastern
Robby Boone, RB, Glen Este
Neriah Brooks, ATH, Reading
Jordan Collier, CB, Union (VA)
Lane Daniels, ATH, Paintsville
Spencer Dufresne, K, Chaminade Julienne
Gavin Edmondson, ATH, Westfield (GA)
Jordan Falls, WR, Gulf Coast (FL)
Corey Hastings, RB, Carroll
Logan Hays, DE, Mason
Eean Hornung, WR, Western Brown
Spencer Kandra, DE, Elder
Devonte Martin, WR, Withrow
Andrew McFarland, OL, Glen Este
Patrick Necamp, DE, Mason
Jomauri Odom, DT, St. Bernard-Elmwood Place
John Prestridge, QB, Randolph Co. (AL)
Tyler Sammons, OL, New Richmond
Justin Shields, RB, Wyoming
TJ Sipple, WR, Highlands
Kendall Sprowl, WR, Pike (Ind)
Nathan Stone, LB, Glen Este
Tre'on Taylor, WR, Winter Park (FL)
Brayden Tidd, QB, North Lawrence (Ind)
Chaiten Tomlin, QB, Western Brown
Austen Torrens, WR, New Richmond
Tucker West, LB, Bedford-North Lawrence (IN)
Connor White, WR, Martha Layne Collins (KY)