Seniors Carrying Big Blue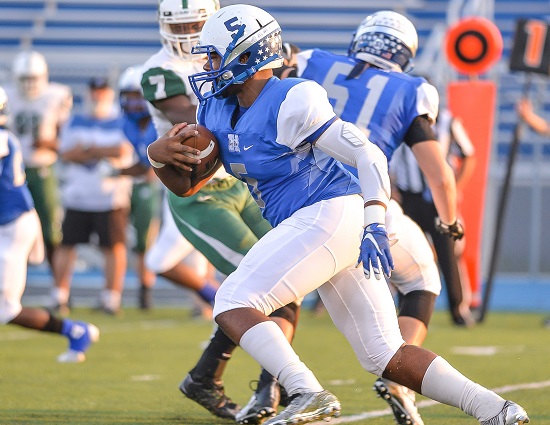 The Hamilton Blue Stars are having one of their best seasons in recent time, and that has to do with the senior leadership from quarterback Eric Jackson and wide receiver/safety Vince Sanford. These two players have gone from role players to leaders of the Blue Stars.
"Vince (Sanford) is the most decorated wide receiver in Big Blue history," Hamilton head coach Chad Murphy said. "He has college option and has received offers from Morehead State and Davenport."
Sanford is leading the team with 435 receiving yards and two touchdowns. The senior was second on the team a year ago in reception yardage behind current Indiana University player A'Shon Riggins. He is also leading the team with 48 tackles.
Jackson is leading the offense, and was a huge contributor to the Big Blue starting the season 3-0 for the first time in 15 years. A year ago he played mostly at running back, and took a handful of snaps, but this season he has become one of the best mobile quarterbacks in the GMC.
"He is a true football player, and plays the game at 100% all the time," said Murphy. "He will play scholarship football somewhere at the next level."
Jackson has received college interest, but has yet to receive any offers. Murphy expressed he sees Jackson playing as a running back or outside linebacker at the next level.
Going into Week 6, Jackson is third in the conference with 838 passing yards behind Princeton's Soloman Reed and Oak Hills' Jacob Woycke, and he is second behind Sycamore's Ra'Von Bonner with 592 rushing yards.
Other seniors making an impact on the roster include offensive linemen Jacob Metzler, Conner Gleason, Grant Fansler and defensive lineman Alex Little.
"The development of these seniors is what has made the difference," Murphy said "They believe they can win."
Hamilton has lost its first two conference games, but continue conference play this Friday at Lakota East. Big Blue does not play Colerain and have already played two of the best teams in the conference so if this team can finish strong, Jackson and Sanford could lead Big Blue back to the state playoffs.