La Salle edges St. X, nabs share of GCL South title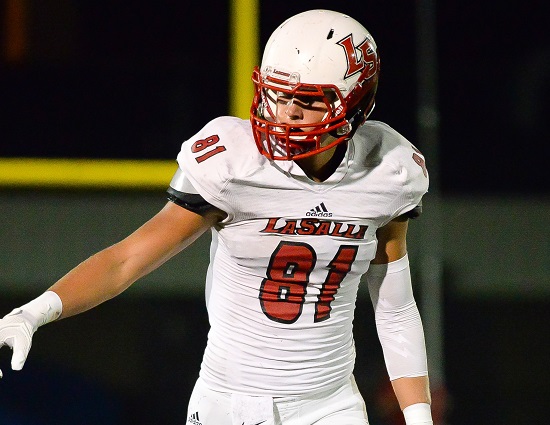 La Salle was able to keep on rolling as they edged out St. Xavier tonight by a score of 17-14.
St. X jumped out to a 7-3 lead at halftime thanks to a three-yard touchdown run by senior running back Quinn Earley.
The second half was controlled by turnovers, as the Bombers were able to score off a fumble recovery in the third quarter to push their lead to 14-3.
In response, the Lancers were able to cap off an 80-yard drive after TreSean Smith ran in a touchdown from one yard out to keep the game close.
With the score 17-10, La Salle attempted an onside kick that St. X was able to recover, but after the Lancers forced a punt to get the ball back, they fumbled on their ensuing drive.
St. X was looking to close out the game with less than five minutes to go, when La Salle defensive back Da'Meak Brandon intercepted Bomber quarterback Sean Clifford and returned it 35 yards for a touchdown, giving his team the 17-14 lead, which ended up being the final score from the contest.
With the win tonight, La Salle was able to clinch at least a share of the Greater Catholic League South title.
Lancer quarterback Griffin Merritt played well tonight, going 18/30 for 200 yards while running for 46 on 11 carries.
John Whyle, La Salle receiver, also came up big as he hauled in 85 yards on six receptions in his team's win.
Up next, St. X (4-3) hosts Warren Central (7-1), and La Salle (5-2) visits St. Charles (2-6) in Columbus.