Playoff Preview: St. Xavier vs. St. Ignatius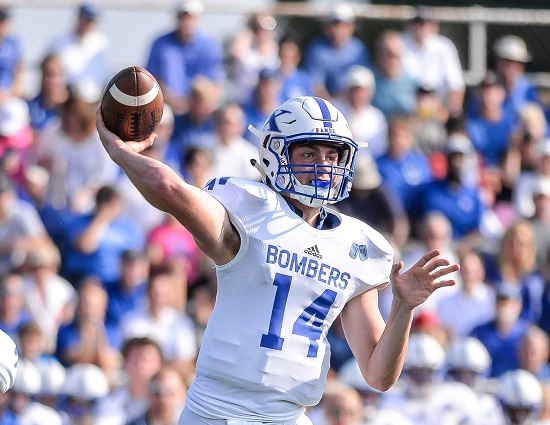 St. Ignatius has had its share of close games this season, but nothing can compare to St. Xavier's 2016 campaign.
The Bombers prevailed in overtime in both the second and third playoff weeks, and they earned a finals berth with a two-point victory over Pickerington Central last week. This after five of St. Xavier's regular season games were decided by seven points or fewer.
But this will be a difficult challenge for the Bombers, as the Wildcats have won 11 state titles the past three decades and won, 31-14 when these teams met in the regular season.
TriStateFootball takes a look at the Division I championship game in a Playoff Preview:
ST. XAVIER BOMBERS (9-5) vs. CLEVELAND ST. IGNATIUS WILDCATS (13-1)
Kickoff: Friday, Dec. 2, 8 p.m. – Ohio Division I state championship at Ohio Stadium in Columbus
Follow on Twitter @TSFootball
PLAYERS TO WATCH: Sean Clifford has been clutch for St. Xavier in the playoffs, throwing for 526 yards and rushing for 358 and five scores. The Bombers' Quinn Earley struggled this regular season but is averaging 6.1 yards per carry this postseason.
TEAM TRENDS: St. Xavier has won five straight, but its fans can't have many fingernails left after the past three weeks. The Bombers edged Colerain by six in overtime and topped Sycamore by seven in an extra session before kicking a late field goal to top Pickerington Central by two last week.
St. Ignatius did need OT to beat St. Edward two weeks ago before knocking Olentangy Liberty by 10 last week. The Wildcats have recorded five shutouts, and their only loss was to out-of-state Detroit Catholic Central, and that was on the road and in overtime.
St. Ignatius leads the state in championships with 11, although its last was in 2011 and it has not even made the semifinal round since. St. Xavier has just two, with both coming in the past dozen years. The Bombers won titles in 2005 and 2007 but have not been to this round after their latest championship.
ST. XAVIER'S KEYS TO VICTORY: The running game was a weak point for St. Xavier during the regular season, as the Bombers averaged 2½ yards per carry, but they have fared better in the postseason and must establish that aspect of their offense to be successful. St. Xavier's defense must step up early, as St. Ignatius has been stingy to score upon, posting five shutouts and holding eight opponents to single-digits scoring totals.
ST. IGNATIUS' KEYS TO VICTORY: St. Ignatius needs to exploit a Bombers passing defense that has struggled at times. St. Xavier allowed over 200 yards per game in the air during the regular season. The pressure has to be on the Wildcats to pull away early, as the Bombers have been the masters of the late win this season.
Prediction: St. Ignatius 31, St. Xavier 14