St. Xavier pulls out last minute win, moves on to state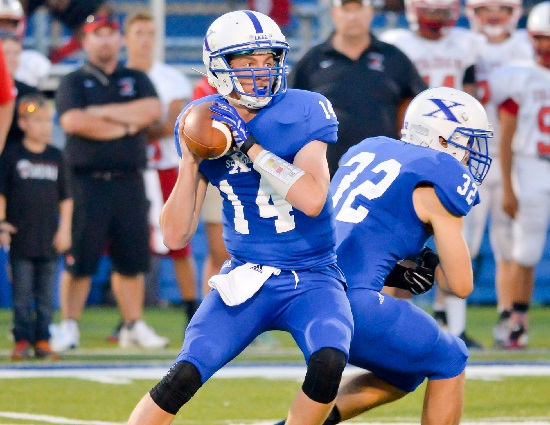 The St. Xavier Bombers won a close one tonight against Pickerington Central, 29-27.
With the win, the Bombers now move on to try and claim their third state championship in school history.
The Bombers jumped out to an early 14-0 lead thanks to a TD run by Senior QB Sean Clifford, and a TD pass from Clifford to Cameron Specht.
Up two scores after a 17-7 halftime lead, it seemed as though Xavier was in control of the game and could cruise to victory.
After another field goal in the third by Kevin Rockwood to make it 20-7 Bombers, Pickerington Central scored twice to take the lead. The latter was scored on a 97-yard interception return for a touchdown by Grey Brancifort.
Both teams scored a touchdown in the first five minutes of the fourth quarter, with each failing to convert a two point attempt.
Rockwood nailed a 32-yard field goal to give the Bombers a 29-27 lead with 2:38 left to play, which would end up being the final score.
Rockwood finished going 3/3 (29, 32, 40) on field goals, and 2/2 on extra points.
Clifford finished going 16/29 for 166 yards, with a touchdown and interception each. He also had 102 rushing yards on 22 carries to go along with two TDs on the ground.
Jared Kreimer led Pickerington through the air with 203 yards by going 7/19 with two touchdowns.
Quinn Early also came up big for the Bombers, as he had 120 rushing yards on 18 carries.
Up next, the Bombers will face Cleveland St. Ignatius in the state title game at Ohio State next Friday at 8 p.m This game will be a rematch of a week 9 matchup, one in which the Bombers lost 31-14.