KHSAA moves football finals to Lexington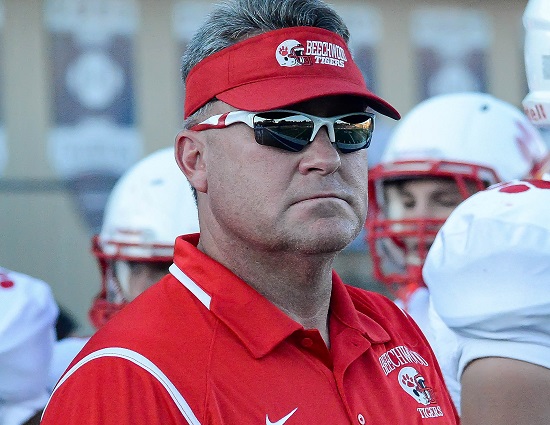 Beechwood head coach Noel Rash (photo by Cathy Lachman/TSF)
The Kentucky High School Athletic Association Board of Control announced that the football finals for all six classes will be moving to Kroger Field (formerly Commonwealth Stadium) on the campus of the University of Kentucky for the 2017 and '18 seasons. The last eight years the state championships have been held in Bowling Green at Houchens-LT Smith Stadium on the campus of Western Kentucky University.
On Wednesday the KHSAA issued a press release stating their reasons for the move. It shows just how vital the revenue from football's championship weekend is to the other sports that follow throughout the rest of the school year.
"While we are eternally grateful for the efforts of our tremendous partners, Western Kentucky University, Russell Athletic and the city of Bowling Green, over the last eight years, it cannot be understated that the issues that arose over the last two years were a detriment to our event," said KHSAA Commissioner Julian Tackett. "This impacted the fan experience, particularly of those teams forced to play late on a Sunday evening, and certainly affected vital revenue to the Association. We are excited about the opportunity provided by the University of Kentucky, which has proven to be an outstanding partner with some of our other championship events, to try and grow the football finals at a more geographically centered location with a predetermined schedule."
It has been 41 years ('76) since UK has held the state finals and they can wait to leave a lasting impression. "We are thrilled to be hosting the best weekend of Kentucky high school football at Kroger Field," UK Athletics Director Mitch Barnhart said. "We are committed to the growth of the game of football in the Commonwealth and excited to bring thousands of young athletes and fans to our campus and the city of Lexington through this event. Kroger Field will make an excellent home for the Kentucky state football finals."
For the schools and fans in northern Kentucky the move to Lexington is great news. The trip to Bowling Green made for incredibly long and emotionally draining days.
Don't forget how hard it is to get to the finale. Of the 30 NKY schools TriState Football covers only six (six classes) combined for 16 appearances in the eight years the championships were held at Western Kentucky. Highlands loved the place going 5-1 in their six trips to Houchens-LT Smith Stadium.
Newport Central Catholic went south five times going 2-3 with titles in '10 and '12. The Thoroughbreds Class 2A, District 6 rival, Holy Cross sandwiched in a state championship in its only appearance back in '11.
Beechwood was the only NKY squad to bring home a crown this past season. The Tigers only other jaunt to WKU, they lost in '15 to Pikeville. Dixie Heights and Cooper fell in their only trips to Houchens-LT Smith Stadium.